Founded by Klaus Schwab in 1971, the WEF operates under the motto "committed to improving the state of the world". From Canadian Prime Minister Justin Trudeau and the IMF's Christine Lagarde to leading business minds such as Bill Gates, the wide array of speakers always makes for an impressive showing.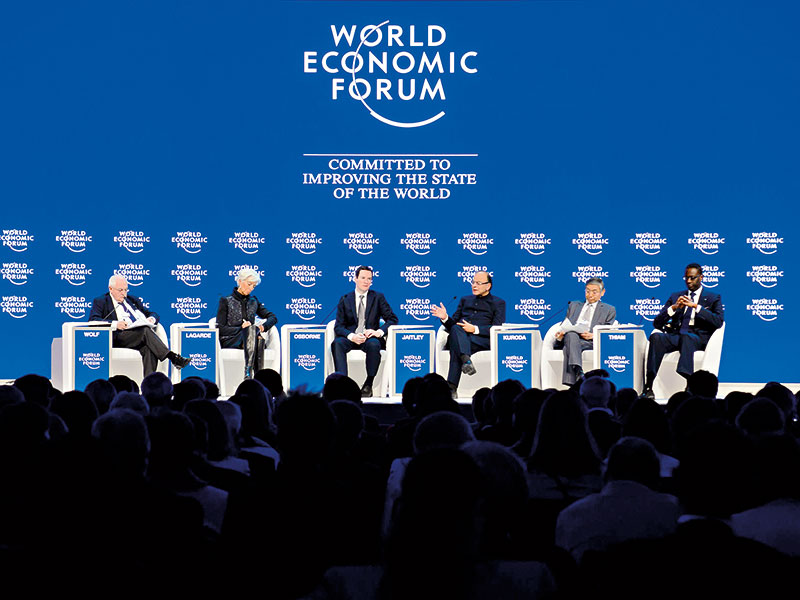 *
Annual report – 2019-2020
P92 – Patrice Motsepe
Founder and Executive Chairman, African Rainbow Minerals, South Africa
The Motsepe Foundation has been privileged to partner with the Schwab Foundation, which for many years has been doing outstanding work to showcase and support models of social innovation in the world and in particular in Africa.
Click to access WEF_Annual_Report_2019_2020.pdf
*
P349 – South africa
Click to access WEF_GGGR_2021.pdf
*
October 2020 – The Davos Manifesto 2020 by Klaus Schwab, Founder & Executive Chairman, World Economic Forum
A. The purpose of a company is to engage all its stakeholders in shared and sustained value creation. In creating such value, a company serves not only its shareholders, but all its stakeholders – employees, customers, suppliers, local communities and society at large. The best way to understand and harmonize the divergent interests of all stakeholders is through a shared commitment to policies and decisions that strengthen the long-term prosperity of a company.
It accepts and supports fair competition and a level playing field. It has zero tolerance for corruption. It keeps the digital ecosystem in which it operates reliable and trustworthy.
A company treats its people with dignity and respect. It honours diversity and strives for continuous improvements in working conditions and employee well-being.  A company serves society at large through its activities, supports the communities in which it works, and pays its fair share of taxes. It ensures the safe, ethical and efficient use of data.
https://economictimes.indiatimes.com/news/international/world-news/the-davos-manifesto-2020-by-klaus-schwab-founder-executive-chairman-world-economic-forum/articleshow/78591740.cms
*
Building the Future | DAVOS AGENDA 2021
"Mindset change" – KlausSchwab
Professor Klaus Schwab was born in Ravensburg, Germany in 1938. He is Founder and Executive Chairman of the World Economic Forum, the International Organization for Public-Private Cooperation.
He was also knighted by Queen Elizabeth II – Knight Commander of the Order of Saint Michael and Saint George (KCMG).
https://www.worldgovernmentsummit.org/events/annual-gathering/2018/speaker-detail/636537450224785536-klaus-schwab
*
Elites are taking over! Our only hope is to form our own. To learn more join my cartel here https://www.russellbrand.com/join/ and get weekly bulletins too incendiary for anything but your private inbox.
*
The world is run by and for billionaires. If you'd prefer it to be run democratically, for all of us, then don't be fooled by the 'Great Reset' – a request by the corporate and financial sectors for governments to give them taxpayers' money to take more control.
July 29, 2020 | The club of the world's richest people and the largest nature-destroying corporations wants the "Great Reset". Instead of poverty, disease, overpopulation and destruction of nature, the mega-rich promise us a fair world in harmony with nature. Despite its obvious absurdity and the cynicism behind it, this initiative should not be ignored. There is a dark plan behind it.
Let's take a look at the list of stakeholders that the World Economic Forum is convening. It seems to be somewhat exhaustive, if one takes the following at its word: "The announcement of the 'Great New Start' was made by H.K.H. The Prince of Wales and Professor Schwab during a virtual meeting, followed by statements by UN Secretary General António Guterres and IMF Executive Director Kristalina Georgieva. Their statements were supported by voices from all stakeholder groups in world society, including
Victoria Alonsoperez, founder and CEO of Chipsafer, Uruguay, and a Young Global Leader;
Caroline Anstey, President and CEO of Pact, USA;
Ajay S. Banga, Managing Director, Mastercard, USA;
Sharan Burrow, General Secretary, International Trade Union Confederation (ITUC), Brussels;
Ma Jun, Chairman, Green Finance Committee, China Society for Finance and Banking, and member of the Monetary Policy Committee, People's Bank of China;
Bernard Looney, Managing Director, BP, United Kingdom;
Juliana Rotich, Venture Partner, Atlantica Ventures, Kenya;
Bradford L. Smith, President, Microsoft, USA;
Nick Stern, Chairman, Grantham Research Institute on Climate Change and the Environment, United Kingdom.
*
2016
Less well known is the fact that WEF since 2009 has been working on an ambitious project called the Global Redesign Initiative, (GRI), which effectively proposes a transition away from intergovernmental decision-making towards a system of multi-stakeholder governance.   In other words, by stealth, they are marginalising a recognised model where we vote in governments who then negotiate treaties which are then ratified by our elected representatives with a model where a self-selected group of 'stakeholders' make decisions on our behalf.