The Ministry of Public Enterprises (DPE) announced today that the Takatso Consortium, comprising Harith General Partners, a leading investor in African infrastructure and airports, and airline management firm Global Airways, has been selected as the preferred Strategic Equity Partner (SEP) for South African Airways (SAA).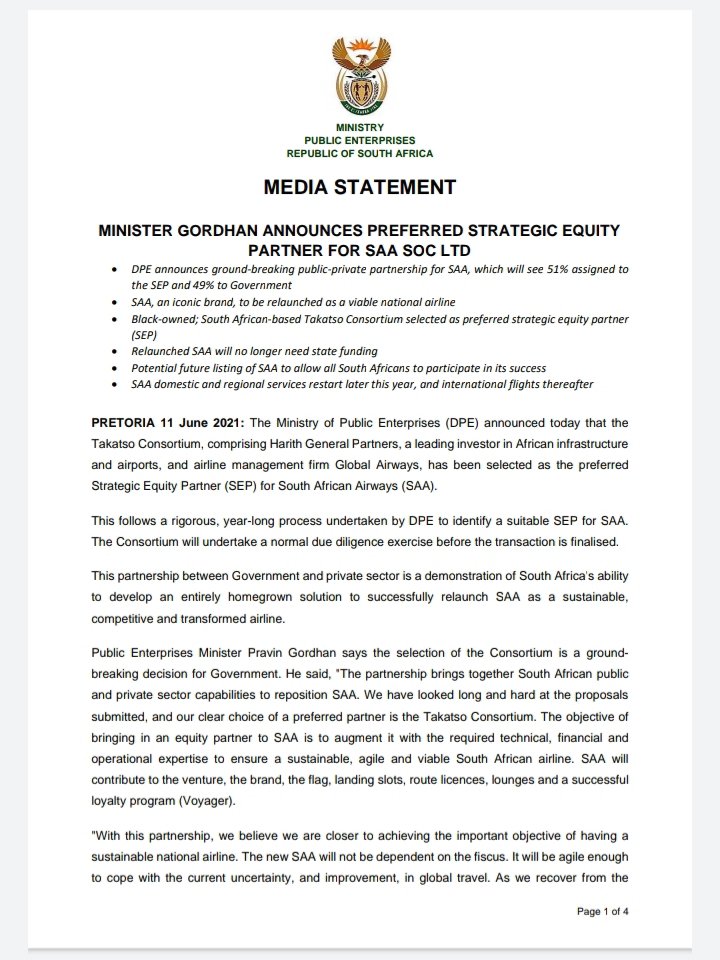 EXPOSED: the "Private Company" that bought 51% of SAA was not a private company at all! The company is owned by Cadres with Deep Connections to the ANC and funded by the Public Investment Corporation, otherwise known as the PENSION FUND. Senior Researcher at the Taxpayers' Union wrote a brilliant article on this, which you can find here: https://taxpayersunion.co.za/2021/06/… I made a video explaining what all this means for our future as South Africans, and how the Taxpayers' Union of South Africa is going to fight this trend! Be sure to share this video everywhere! Also, be sure to join us at https://www.taxpayersunion.co.za


https://www.youtube.com/watch?v=L4RkW_TVeYo



*
Good read

The sale of SAA has gone to a consortium of senior party members and state-funded corporations, as well as handing "golden shares" (which give veto power over company restructuring) to the government. The transfer of ownership was also cost-free, suggesting government assistance of one form or another. Predictably enough, the change in management structure is accompanied by the announcement of a more aggressive race-based hiring policy for pilots.
The corporation given control of SAA is something called Takatso Consortium, which were given a 51% share, and will be headed by CEO Gidon Novick, the founder of the local budget airline Kulula. This consortium is comprised of two companies, Harith General Partners, an investment company largely driven by a significant quantity of public funding, and Global Aviation (GA), a South African aviation company that leases planes and technical staff to other airlines.
While GA appears to be competent and largely above-board, Harith GP is not nearly so. Its leadership is comprised of several individuals with close ties to both legacy financial corporations and the Public Investment Corporation. Chairman Tshepo Mahloele has served multiple times in both sectors, responsible for drafting BEE policy for Rand Merchant Bank, and has been investigated by the Mpati Commission for irregular dealings with the Government Employees Pension Fund, as well as selling a house at a below-market price to the infamously corrupt party functionary Brian Molefe, and has been mentioned alongside a long string of crooked deals going back at least a decade[4]. Other executives include Jabu Moleketi, a former cabinet minister and ANC member, and Alwyn Wessels, who was in charge of financing public infrastructure for ten years at ABSA.
This article was compiled by Robert Duigan – read full article:
https://taxpayersunion.co.za/2021/06/14/saas-pseudo-privatisation-the-ancs-national-socialist-economic-system/

*


"SAAT is in deep financial distress because SAA was placed under business rescue. Our members at SAAT are facing retrenchments and a section 189 process is under way, and to make matters worse, they have suffered for more than a year without full pay.  Our members are fed up and they will be picketing over the non-payment of salaries at SAAT," says Numsa in a statement.

https://www.sabcnews.com/sabcnews/takatso-consortium-announced-as-equity-partner-for-saa/

*


SAL Equity partner

https://www.youtube.com/watch?v=-3C9ww30dPU


*

B-BBEE

Majority Black Ownership: The Consortium is 51% black owned.

Board and Management: The composition of the Board, Management and staffing shall, in addition to the appropriate skill-sets, take into account South Africa's national demographics and transformation agenda:
The Chairperson of the Board shall be a South African. The majority of the Executive team shall be South Africans, with either the Group CEO or the Group COO or Group CFO being a South African; ideally, all three. Pilots: The Consortium will prioritise the training and promotion of qualified black pilots as part of a non-racial team of qualified men and women.
Minister Gordhan said "Government is pleased that all the elements have been brought together for a leading and sustainable Pan-African airline to emerge and that this will be done without any future reliance on the fiscus."

Key elements of partnership:
Ownership: The Takatso Consortium will own 51% of the airline and Government 49%. The intention is to list the airline in the future to address future funding requirements and enable all South Africans to take part in its success.
Funding: The Consortium provides the required capital. There will be no further burden on the fiscus. Operational capability: The Consortium has a significant operational expertise including, aircraft acquisition, operations, IT systems etc. Board representation: Board seats will follow the equity interests of the shareholders. Management representation: The composition of the Management team shall take into account South Africa's national demographics and transformation agenda. Golden Share: The Government will have a 'golden share' of 33% of the entity's voting rights and certain areas of national interest. Pre-emptive rights: Standard pre-emptive rights, rights to match etc., will be included for the benefit of both parties. Historical Liabilities: All historical liabilities will be the responsibility of Government within the amount allocated. Subsidiaries: As part of the due diligence process, the DPE and the Consortium will carry out a joint assessment on the future of the subsidiaries.
*
Public Enterprises Minister Pravin Gordhan says the selection of the Consortium is a ground- breaking decision for Government. He said, "The partnership brings together South African public and private sector capabilities to reposition SAA. We have looked long and hard at the proposals submitted, and our clear choice of a preferred partner is the Takatso Consortium. The objective of bringing in an equity partner to SAA is to augment it with the required technical, financial and operational expertise to ensure a sustainable, agile and viable South African airline. SAA will contribute to the venture, the brand, the flag, landing slots, route licences, lounges and a successful loyalty program (Voyager).
"With this partnership, we believe we are closer to achieving the important objective of having a sustainable national airline. The new SAA will not be dependent on the fiscus. It will be agile enough to cope with the current uncertainty, and improvement, in global travel. As we recover from the impact of Covid on the aviation industry, African countries will reopen their borders, enabling the movement of people, cargo and trade. We want to relaunch SAA as an iconic South African brand and are confident that we have the right partner to achieve this objective," said the Minister. He also said "Government will retain a 'golden share' in SAA which will ensure that the flag is retained, that it remains domiciled in the country and issues such as transformation goals remain upper-most."
Tshepo Mahloele and Gidon Novick, of the Takatso Consortium, said "They did not doubt that SAA could be built into an efficient airline that catalyses growth in the South African economy especially tourism. The consortium brings a unique combination of skills and infrastructure funding (including airports) and aviation operator experience. This will ensure the development of SAA into a viable and agile commercial airline.

https://www.politicsweb.co.za/documents/takatso-consortium-to-take-51-stake-in-saa–pravin

*

HARITH

Tshepo Mahloele is the Chief Executive Officer at Harith General Partners, and one of the originators of the $630m Pan African Infrastructure Development Fund. He holds a BProc obtained from Rhodes University and also completed a Harvard AMP programme.

Mahloele previously headed the Corporate Finance and Isibaya Fund Division of the Public Investment Corporation (PIC) – the largest investment manager in South Africa with over USD90 billion under management.
Under his leadership, Harith General Partners has actively acted as a catalyst for Africa's development in the construction of various infrastructure assets including Main One undersea cable in Nigeria, Dark Fibre Africa cable company in South Africa, the Henrie Konare Bedie Bridge in Abidjan, Lanseria International Airport in South Africa, the Lake Turkana Wind Farm in Kenya, the Enfidha and Monastir Airports in Tunisia and Kelvin Power Station in South Africa, among others.
Mr Mahloele previously worked for Rand Merchant Bank as Manager of Corporate Finance and Credit Department, where he was among others, responsible for focussing on privatisation and developing the bank's strategy for Black Economic Empowerment (BEE).

He then joined the Commonwealth Development Corporation (CDC) as an investment executive where he oversaw an investment budget in excess of R700m per annum in South Africa. This role included examining and overseeing the bank's developmental impact strategy.

Mr Mahloele headed the Private Sector Investment arm of the Development Bank of Southern Africa (DBSA) managing a portfolio of R4bn with 12 high ranking project managers reporting to him. He improved the unit's approvals from R320m to R2,1bn within one financial year. He increased disbursements from R300m to R870m during the 2002/2003 financial year. He also contributed to the DBSA's strategy role in the New Partnership for Africa's Development (Nepad) while cultivating relations with the various funders and project sponsors within the infrastructure financing environment.

https://www.harith.co.za/tshepo-mahloele/

*
Harith co-founder and Consortium Chair Tshepo Mahloele said the Consortium has the experience, expertise, and capital to transform SAA into a substantial operating business in its own right. Takatso CEO, former Comair Co-CEO and recently co-founder of Global's airline LIFT, Gidon Novick said he was confident that SAA could be built into an efficient, customer obsessed and innovative airline that serves as a catalyst for growth in the South African economy, particularly tourism.

https://www.harith.co.za/takatso-consortium-and-south-african-government-partner-to-relaunch-south-african-airways/

*

Suid-Afrikaanse Lugdiens

Die lugreus het geval – die Suid-Afrikaanse lugdiens is vir etlike dekades 'n staatsentiteit en om iets te verkoop is dit nou die huidige regering wat daardie besluit gemaak het, nie die inwoners of staatskasbydraers nie.

Daar was heelwat korrupsie en wanbestuur, maar duidelik is dit ook nooit 100% aangespreek soos dit hoort nie. Word korrupsie en wanbestuur eenvoudig totaal en al afgeskryf as daar 'n nuwe "besem" is wat gebruik word om te vee? Dit kom voor dat dieselfde pad wat hier geloop word, word met alle staatsentiteite geloop. Ontbondeling en skep ander maatskappye, privaat, maar wen steeds groot gedeeltes uit die staatskas uit? Indien daar geen korrupsie en wanbestuur was nie, waar sou die reus gewees het?

Daar word ligtelik genoem dit is Suid-Afrika wat ingestem om 'n meerderheid belang (51%) in die land se gegronde nasionale vervoeronderneming, SAL aan 'n plaaslike vliegtuig-verhuringsmaatskappy en private-ekwiteitsonderneming te verkoop, wat nou die regering bevry van 'n entiteit wat al lank 'n dreinering vir staatsfinansies was.

Dis die parlement en ministers wat daaroor besluit het, en nie die belastingbetalers wat alles vir etlike dekades moes onderhou nie. Wat het van al die korrupsie en wanbestuur na 1994 gebeur? Maklik, skep 'n nuwe besigheid met swart bemagtiging vennote.

'n Konsortium bestaande uit die Johannesburgse 'Global Airways', wat die binnelandse lugdiens 'Lift' besit, en die private-ekwiteitsmaatskappy 'Harith General Partners', sal nou 51 % in SAL besit. Om dit te gedoen het, moes daar nie ook tenders gewees het nie? Hoop nie daar word verwag dat belastingbetalers steeds hierdie 51% privaatbesit moet onderhou nie, al besit die regering 49%. Dit was die spul ministers wat daardie besluit gemaak het, nie die belastingbetalers nie. En waarom swart bemagtiging en 51% meerderheidsaandeel?
On 11 November 2005, in a Memorandum prepared by me and signed by Mr Molefe (see pages 7 28 of exhibit 3). The PIC requested a mandate from the GEPF to invest an amount of $250 million, equating to R1.65 billion, in the Pan-African Infrastructure Development Fund (PAIDF). The memorandum set out the rationale, basis and proposed trajectory of the PAIDF.

*

2005 –

Director of Harith General Partners Tshepo Mahloele testifies at the Public Investment Corporation(PIC) Commission of Inquiry in Old Council Chambers, Sammy Marks Building, Pretoria.


6 April 2019
"The PlC's Management Executive Committee identified me (I believe) as the best candidate for the job of establishing the PAIDF, on the strength of my performance record and expertise whilst employed by the PIC.
With effect from 31 March 2006, I resigned from the PIC with 'the specific task of establishing the PAIDF, outside of the PIC and indeed of all institutions in which Government had a stake. My resignation was not a 'secondment'," said Mahloele.
https://www.iol.co.za/business-report/economy/watch-live-mahloele-defends-lebashe-harith-at-picinquiry-21421580

Listen to

PIC Commission of Inquiry, 16 April 2019

https://www.youtube.com/watch?v=uHLfqQffNJ0

*

Conflict of interest – United Democratic Movement leader General Bantu Holomisa is back at the PIC commission of Inquiry being cross-examined by representatives of companies Harrith and Lebashe linked to former deputy Finance Minister and chair of PIC Jabu Moleketi, former PIC executive Tshepo Mahloele, and Warren Wheatly.
In his testimony, Holomisa questioned conflict of interest with relation to former directors and employees of the PIC that seem to leave the PIC to build businesses funded by the PIC. Holomisa alleges there could be a cartel of BEE beneficiaries that seem to have easy access to PIC resources.

https://www.youtube.com/watch?v=QKgvNjXF4FM

BEE cartels

https://www.youtube.com/watch?v=8fRBwwnwQUA

*


(Pension funds) Lebashe Investments Chairman, Tshepo Mahloele has come out with guns blazing, saying UDM leader Bantu Holomisa's testimony is nonsensical.

https://www.youtube.com/watch?v=BaVjx1Y1aUs

*

Ramaphosa se vliegbemanning

Loans – Eskom – SAA – Transnet – SOE