Botsings en oorlogvoering met waarskynlik die sterkste mag destyds, was met die Britse koloniale regering wat die Boere binneland toe gevolg het en later weer geslaags geraak het tydens die Anglo-Boere oorloë.   Engeland het verseker nie gewag dat ons voorgeslagte sou sit en niks doen daaraan nie.    Op kritieke stadiums waar juis goud en diamante ontdek is, kon die Britte nie wag om toe te slaan nie.   As enige buitelandse regering onafhanklike lande met 'n sterk weermag aanval, is dit menslik dat enige Boer of burger van die ou ZAR of Vrystaat, hulself sal verdedig.   Enige land sou dieselfde gedoen het en ook hul lande verdedig as hul ongevraagd aangeval word?  Brittanje het 'n groot weermag op ons voorgeslagte losgelaat om teen te veg – ons voorgeslagte was waarlik HELDE in die stryd.
*
ANGLO-BOERE OORLOë –  ANGLO-BOER WARS
Kommando's
Soos gesien kan word, was daar reeds 'n hele paar dorpe en plase wat destyds al kommando sisteme in werking gehad het.  'n Goeie taktiek wat uitvoerbaar is.    Ons het vandag ongelukkig nie toegang om 'n wettige weermag op die been te bring, alvorens ons nie ons eie onafhanklike staat(e) het nie.
Destyds kon verskillende kommando's of groepe mekaar te hulp snel sou dit nodig gewees het, wat ook gedoen was.   Ons as volk, hoef beslis nie agter te staan hiermee en moet leer uit ons geskiedenis van die kommando sisteme, wat ook van ons weggeneem is, deur Lekota en Mbeki (2003), daarom word ons mense, ons Boere veral uitgewis.   Dis ook 'n sielkundige oorlog waar kinders en vroue met geweld afgedreig word.  Verseker is die kommando's tot niet gemaak deur die ANC, weens onderlinge slaankragte en nie net oor swart bemagtiging nie.
Lees, leer en word wys, behou die goeie.   Paraatheid, goeie oefening wat sekuur en doelgerig is, was myns insiens prioriteit by die wat geveg het vir ons voorgeslagte se oorlewing in die verlede.
Sou dit nie so gewees het nie, was ons nie vandag daar nie. Moenie hulle kennis en ervaring laat verlore gaan of onderskat nie.    Ons en ons voorgeslagte mag dalk arm en verarmd wees, maar geen kennis of ervaring kan van ons weggeneem word nie en dit hoef nie 'n universiteitsgraad te wees om die kennis te verskaf nie.   Kennis en ervaring kan nie in enige geld omgeskakel word nie.
Jong mense behoort juis ons geskiedenis, vanaf aankoms in 1652, die Trek tot waar ons vandag is, op die punt van hul vingers te leer.  Leer ook wie het saam die Engelse teen ons geveg – die wat so graag in mag en minerale belanggestel het.   Die wat in die jare 1980 gaan onderhandel het met kommuniste, veral in Amerika, Dakar en ander Afrika lande –  ook in Mellspark huis in Somerset, Engeland.
>>
Toe Lekota Minister van Verdediging was het hy die Kommando stelsel met Thabo Mbeki laat verwyder.    Plek is gemaak vir "regstellende aksie" (employment equity – refer to legislation in the article) – lees die Hansard en Jaarverslae hieroor.   Sowel die betrokke wetgewings.    Dus het dit ook gegaan oor swart bemagtiging.
>
KOMMANDO'S.    Volgens Hansards is dit eenvoudig verwyder weens verskeie redes, soos dat swart bemagtigingswetgewing en regstellende aksie (employment equity) moes intree (weermag).  Dis die realiteit en weer eens word 'n beroep op ons volkslede gedoen:   Beveilig julleself – niemand gaan dit vir ons of jou doen nie.  Die polisie gaan ons nie oppas nie – lig geliefdes en vriende in, dis die realiteite.
>
Withdrawal of SANDF Commandos in Support of SAPS, SANDF Employment Equity; Swartklip Products Committee Report.
>
1 May – Today, 361 years ago, Van Riebeeck established the first burgher commando.
Kommando sisteem – Commando system (FN)
*
Molteno Pass (R381) – Mountain Passes of South Africa – today – one of the very old mountain passes.
*
*
*
5 February 1902
Uitspanfontein and De Pannen
Leaving Beaufort West and proceeding along R381 via the Molteno Pass into the Nuweveldberge towards Fraserburg, the traveller passes through scenic, inhospitable country rising to the dry undulating plateau of the Great Karoo. Little is known about the military events that took place here, at Uitspanfontein and De Pannen, in the latter stage of the Anglo-Boer War (1899-1902).
>
Traces of the skirmish that took place at Uitspanfontein can be found today. On the high ground, the remains of the sangars are still there. Some ten kilometres away is the farm, De Pannen. At this windswept place with shallow pans, scalloped by the wind, is a mass grave containing nine soldiers identified by a memorial listing eleven names of Imperial soldiers who died at Uitspanfontein and De Pannen.
Two of these soldiers are interred in Beaufort West. These are Major Crofton and Private Byrnes. Omitted from the memorial is Private W Crookes, who died of wounds in Britain five months after the battle.
Two foreign nationals are buried at De Pannen. These are Private C E Clarke, a New Zealander, and Trooper C Hannah, from Australia. These casualties are recorded in Steve Watt, In Memoriam, published in 2000.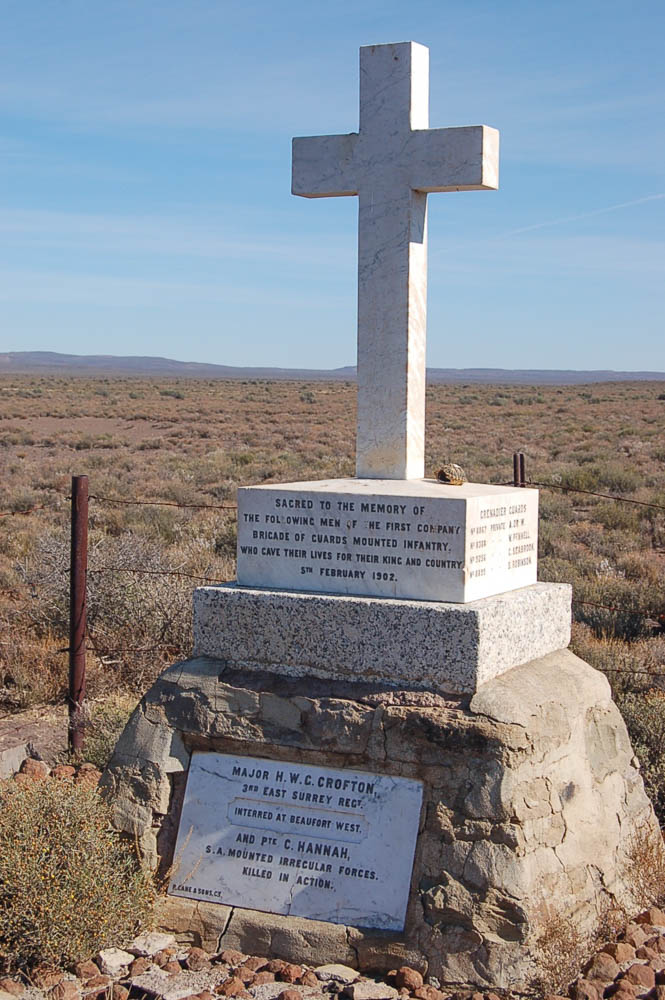 *
MALAN, Wynand Charl (1872-1953)
Born in the Murraysburg district, Charl Wynand Malan received his schooling at French Hoek and moved with his parents to Langlaagte near Johannesburg. His participation in the war against Mphephu in 1898 earned him citizenship of the Transvaal Republic.
At the outbreak of the Anglo-Boer War; Malan, with the Fordsburg Commando, invaded Natal, accompanying General D J E Erasmus.
(Boer en Brit)
>
He took part in the advance into southern Natal under CommandantGeneral P J Joubert. He was with the Pretoria Commando in the Boer attack on Spioenkop (24 January 1900). Later; with the Krugersdorp Commando, he saw action in the Thukela Heights (February 1900). After the Boer siege of Ladysmith was raised (28 February 1900), Malan quit the Natal theatre and joined the Free State Boers in their attempt to stem the British advance under Lord Roberts from Bloemfontein. From July to August 1900 he was a burgher of the Free State Artillery which retreated across the Vaal River.
When the scouts were re-organised after the death of Danie Theron (5 September 1900), Malan was appointed as a lieutenant serving under General C R de Wet. He took part in the battle of Frederikstad Station (21-25 October 1900) and was active in De Wet's first attempt to invade the Cape Colony in December 1900.
When the second invasion was attempted, Malan re-connoitred a route into the Colony and occupied Philipstown (12 February 1901), after which the main Boer force was compelled to retreat across the Orange River. Having been in a skirmish at Hamelsfontein, Malan and 24 men were cut off from the main Boer force and were obliged to advance further southwards into the Cape midlands.
He encountered small enemy units while evading larger mobile columns and saw action in the districts of Aberdeen and Graaff-Reinet. Attached at times to the commandos of Gideon Scheepers and W D Fouche, Malan was engaged in destroying enemy communications, compelling them to strengthen their forces in the Colony.
In June 1901, he withstood the attempts by Colonel H J Scobell to curb his activities in the district of Cradock and ventured to attack Richmond (25 June 1901). He also encouraged rebellion amongst the fighting Boers by sending Manie Maritz (later General) to the north-west Cape. After consultations with President M T Steyn and General de Wet, Malan returned to the Cape Colony where he met General J C Smuts towards the end of September 1901.
Smuts took over and re-organised the Cape Boer forces. Malan was given the command of a Boer force with the rank of Combat-General. After the skirmish at Tontelboschkolk (30 November 1901), he was returning to the Fraserburg district when he became engaged with a column under Colonel Crabbe at Uitspanfontein. Although wounded, Malan was successful in the capture of a British convoy of supplies.
On 27 May 1902, Malan attacked Aberdeen. The British garrison in the town was lying in wait for him and his men. Their objective was to commandeer horses, of which 54 were eventually captured. Commandant Carel van Heerden was killed and Malan was severely wounded, as were several other burghers. He was admitted to a British hospital just three days before the termination of hostilities. He later recovered and was eventually released.
In the first years after the war, Malan farmed in the Murraysburg district. After his marriage in 1906, he moved with his wife, father and relatives to German East Africa, where he commenced farming practices under Mt Kilimanjaro.
During the First World War; he was interned by the German authorities but resumed farming after the war; becoming a respected leader in his neighbourhood and a councillor in the activities of his church. In 1938 he revisited South Africa for the first time and met H J C Pieterse who was to write Oorlogsavonture for him. Malan died in Tanganyika in 1953.
http://samilitaryhistory.org/vol162sw.html
>
DECRIBED AS A MILITARY HERO
WYNAND CHARL MALAN
Birthplace:  Beyersfontein in the Murraysburg district, Cape colony, on August 16, 1872
Son of Jacobus Johannes Malan,and Margaretha Elizabeth Pienaar.
In early 1902 the commando forces in the north-west divided up and four commandos (those of Pypers, Smit, Hugo and Van Reenen) under General Malan were delegated with the task of returning to the Midlands area.
On 18 May Malan and Fouche assisted Van Heerden in his attack on Aberdeen. Malan and Fouche guarded the escape route while 80 of Van Heerden's men and 20 of Fouche's entered the town and surprised the garrison. They made off with a large number of horses but in the process Van Heerden was killed. Malan and Fouche now moved south towards the Rooiberge and on past Jansenville and Waterford.
On 27 May 1902 Malan was severely wounded and captured near Sheldon station (only four days before the final peace treaty was signed at Vereeniging) .
With commanders and scouts on a low ridge, a force of approximately 1,000 Boers dismounted in an extended line and faced the British cavalry, the well trained horses standing calmly a few paces behind their owners. The British, true to their spirit and hunger for the lance and sword cavalry charge – outdated since the Balaclava Charge of the Light Brigade and the American civil war – halted and "displayed a fine performance of lining up shiny squadrons" as Malan put it.   With 5 bullets in each magazine, the Mausers waited. The British "shouted neat orders and the movement started" Malan described.
The British were "at full gallop to the thunderous sound of 5,000 horses' hoofs when the rattle of the Mausers started. There was complete pandemonium as rider-less horses got out of control and horses were shot from under their riders." Amazingly, the British  fell back and lined up again. A second charge was shot to pieces. The Boers then successfully and in good order broke off the engagement as from the ridge could be seen that the British cavalry brigade's artillery was brought forward and a flanking movement was forming up.
https://www.boerenbrit.com/archives/6798
*
CRABBE, Eyre Macdonell Stewart (1852-1905)
Born in 1852 and educated at the famous British school, Harrow, he joined the Grenadier Guards in 1871. He served in the Egyptian War (1882) and the Nile Expedition (1884-5). He came to South Africa as a lieutenant-colonel in the 3rd Battalion, Grenadier Guards. In command of his battalion, he was wounded at Belmont (23 November 1899) and again, this time severely, at Glen (23 March 1900). Given a command of a mobile column, he led a force which, together with others, attempted to contain the Boers under General C R de Wet during their invasion of the Cape Colony Crabbe had a confrontation, but could not prevent the Boers entering Philipstown (12 February 1901). He was unsuccessful in an attempt, while on an armoured train, to effect the capture of the Boer leader.
Given the command of 520 men, Crabbe's column joined others in the pursuit of Commandant P H Kritzinger in the northern Cape near Steynsburg, then Tarkastad, and later near Cradock (March-July 1901). He came into direct contact with Kritzinger at Zwagershoek, where he lost 200 horses (June 1901), after which he retired to Mortimer. His column, with six others, came into contact with Kritzinger near Venterstad, which led to the eviction of the Boer leader from the Cape Colony (August 1901).
Whilst stationed in Beaufort West, Crabbe was in contact with a force under Commandant Pypers who headed towards Prince Albert where he was joined by General J C Smuts. He came into contact, then attacked, Commandant Gideon Scheepers (9 September 1901) at Driefontein, an action in which Assistant-Commandant Piet van der Merwe was killed. Both Lt-Gen F D P French and Lord Kitchener telegraphed Crabbe informing him of their appreciation of his exploit.
Further westward, Crabbe came into contact the Boers under Commandant Manie Maritz and Commandant J Theron in the Great Berg River near Malmesbury (November 1901).
He was to remain in this region. Given the command to protect a fifty-wagon convoy en route from Clan william to Calvinia, his men successfully repelled three attacks on it (20 and 22 December 1901). As there was uncertainty about the eastward movement of Boer units in the north-west Cape, Crabbe's force was railed from Piquetberg Road to Beaufort West. Given the command to protect a convoy from Beaufort West to Fraserburg, Crabbe was attacked before and after the loss of the convoy at Uitspanfontein (5 February 1902). In his last venture of the war, Crabbe's column, together with three others, launched a 'drive' and cleared the Boers along the front Williston—Carnarvon—Victoria West during which Commandant Henry Hugo was killed. Crabbe died with the rank of brigadier-general at Aldershot, England in 1905.
http://samilitaryhistory.org/vol162sw.html
*
English Blockhouses
With the completion of the erection of blockhouses in the Cape midlands, there remained a vast tract of country to the west of the Cape Town – De Aar railway line, where the Boers roamed freely. In an attempt to contain them and to afford protection of British convoys, Lord Kitchener, on 3 December 1901, issued an order for an imposing, unprecedented line of blockhouses to be erected. Starting at Victoria Road and ending at Lamberts Bay on the Atlantic coast, a distance of 520 kilometres, construction began at both ends and was completed in May 1902.
On 30 January 1902, one hundred men of the 4th Battalion, West Yorkshire Regiment under the command of Major H W G Crofton, in charge of a donkey convoy, accompanied by 50 men of the District Mounted Troops (DMTs), departed from Beaufort West for Fraserburg, 130 kilometres away. Since it was known that Boers were in the area, a column under Crabbe, comprising more than 495 troops, which had arrived in Beaufort West, was ordered by Major-General T E Stephenson to move in advance of the convoy. General Stephenson, who was subordinate to Lieutenant-General Sir J D P French, the overall commander of mobile columns in the Cape Colony, was based in Clanwilliam.