PARTS of Richards Bay CBD remain on lockdown amid ongoing protest action which erupted on Friday and continued Monday) and Tuesday.   There is a heavy police presence in the Taxi City vicinity of Bullion Boulevard and the road remains closed at various points.  'Operation Shaya Amapara' (drug related) as it is referred to by those carrying out the attacks, has been ongoing intermittently over the past few weeks and appears to be well co-ordinated.  People are sick and tired of those killings and rapes.   There were  attacks on people 3-4 weeks back, a woman was attacked, raped and killed  and a driver (bus/taxi) was also killed (waiting for confirmation).
*
Zululand Observer:
A group of men was transported around Richards Bay in taxis and dropped off at specific locations from where they would chase down their targets.
From about 30 people on Friday, the group swelled in size on Monday as they blocked Bullion Boulevard with buses and burning debris, forcing the closure of Taxi City.
Spreading law enforcement thin by setting veld fires and carrying out their random attacks at points far from each other, the police claimed that it was difficult to apprehend anyone.
Arrests were made on Monday, which led to a group gathering outside the Richards Bay Police Station, demanding the release of those arrested.
Cases of assault with grievous bodily harm were opened by police officers on behalf of the assault victims, although none has gone to the station to complete statements.
Police officers have spoken to Isikhebe and another vigilante group, neither of which claimed responsibility for the attacks.
**
Burning debris and ongoing violence has brought Bullion Boulevard and Taxi City to a closure.

**
Only certain streets were closed down for "Operation Shaya Amapara", not the whole CBD or all the streets.   People are sick and tired of drug dealers, attacks, killings and illegal immigrants.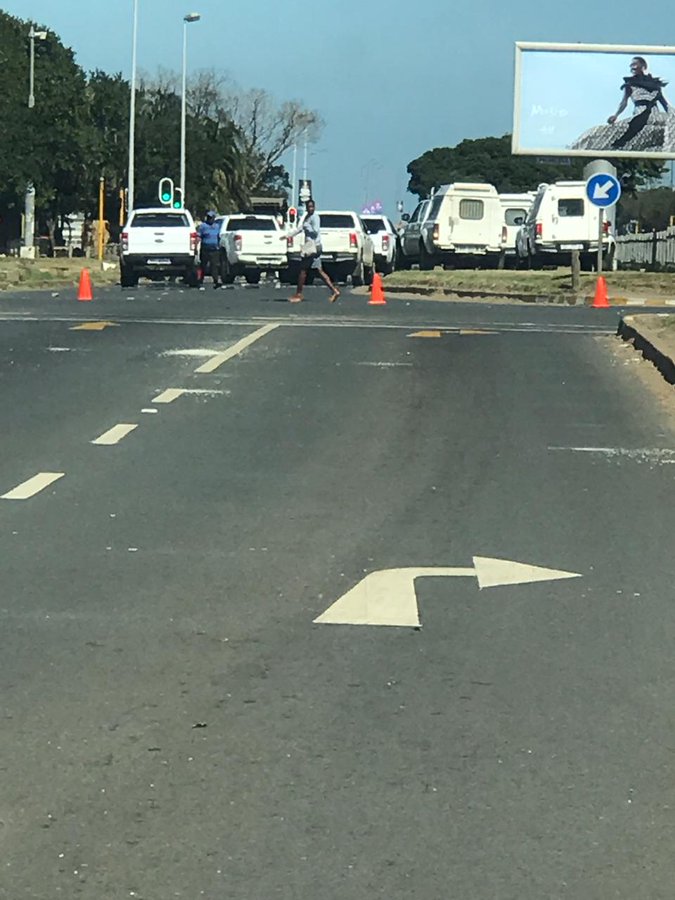 Vehicle torched in ongoing Richards Bay violence.     In the latest update, a delivery vehicle was looted and torched, and the driver seriously injured and robbed.   All businesses in the immediate area are closed.
25 July 2019