""Open arms" – 10 August 2019 – Italy's Deputy Prime Minister Matteo Salvini suggested Richard Gere fly 160 migrants stranded off the Italian coast back to Hollywood on his "private jet" after the actor made a plea to European leaders to find a port for the ship.  Just look at all the cell phones, the good and new clothes and shoes of those immigrants, necklaces.     What is the "meaning" of "OPEN ARMS".
*

Gere joined representatives from the non-governmental organization Open Arms at a press conference on the Italian island of Lampedusa to appeal to take in the ship. Salvini has refused to allow the vessel into Italian waters, the latest episode highlighting Europe's divisions over immigration.

"As the generous millionaire airs his demands about the fate of the Open Arms immigrants, we thank him: he will be able to bring everyone in his private jet to Hollywood and keep them in his villas," Salvini said in a statement after Gere's press conference.

Salvini has made a flagship policy of refusing to allow the migrant vessels, coming mostly from nearby North Africa, to enter Italian waters. Now in the first steps of a months-long electoral campaign, Salvini is likely to double down on the anti-immigrant rhetoric that's made him Italy's most popular politician for now.
Safe Harbor

The migrants were rescued in international waters and have a right to safe harbor and to apply for asylum in Europe, Oscar Camps, founder of the Open Arms movement, said at the news conference.

The vessel is floating in international waters near the island, which is located about half-way between Tunisia and the southern Italian coast.    Gere, 69, who went aboard the Open Arms vessel on Friday to deliver food and water, sat nearby and also called on European leaders to find a solution. The star of "American Gigolo" and "Pretty Woman" has a long history of social activism.   "The most important thing," Gere said aboard the vessel, is for the rescued migrants "to be able to get to a free port, to be able to get off the boats and get on land and start a new life."   Malta has said it will accept 39 of the migrants, who were rescued Friday, but other European governments have refused to allow the rest to disembark, Camps said on Twitter.

Spain's Refusal

Salvini has dubbed the request to disembark a "provocation" that disregards the lives of the migrants and called on Spain, the country where the boat is registered, to take them in. Spanish authorities have refused, insisting it must disembark at the nearest port.  The Italian interior minister has also threatened to seize the ship, using newly acquired powers granted him by parliament just days before he pulled the plug on the shaky coalition with a populist ally and sought to force new elections.   Responding to Gere's comments, Salvini said, "surely, he is impressed by the decisions that have been taken to bolster police and counter smugglers and criminals. Italy had been waiting for those measures for years."   Speaking on the island on Saturday, Camps said: "No decree or fine will stop us from protecting people at sea."

https://www.bloomberg.com/news/articles/2019-08-10/italy-s-salvini-tells-richard-gere-to-take-stranded-migrants
*
Fully Agree with Italian Deputy Prime Minsiter, Matteo Salvini….
Why does all those well known actors like Gere or people like Soros interfere in EU countries?
They can decide for themselves and have their own policies in place.   
Yes – the best and easiest way to protect those people (immigrants) is with yourself – Richard Gere and George Soros must take all those immigrants on their Open Arms boat to their own homes and share their glamour, money and houses with them.   They want to damage the normal citizines of all countries.

Open Society is also control South African parliament, legislation, constitution and other things.

Soros do have lots of money but Gere as well.   Sure that those immigrants will appreciate all those new toys (cell phones) and shoes, and enjoy the company of both of them and their families in Hollywood or that private island of Soros near Dakar – sure there are more than one island.   They can entertain all those immigrants.

They are rich and famous and will give the immigrants also work opportunities in their homes or they can create it where they came from in Africa or wherever it may be.   And sure those on the famous Open Arms can take all the million from the EU and South Africa as well – they will keep them busy.   Both of them can go to the Mexico border and keep the immigrants happy.

(TRANLATE: GOOGLE)   OPEN ARMS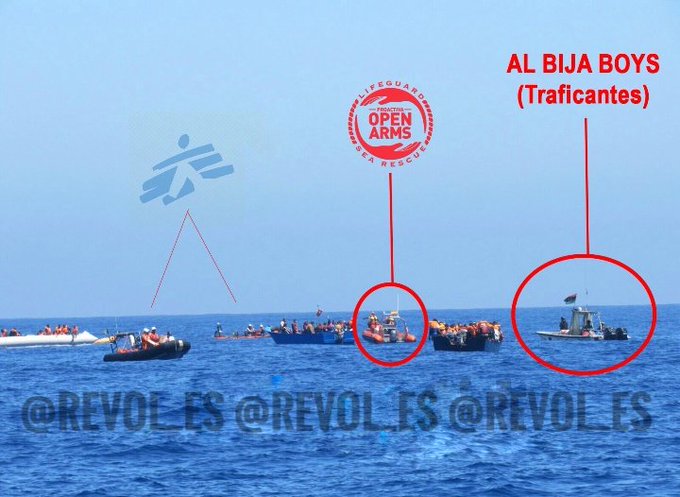 The Spanish NGO Proactiva Open Arms appointed attorney Rosa Emanuela Lo Faro as its defender following the opening of the investigation at Carmelo Zuccaro's Public Prosecutor's Office in Catania.
We already know the follow-up of the investigation: the investigation was moved to Ragusa and Giovanni Giampiccolo, a magistrate and member of the Democratic Judiciary, ordered the seizure of Open Arms, the ship of the Spanish NGO.
We also know the common values between the association of magistrates, the associations funded by the Open Society Foundations of George Soros in Italy and the organizations operating in the Mediterranean, such as Proactiva Open Arms.
The lawyer Rosa Emanuela Lo Faro, defender of Proactiva Open Arms and Sea-Eye, is included in the list of the Catania Bar Association as a lawyer member of ASGI (Association for Legal Studies on Immigration): organization funded by the foundation by Soros which presents appeals in 'friendly' courts throughout Italy to encourage the stay of illegal immigrants in the territory.

in 2011 Lo Faro was the lawyer of Anis Amri, the Islamic terrorist of the 2016 Christmas massacre in Berlin then killed by an Italian policeman in Sesto San Giovanni.
The Tunisian terrorist, you will remember, landed in Italy in February 2011, along with thousands of Tunisians who left the country in those months following the infamous Arab Spring. When identified, Anis Amri declared, like many adults, that she was a minor and was transferred to a reception center for minors in Sicily. The lawyer who today defends the NGO Open Arms thus became legal of the minor.  After a few months in the center, the Tunisian participated in a violent revolt, during which the center was set on fire and committed several crimes. In the meantime he became an adult, and was therefore arrested, tried and sentenced to 4 years. From prison, Amri was released in the spring of 2015. But this is another story, the thing that interests us here is that the same person who defended Amri today defends an NGO that ferries other illegal immigrants like Amri. Some do not learn. The writer would have been reluctant to know that he had helped an Islamic terrorist who killed innocents. And it certainly would avoid defending those other potential terrorists from ferrying.

With, however, bizarre and out of this world thesis, how to claim that illegal immigrants recovered in Libya from a Spanish ship and stopped in international waters under Maltese jurisdiction could be Italian responsibility: stuff for immediate withdrawal of the license.  But no. Are there links between Islamic terrorists and NGOs? No one knows. But they certainly share the same interest in transporting as many Afro-Islamists as possible to Italy, and even the lawyer himself.  Ps. Scandura, of Radio Radicale, who has ideas opposed to ours but intellectual honesty, explained well…. Read more on twitter … #OpenArms
*


*

La Ong spagnola Proactiva Open Arms nominò come proprio difensore l'avvocato Rosa Emanuela Lo Faro in seguito all'apertura delle indagini presso la Procura di Catania di Carmelo Zuccaro.
Conosciamo già il seguito dell'inchiesta: l'indagine fu spostata a Ragusa e Giovanni Giampiccolo, Gip e membro di Magistratura Democratica, dispose il dissequestro di Open Arms, la nave della Ong spagnola.
Conosciamo anche la comunanza di valori tra l'associazione di magistrati, le associazioni finanziate dalla Open Society Foundations di George Soros in Italia e le organizzazioni che operano nel Mediterraneo, come Proactiva Open Arms.
L'avvocato Rosa Emanuela Lo Faro, difensore di Proactiva Open Arms e di Sea-Eye, è inserita negli elenchi dell'Ordine degli avvocati di Catania come avvocato membro di ASGI (Associazione per gli studi Giuridici sull'Immigrazione): organizzazione finanziata dalla fondazione di Soros che presenta ricorsi in tribunali 'amici' in tutta Italia per favorire la permanenza sul territorio di clandestini.  Nel 2011 Lo Faro era il legale di Anis Amri, il terrorista islamico della strage di Natale del 2016 a Berlino poi ucciso da un poliziotto italiano a Sesto San Giovanni.
Il terrorista tunisino, ricorderete, sbarcò in Italia nel febbraio del 2011, insieme ad altre migliaia di tunisini che in quei mesi lasciarono il paese in seguito alla famigerata primavera araba. Quando venne identificato, Anis Amri dichiarò, come molti adulti, di essere minorenne e fu trasferito in un centro di accoglienza per minori in Sicilia.    L'avvocato che oggi difende l'ong Open Arms divenne così legale del minore.
Dopo qualche mese di permanenza nel centro il tunisino partecipò ad una violenta rivolta, durante la quale il centro venne incendiato, e commise diversi reati. Diventato nel frattempo maggiorenne, venne dunque arrestato, processato e condannato a 4 anni.
Dal carcere, Amri uscì nella primavera del 2015. Ma questa è un'altra storia, la cosa che ci interessa qui è che la stessa persona che difese Amri oggi difende una ong che traghetta altri clandestini come Amri.
Alcuni non imparano. Chi scrive avrebbe rimorsi a sapere di avere aiutato un terrorista islamico che ha ucciso innocenti. E di certo eviterebbe di difendere chi altri potenziali terroristi sta traghettando.

Con tesi peraltro bizzarre e fuori dal mondo, come pretendere che clandestini recuperati in Libia da una nave spagnola e fermi in acque internazionali di competenza maltese possano essere responsabilità italiana: roba da ritiro immediato della licenza.   Invece no. Ci sono legami tra i terroristi islamici e le Ong? Non si sa. Ma di certo condividono lo stesso interesse di traghettare più afroislamici possibile in Italia, e anche lo stesso avvocato.  Ps. Scandura, di Radio Radicale, che ha idee opposte alle nostre ma onestà intellettuale, ha spiegato bene.  leggi di più su twitter #OpenArms


01/07/2018

The Catalan NGO has been operating for three years. Up to 2017 it has collected 3.6 million euros. Funds from Richard Gere and Manchester City. Since there are NGOs in the Mediterranean, merchant ships lose much less money due to the obligation to rescue migrants.

The first curious element is the origin of Open arms, the ship that is challenging the Interior Ministry.   This is a donation from the Ibazibal Group, which is not a charitable association, but a Spanish shipping company.

Not only that: the doubt is that the non-governmental organization Pro-activa Open arms points to the media spotlight to reverse the trend of the collapse of donations this year. From 2016 to summer 2017, before the ambiguous role of the NGOs of the sea was evident, the Spanish "humanitarians" had collected the beauty of 3.6 million euros. Funds have even arrived from the American actor Richard Gere and from a football club like Manchester city.    Another highlight is the Astral luxury vessel, which flies the English flag, donated by Livio Lo Monaco king of mattresses in Spain. In support of Open arms aboard the sailing boat there are three Spanish MEPs and the Italian Eleonora Fiorenza leader of the Communist Refoundation in Strasbourg since 2014. Their "mission" is to report to the plenary session of the European Parliament between 2 and 5 July on the «poor» NGOs harassed in the Mediterranean.

Pro-activa open arms was born in 2015 when two lifeguards from Badalona, a municipality in Catalonia, who worked for a maritime security company, landed on the Greek island of Lesbos with just 15 thousand euros. And they invest them to help Syrian migrants who arrived by sea from Turkey. The founder of the NGO is Oscar Camps named "Catalan of the year" thanks to his humanitarian success. It is no coincidence that the first citizen of Barcelona, Ada Colau, in these last weeks of tug-of-war with non-governmental organizations said she was willing to welcome migrants illegally recovered from the reception by the Taliban.   Perhaps it is a coincidence, but in Barcelona there is also the headquarters for Europe of Open society, the controversial philanthropic foundation of the American billionaire George Soros accused of financing the "invasion" of migrants.

another prominent member of the Spanish Ngo is Riccardo Gatti, head of mission at sea. For 40 years he has lived in Spain, but until he came of age he grew up in the Lecco area.

After Lesbos the Pro activa open arms launched into the recovery of migrants off the coast of Libya thanks to the boom in donations. 1.4 million euros were spent to support the fleet's two ships.    And from 2015 until May the NGO recovered 26,674 migrants, mostly without the right to asylum, and then almost all of them landed in Italy. The Spaniards signed the code of conduct of the NGOs of the previous Minister of the Interior, Marco Minniti, continuing, however, to make the crafty. Since last July when the code was imposed, they rank second as recoveries of migrants with 33 reliefs. In reality the well-founded suspicion exists, that in several cases Open arms came to the place as if it were an "appointment" in the middle of the sea.

On March 14, when the inflatable boats had not yet left the Libyan coast, the ship came from Malta at full speed with a perpendicular route over Homs, from where migrants would embark only hours later. Just this "rescue" disputed with the Libyan coast guard led to the kidnapping of Pozzallo of Open arms, then released. Despite accusations of aiding illegal immigration, the Spanish NGO received numerous international awards, including one from UNICEF. And on the website we read that "Proactiva Open Arms is an entity associated with the United Nations public information department".

***  01/07/2018

L'Ong catalana opera da tre anni. Sino al 2017 ha raccolto 3,6 milioni di euro. Fondi da Richard Gere e Manchester City.    Da quando nel Mediterraneo ci sono le Ong, le navi mercantili perdono molti meno soldi a causa dell'obbligo di soccorso dei migranti.

Il primo elemento curioso è la provenienza di Open arms, la nave che sta sfidando il Viminale. Si tratta di una donazione del Gruppo Ibazibal, che non è un'associazione caritatevole, ma una compagnia marittima spagnola.

Non solo: il dubbio è che l'organizzazione non governativa Proactiva Open arms punti ai riflettori dei media per invertire la tendenza del crollo delle donazioni di quest'anno. Dal 2016 all'estate 2017, prima che fosse evidente il ruolo ambiguo delle Ong del mare, gli «umanitari» spagnoli avevano raccolto la bellezza di 3,6 milioni di euro. Fondi sono arrivati addirittura dall'attore americano Richard Gere e da società calcistica come il Manchester city. Un altro fiore all'occhiello è il vascello di lusso Astral, che batte bandiera inglese, donato da Livio Lo Monaco re dei materassi in Spagna. In appoggio ad Open arms a bordo del barcone a vela ci sono tre europarlamentari spagnoli e l'italiana Eleonora Fiorenza dirigente di Rifondazione comunista a Strasburgo dal 2014. La loro «missione» è riferire nella sessione plenaria del Parlamento europeo fra il 2 e 5 luglio sulle «povere» Ong vessate nel Mediterraneo. 

Proactiva open arms è nata nel 2015 quando due bagnini di Badalona, un comune della Catalogna, che lavoravano per una società di sicurezza marittima sbarcano nell'isola greca di Lesbo con appena 15mila euro. E li investono per aiutare i migranti siriani che arrivavano via mare dalla Turchia. Il fondatore della Ong è Oscar Camps nominato «catalano dell'anno» grazie al successo umanitario. Non a caso la prima cittadina di Barcellona, Ada Colau, in queste ultime settimane di braccio di ferro con le Organizzazioni non governative si è detta disposta ad accogliere i migranti recuperati illegalmente in mare dai talebani dell'accoglienza. Forse è un caso, ma a Barcellona si trova anche il quartier generale per l'Europa di Open society, la discussa fondazione filantropica del miliardario americano George Soros accusato di finanziare l' «invasione» dei migranti.

Un altro membro di spicco dell'Ong spagnola è Riccardo Gatti, capo missione in mare. Da 40 anni vive in Spagna, ma fino alla maggiore età è cresciuto nel lecchese.

Dopo Lesbo la Proactiva open arms si è lanciata nel recupero dei migranti al largo della Libia grazie al boom di donazioni. Per sostenere le due navi della flotta sono stati spesi 1,4 milioni di euro. E dal 2015 fino a maggio l'Ong ha recuperato 26.674 migranti, in gran parte senza diritto all'asilo, per poi sbarcarli quasi tutti in Italia. Gli spagnoli hanno firmato il codice di condotta delle Ong del precedente ministro dell'Interno, Marco Minniti, continuando, però, a fare i furbetti. Dallo scorso luglio quando è stato imposto il codice sono al secondo posto come recuperi di migranti con 33 soccorsi. In realtà esiste il fondato il sospetto, che in diversi casi Open arms sia giunta sul posto come se fosse un «appuntamento» in mezzo al mare.

Il 14 marzo, quando i gommoni non erano ancora partiti dalla costa libica, la nave è arrivata da Malta a tutta velocità con una rotta perpendicolare su Homs, da dove si sarebbero imbarcati i migranti solo molte ore dopo. Proprio questo «soccorso» conteso con la guardia costiera libica ha portato al sequestro a Pozzallo di Open arms, poi lasciata andare. Nonostante le accuse di favoreggiamento dell'immigrazione clandestina l'Ong spagnola ha ricevuto numerosi premi internazionali compreso uno dall'Unicef. E sul sito si legge che «Proactiva Open Arms è un'entità associata con il dipartimento di pubblica informazione delle Nazioni Unite». 

 http://www.ilgiornale.it/news/politica/umanitari-finanziati-dai-vip-adesso-corto-donazioni-1547146.html

COMMENT

Non vi è dubbio, le ONG lavorano in concerto con gli scafisti libici. L'intero impianto è finanziato da gentaglia come George Soros (nato Schwarzkopf) agli ordini dei Rothschild che mirano a destabilizzare l'Italia in primis e ad africanizzare l'Europa. Così da produrre in pochi decenni una società di consumatori e schiavi senza identità propria.

There is no doubt, the NGOs work in concert with the Libyan smugglers. The entire plant is financed by Gentile like George Soros (born Schwarzkopf) under the orders of the Rothschilds who aim to destabilize Italy in the first place and to Africanize Europe. So as to produce in a few decades a society of consumers and slaves without their own identity.

***
Actor Richard Gere has made a visit to a ship stranded off the coast of Lampedusa with 121 migrants on board. The 69-year-old actor was holidaying in Tuscany and said he wanted to help. He travelled with the charity Open Arms to deliver food and supplies to the vessel and also bonded with those on board, sharing photos of his newborn son. The ship rescued the migrants in the Mediterranean Sea nine days ago, but has been blocked from docking in Italy and Malta. The charity has appealed for international assistance in helping the migrants.