Bepaling van die afbakening van Suid-Afrika se munisipale grense.   Ramaphosa het al die nuwe aanstellings reeds sowat twee maande gelede gedoen.  Dus, wie bepaal ons munisipale grense?   ANC regering bepaal die munisipale grense.    The new Board was appointed by the President of the Republic, Cyril Ramaphosa, on 01 March 2019, following the end of the five year tenure of the previous Board on 19 February 2019.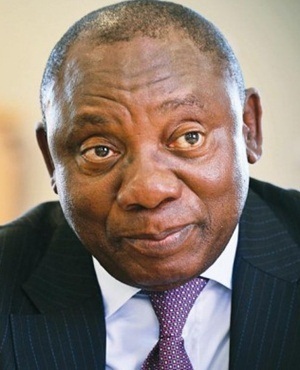 ***
BACKGROUND
President Cyril Ramaphosa has appointed new members of the Municipal Demarcation Board, with effect from 1 March 2019, for a period of five years.   "The President has thanked the former board for their hard work and contribution to the strengthening of democratic local governance, and wishes the new board well with their new responsibilities," said Presidency in a statement on Friday.
The new members are:
(1) Thabo Moses Manyoni
(2) Mbali Pearl Myeni
(3) Monnapula Petrus Motlogelwa
(4) David Mohale
(5) Albert Kekesi
(6) Nomso Baliso
(7) Greta Apelgrein-Narkedien
(8) Themba Dubazana
(9) Mmatsie Mookie
(10) Mabjoalo Jane Thupana
Thabo Manyoni will spearhead the board as chairperson and Mbali Pearl Myeni will serve as Deputy chairperson of the board.
https://www.sanews.gov.za/south-africa/new-municipal-demarcation-board-appointed
***
President Cyril Ramaphosa has appointed a senior official from the Durban University of Technology (DUT) to serve on the Municipal Demarcation Board.
In a statement on Thursday Alan Khan, senior director of corporate affairs at DUT, said: Ramaphosa, "has appointed DUT's Dr David Mohale to the Municipal Demarcation Board".
Mohale, who was the director of special projects in the office of the vice-chancellor at the DUT, has been appointed to serve on the board for five years, said Khan.
Mohale holds a PhD in the field of Development Studies from the University of South Africa.
Prior to his doctoral studies, Mohale obtained his Masters in Public Policy from the University of Witwatersrand and a BA Degree (Cum Laude) from the Central University of Technology.
He also holds various certificates ranging from leadership to local government planning, processes, systems and structures and he is a published author.
Dr Mohale, despite being one of the youngest members of the Board, has an immense wealth of experience and knowledge, having worked for a number of years in the local government sphere.
He added that he was conscious of the fact that he is carrying the hopes of millions of young people on how everyone can use demarcation to deepen our constitutional democracy, promote inclusive and cohesive communities and to build an integrated economy.
Commenting on his appointment Mohale said, "he was aware of the complexity of the work of the Board, which became evident from countless congratulatory remarks that he had received, which ended with mandates on what the Board must do".
Mohale said that he was looking forward to sharing and exchanging ideas with his colleagues.
https://www.polity.org.za/article/president-ramaphosa-appoints-duts-dr-mohale-to-the-municipal-demarcation-board-2019-03-07
***
READ MORE ABOUT THE BOARD MEMBERS
Click to access Municipa-Demarcation-Board-Media-statement-New-Board-Members-2019.pdf