Alles was voorafbeplan gewees.   Here is Nelson Mandela at his presidential inauguration with his deputies, FW de Klerk and Thabo Mbeki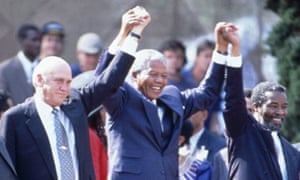 THE SO-CALLED END OF APARTHEID – 1994
***
2012 – DE KLERK SAID MANDELA WAS IN JAIL TOO LONG AND HE CAN DO BUSINESS WITH MANDELA
(WHY WAS MANDELA IN JAIL AGAIN:  PLANTING OF BOMBS AND THE QUATRO CAMPS)
Former South African president F.W. de Klerk discusses his history and friendship with one time rival Nelson Mandela.
***
Dis nie die ANC wat Suid-Afrika sonder 'n mandaat op 'n skinkbord oorhandig het nie, maar iemand met die naam van FW de Klerk, wat gemaak het of hy in besit is van 'n mandaat om namens alle Afrikaners en Boere te praat.  FW de Klerk het slegs die toestemming gehad van sy kollegas in parlement en liberales wat dit al uit Dakar beplan het.  Geen mandaat nie.
Hier is 'n video wat duidelik die waarheid weerspieël van die nuwe Suid-Afrika – een van moord, doodslag, misdaad, verkragtings, aanrandings en korrupsie.
This short documentary is taken from our feature length documentary "The Other Man" about the political legacy of F.W. de Klerk, South Africa's last white president.   Dis die nuwe Suid-Afrika
On 2 February 1990, South African President F. W. de Klerk delivered a speech at the opening of the 1990 session of the Parliament of South Africa. He announced sweeping reforms that marked the beginning of the negotiated transition from apartheid to democracy. The reforms included the unbanning of the African National Congress (ANC), The Pan Africanist Congress (PAC), the South African Communist Party (SACP) and other anti-apartheid organizations, the release of political prisoners including Nelson Mandela, the end of the state of emergency, and a moratorium on the death penalty. It marked the official end of segregation policies and the official start of the negotiations that led to a constitutional democracy with equal rights for all South Africans.
***
2018   THABO MBEKI
Has South Africa lived up to its promise to be a democratic society? Thabo Mbeki, former President of South Africa and Founder of Thabo Mbeki Foundation speaks to the audience at SuperReturn Africa about the two goals for South African democracy – building a non-racial society and reducing socioeconomic inequality. For more insights on private equity and development,