WHAT IS ARSON?  the willful or malicious burning of property (such as a building) especially with criminal or fraudulent intent.
The crime of arson is committed in a number of different ways in the South African context. However, what is common to all incidences of the crime is that it causes danger: either to property or persons or both. Although the crime is traditionally classified as a crime against property,  in the common-law sources upon which the crime is based, that the crime also protects the community. In this regard the use of the crime to punish the fire-setter who sets his or her own property alight, foreseeing that the fire may endanger the interests of others, is highlighted.  The reasons for deliberate fire-setting include vandalism, concealment of crime, revenge, fraud and mental illness.     With regard to mental illness, arson has always been of special interest to psychiatrists.  In the context of South African law, deliberate fire-setting has been punished as arson in a number of contexts. As in other jurisdictions it has provided the means for insurance fraud, as well as being employed in order to commit murder.  Deliberate fire-setting has been used as a means of political violence.  (Shannon Hoctor)
ARSON – ILLEGAL PROTESTS – not the first and not the last

READ ALSO
**
Voortsetting en versnelde rewolusie van die ANC
**
HERMANUS:
Remember her face also the name:  Vanessa Swanepoel
***
SHE WAS ALSO INVOLVED IN …
>>
***
WILLEM PETZER
***
This was last year – all in the NAME OF LAND EXPROPRIATION
July 2018
Police fired rubber bullets at protesters in Hermanus and made several arrests following a standoff on Wednesday.
At least 1 000 residents of Zwelihle, Hermanus, were involved in a standoff with police officers, using rocks and debris to block a main road.
Unrest flared up overnight, according to Hermanus police's Colonel Luthando Nosilela.
***
Tensions in the coastal town of Hermanus remain high, following a violent confrontation between a group of protesters and police over land occupation.
Sheikh Aslamic Tambara has taken in several foreign families during the ongoing protests. Many of their shops have been looted and their properties destroyed.
He spoke to News24 on Tuesday, March 27, outside the Ismail and Miriam Ebrahim Islamic Centre, where a group of foreigners are being sheltered.
The previous year – 2016
***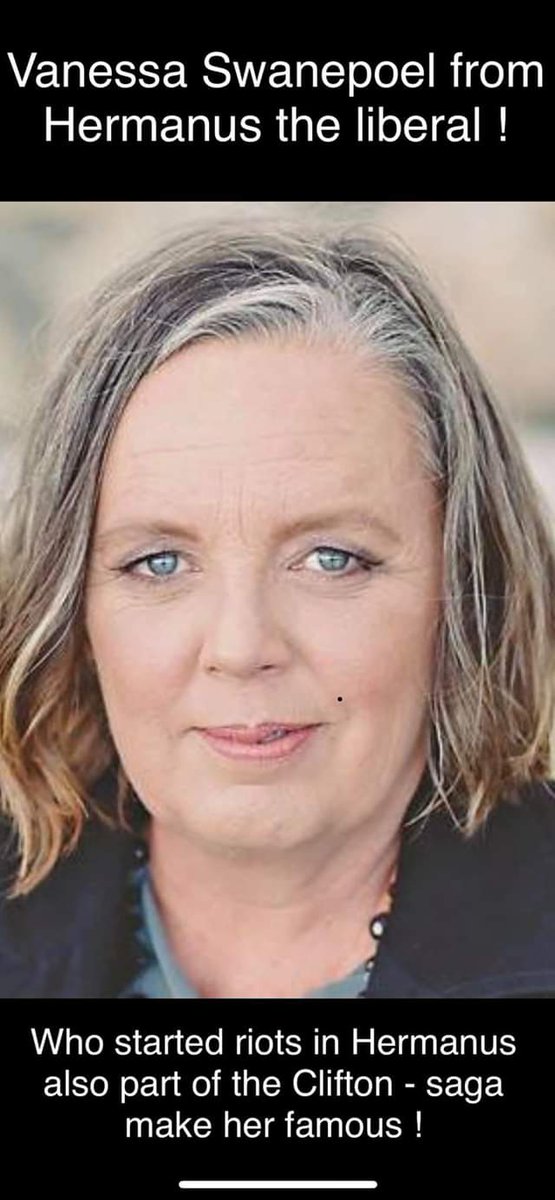 What a character this person with a dark passed has. Also known as Vanessa Alberts. Now follow the money.
**
CLIFTON