Why did the media and social media only shared only the one photo of the Schweizer-Reneke School? They were well aware of all the other photos available but they preferred to ignore that in their articles.   The other photos were shared at a later stage for the obvious reason  :  racism and hate speech.   T
he first picture where all children sitting with their lunch boxes,  was being shared far and wide by various groups on Facebook as well as the usual race merchants on Twitter.     That was the "
hoax
" and also racism against the teacher and white children AND to send out the message to the authorities and the protestors.   Black children have the same choices as the whites, to sit where they want during lunch our.   It is possible that the black children did not want to sit in an Afrikaans groups of children while eating, so why making it only as a "black" thing.
Hoekom word net een foto gedeel, maar die ander foto's waar daar klas gegee word, was gerieflik nie gedeel op die sosiale media en liberale artikels nie.  Nes die blanke kinders wat oor die algemeen Afrikaans is, nie deel wou vorm van 'n ander taalkultuur tydens ete nie, het hulle dieselfde keuse gehad as die swart kinders, om te kies waar hulle wou sit.  Taal in Suid-Afrika is 'n probleem en dan word dit as rassisties afgemaak.  Hoekom word die skuld nou net voor blankes se deure geplaas, die werklikheid tydens periode van onderrig is duidelik te bespeur,  daar is geen rassisme nie.  Tydens die protesaksie is geskree dat hulle 'n swart onderwyser soek (protesgangers wat nie daar skoolgaan nie).  Is dit eintlik waaroor dit gaan ?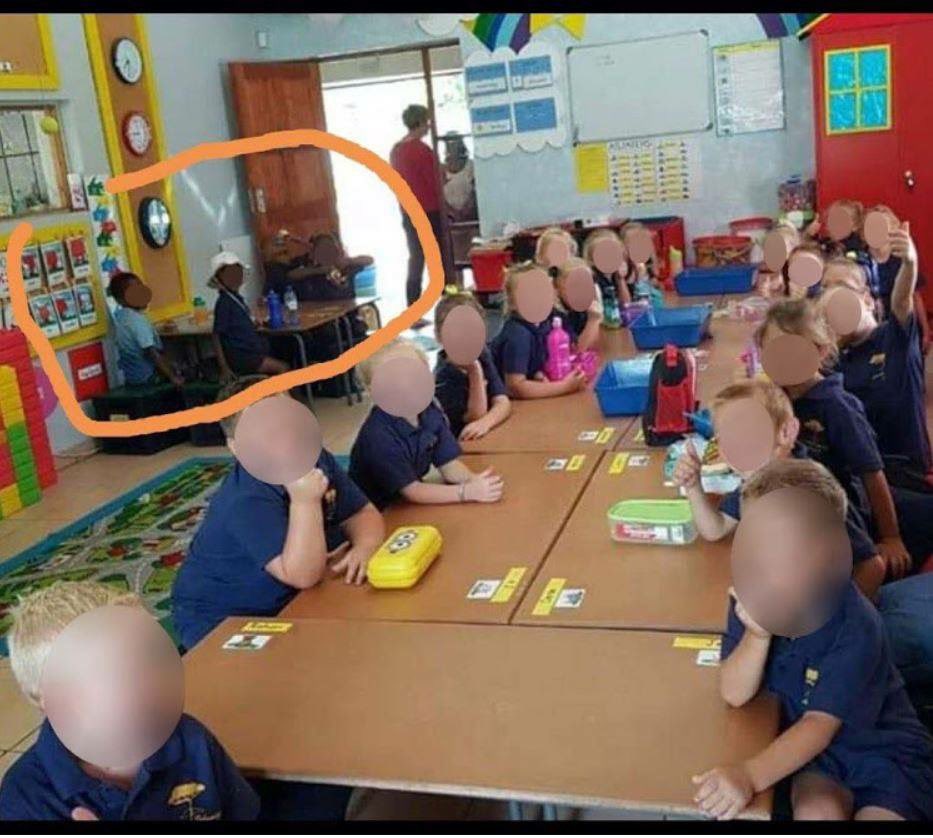 Met selfbeskikking (onafhanklike gebiede), het ons nie nodig om deur hierdie tipe van vals beskuldigings te gaan nie.
Daar word baie gelieg vir almal van ons, al sedert 1994 en selfs voor, waar daar in Dakar onderhandel was om die land aan kommuniste te oorhandig.
Die ou Tuislande van voor 1994 is ook vervang met aparte gebiede wat Trustgebiede genoem word en grondeise is almal geskoei op ras.   Die Zoeloe bly ook apart van die Tswanas in hul Ingonyama Trust, terwyl elkeen hul eie kultuur en tradisies uitleef, oral het hul eie skole.  Moenie dink daar is geen skole in die ou tuislande wat vandag Trustgebiede heet nie.  Hoeveel blankes bly in Trustgebiede of kan eiendom daar koop?
Daar word met swart bemagtiging slegs teen die blanke gediskrimineer om ons ekonomies te ontmagtig.   – B-BBEE is alles wetgewing teenoor blankes ingestel.

***

Moenie uit die oog verloor dat daar al vir etlike jare al in die Provinsie hewige terreurdade gepleeg word en selfs toesprake gemaak word vanaf die "premiers"kantore dat hulle nie blankes of immigrante in hul gebiede soek nie.  In 2017 was daar hewige aanvalle op boere sowel besighede, asook op immigrante se besighede.
***
KOMMUNISTIESE GRONDWET
18. Vryheid van assosiasie
Elkeen het die reg op vryheid van assosiasie
COMMUNIST CONSTITUTION
18. Freedom of association
Everyone has the right to freedom of association.
North West Education Department officials are headed to Laerskool Schweizer-Reneke. They're probing racism allegations after a photo emerged showing what appears to be children separated on the basis of race. Courtesy
***
Who were the racists – the whites or the blacks in the photo
https://www.youtube.com/watch?v=fqFx-Uv_iss
***
Teacher suspended – separation of children due to language and while eating?
***
A picture showing about 
four black pupils seated separately
 at a desk from a larger group of white pupils at another desk, has gone viral on social media.   The picture was sent to a WhatsApp group for parents and has some parents and social media users very angry.   They're calling on education officials to probe the incident.   Provincial Basic Education Department spokesman Freddy Sepeng said the main focus is to establish exactly what happened at the school.
https://www.enca.com/news/update-teacher-alleged-racism-incident-suspended
***
WIE IS DIE RASSISTE HIER
Gaan dit eintlik hieroor – omdat daar 'n blanke onderwyser is?  Die foto waar kinders sit en eet is waar swart en wit nie saam eet nie, weens taalverskille.  Meeste van die kinders is AFRIKAANS
>

We want a black teacher."
So shouted one of the black residents of  Schweizer-Reneke on Thursday as the North West Education and Sport Development MEC, Sello Lehari, announced the suspension of a white teacher at Laerskool Schweizer-Reneke.
https://www.iol.co.za/the-star/news/laerskool-schweizer-reneke-teacher-in-racially-segregated-class-suspended-18765472
Although other pictures were later also released on social media showing all the children integrated, the damage had already been done. Many were not moved, saying the pictures were taken only after the outcry and was the school's way of doing damage control.
The North West government had to intervene when the school started trending. Lehari and other officials rushed to the school to calm the waters and also get to the bottom of what was going on.
Before Lehari arrived at the school in the morning, community members and different political parties such as the DA, the ANC, EFF and SACP had also gone to the school where they staged a protest.
Worried, parents arrived and pulled their children out of school.
***
Just another note :
Who were the racists here?  the white children, the black children, the mother or the teacher or the school?

Where is it a crime to eat and associate with your own group of friends, enjoy your meal in peace while talking the same language?    Even children have that choices.
If  a black child(ren) preferred to eat with his or her own friends and enjoy his/her meal in the language of choice, how can that be seen as racism?
The mother that started this, is obvious a racist – she only. shares the one photo with a racist purpose.
*
Same – if the white children preferred to eat with his/her own friends and their choices, is not racism at all.
Again the "mother" that shared the one photo for racism purposes, send out wrong doings of her own culture.
Her parliament and her ANC or EFF leader implemented RACISM and discrimination against only the white minority population in South Africa.
*
Dus :  Wat is rassisties daaraan om te eet aan dieselfde tafel met jou eie maatjies en jou ete geniet – net soos in 'n restaurant.     As jy na 'n restaurant toe gaan, sit elkeen by hul eie tafels en eet.

VRAAG:   
Is dit nou die swarte kinders wat rassisties is of die witte kinders?
Die swart ma se kind(ers) verkies om met hul eie vriende in hul eie moedertaal te sit en gesels terwyl daar ge-eet word, en so ook die blanke kinders wat hul eie ete geniet saam hul vriende.
***
WHERE IS THE RACISM HERE?   CLASS IN PROGRESS
While the class was busy, some children were sitting on the floor and others at the tables – is that also racism to sit on the floor?
Did anybody discriminate against those sitting on the floor or the blacks at the tables?  For what reason was this photo not shared to all of us on Facebook and twitter or in liberal articles?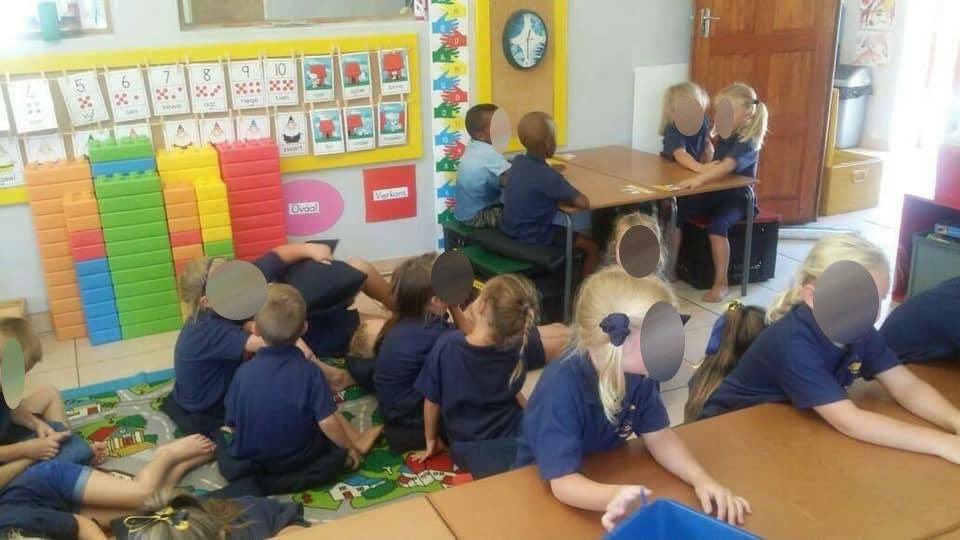 **
Hier rapporteer 'n ouer wat gebeur het, dat slegs een foto gedeel is, met kwade bedoelings.   
This was not racism at all.  While eating they all have choices to sit where they want – this is not racism.   A parent wrote the following:
Swartes skop gou bohaai op oor rassisme en kan nie wag om ontslae te raak van 'n blanke en 'n skool af te brand nie, selfs leerders te intimideer soos wat gebeur het.

Daar  word daagliks gesing hoe hulle ons haat en wil doodmaak, maar nou is hulle op hul RAS en diskriminasie missie omdat hul kinders nie langs hulle wil sit of saam wil eet nie – wie se fout is dit?  Rassisme is hul forte.

***
Hier is nog 'n foto van waar swart en wit langs mekaar sit.  Daar word nie gesing, vermoor die swartes omdat hulle langs blankes sit nie.   Why did the mother or media not shared this with the first photo?

As usual it, most of the black leaders are singing songs to kill whites, but they can't wait to share half of the lies to the world.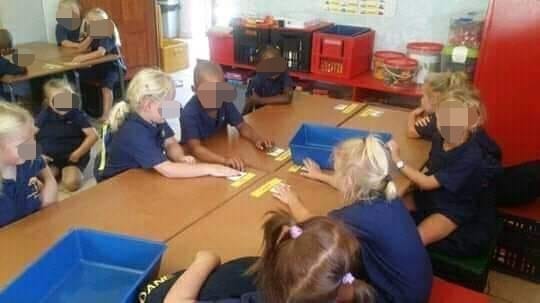 **
TO ASSOCIATE – IS YOUR OWN CHOICE
18. Vryheid van assosiasie
Elkeen het die reg op vryheid van assosiasie
COMMUNIST CONSTITUTION
18. Freedom of association
Everyone has the right to freedom of association.
***

PROTEST ACTION – NOT SURE IF THIS WAS LEGAL OR NOT – MOST OF THEM EFF

Betogers neem 'n "skool" op horings – het die Polisie die protesaksie goedgekeur – dit sal ook waardeer word indien hierdie tipe van protesaksies waar goedkeuring verleen is, gewys word. Nie een gaan daar skool nie, en mens wonder net hoeveel is met taxi's en busse aangery om te betoog…  was dit 'n wettige betoging?
VISIT TO THE SCHOOL
Die LUR vir onderwys en sportontwikkeling in noordwes, Sello Lehari het Donderdag by die Laerskool Schweizer-Reneke aangekom. Hy het met die skool se beheerliggaam en skoolhoof vergader.