Daar is glo gerugte dat die David Mabuza 'vergiftig" was en die is toe in 2015 na Moskou geneem, nogal in 'n Gupta vliegtuig.  Interessant dat almal so kort termyn geheue ondervind en niks onthou daarvan nie.  Daar is verskeie berigte oor hierdie "verdagtes" saam verskeie Gupta's.  Interessant dat hy ook onderwyser kwalifikasie in die ou RSA ontvang het.    Gaan ons vir die res van ons lewens met hierdie kommuniste sit wat oor ons regeer of gaan ons in 2019 vir Selfbeskikking en volksparty stem (op nasionale en provinsiale vlak) – sodoende kan bepaal word waar ons mense bly en kan 'n nodige mandaat verkry word – Front Nasionaal.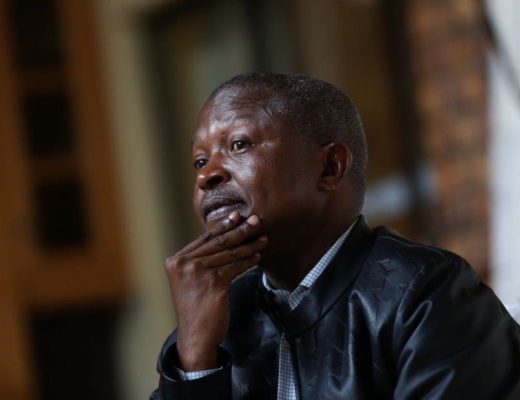 Mpumalanga Premier David Mabuza on Monday proved why he calls himself "The Cat" as he took up yet another political life, as the ANC&39;s deputy president.   He received 2,538 votes at the ANC&39;s elective conference, while his opponent, Lindiwe Sisulu, notched up only 2,158.
In the run-up to the conference, Mabuza (57) established himself as a kingmaker, under a banner of unity, hedging his bets by refusing to name his preferred choice for president.
David Dabede Mabuza – or DD for short – was born in 1960 in Brondal, Mathafeni, in what is now Mpumalanga. He studied at Khumbula High School, before working as a teacher.   Mabuza obtained a teacher's certificate in 1985 and four years later earned a bachelor's degree from Unisa.   In 1984, he became the Azanian Students' Organisation secretary. He was also active in at least two teachers' unions in the 1980s and 1990s.
"The Cat" eventually clawed his way into provincial government and Luthuli House.   From 1994 to 1998, Mabuza was an ANC regional chairperson. He became a member of the ANC&39;s provincial leadership in Mpumalanga from 1998 to 2006. He was a Member of Parliament during some of that time.   In 2007, Mabuza joined the ANC's national executive committee and two years later his reign over Mpumalanga began.  His political career has been dogged by allegations of corruption and political intimidation.
Die DA het ook vrae gevra oor die afwesigheid van David Mabuza op 11 November 2018 in parlement.
Vrae in Parlement David
During Parliament questions were asked
Too ill to remember he is on a Gupta plane
Die Burger skryf daaroor:
The DA says it will write to the Speaker of the National Assembly, Baleka Mbete, requesting that she provide clarity on how this vacuum will be filled.   In a statement on Sunday, the Democratic Alliance (DA) chief whip, John Steenhuisen, said the party had noted reports that Deputy President David Mabuza was in Russia on sick leave.
Mabuza was scheduled to answer questions from members of parliament this week, but the session had to be postponed indefinitely as a result of his absence.   Mabuza had requested sick leave about two weeks ago.
Steenhuisen said: "While we can accept that the deputy president is not well, his parliamentary duties are not being met. As the leader of government business, he is responsible for the affairs of the national executive in parliament and "the programming of parliamentary business initiated by the national executive", among other important tasks. This is not being done and it does not bode well for accountability nor does it inspire confidence."
The DA chief whip further questioned what are citizens of the country meant to think when "the man meant to step in for the president if he is out of the country or indisposed, is himself is so indisposed that he is clearly unable to manage the affairs of his own portfolio?"
Mabuza has been absent for the better part of the third parliamentary term, Steenhuisen said, adding that South Africans deserve answers on how the presiding officers will ensure that as members of parliament "we all fulfil our constitutional obligations".
"Since it was announced that he would take sick leave on October 25, the deputy president has not only missed his question-and-answer session but other important events such as the keynote address to the Chilean Parliament by National Council of Provinces Speaker, Thandi Modise. The presidency only said that Mabuza would "take a few days sick leave" and did not elaborate," Steenhuisen said.
~
September 2018
Deputy president David Mabuza today said he was too ill and on very strong painkillers when he travelled to Moscow in October 2015 to remember whether a man known for negotiating mining deals between Russia and foreign governments was on the plane with him.
Appearing in the National Council of Provinces for a question-and-answer session, Mabuza was asked to respond to allegations contained in an open letter from opposition Democratic Alliance leader Mmusi Maimane, published this week.
Among these were that Ruslan Gorring, first deputy director of Russian exploration company ROSGEO and a man known to negotiate mining deals between Russia and foreign governments, accompanied him to Moscow aboard a Gupta-owned jet.
"I was taken to Moscow in a very terrible condition," said Mabuza, who insists he was offered transport to a Russian state hospital by Duduzane Zuma, former president Jacob Zuma's son and a business partner of the Gupta family, to receive treatment after he was poisoned.
"I can't even tell you who was in that flight that was taking me to hospital. The only thing I've noticed that I was in a flight but throughout the flight I was on very high pain medication."
He again denied having any connection to the Guptas, who have been accused of systemic looting of the state coffers, except for the fact that they gave him a lift to the Russian hospital.
"I've said before and I'm saying it now that there is nothing between me and the Guptas and the Russians to date…except that I went to a Russian hospital in Moscow and I was assisted."