Evidence of the extensive sheet glacier that covered much of South Africa about 300 million years ago can be seen south of Nieuwoudtville where grooves formed by rocks and pebbles carried in the ice sheet were left behind on the glacial floor after the ice sheet melted. These glacial pavements tend to impede water infiltration and damp patches result, which are favourite habitats for some of the lovely local geophytic plants.
*
Oorlogskloof is located about 4 hours drive north of Cape Town.   More about the Glacial Pavements.
Glacial Pavements

Click to access NC%20palaeotechnical%20report.pdf
MOENIE DIE PRAGBLOMME VERGEET IN DIE PROVINSIE NIE.
*
The Khoi San inhabited this area for many centuries before the first settlers arrived in about 1730, and local rock art in Oorlogskloof Nature Reserve and on farms around Nieuwoudtville bears witness to an ancient culture that flourished here.
During this period vast herds of game periodically roamed the plains of the Bokkeveld Plateau (Antelope Plateau),  after which it derived its name.   In the late 1700s wild herds had been replaced by large herdsof sheep and cattle belonging to the settlers. The early settlers established themselves close to the present town of Nieuwoudtville at Groenrivier and Willemsrivier, where the first formal church building still stands.
*
Rotsformasies eie aan Suid-Afrika se natuurskoon.
The 5575ha Oorlogskloof Nature Reserve is one of the South Africa's most unique nature reserves – characterised by deep ravines, cliffs, caves and rock art, and a diverse mix of flora and fauna characteristic of four differing biomes: lush Afro-montane, fynbos, mountain shrub and shale renosterveld.
The reserve is part of the Bokkeveld Mountain Range – the northernmost part of the Cape Cederberg, and the 'broken' topography ranges between 530 to 915m above sea level. Viewpoints on the reserve look over the 'knersvlakte' plains – the 'crunch plains' named for the sound the Voortrekkers wagon wheels made over the broken quartz on the ground.
*
Take the N7 from Cape Town to Vanrhynsdorp (300km), then 44km along the R27 towards Nieuwoudtville. Turn right at the Oorlogskloof turn-off 6km before Nieuwoudtville and follow the 10km gravel road..
https://www.experiencenortherncape.com/visitor/blog/northern-cape-flower-season-hikes-at-the-oorlogskloof-nature-reserve

*
More photos
https://leorust.com/2016/07/06/ten-rock-arches-oorlogskloof-hiking-trail/
*
FLOWERS ARE UNIQUE
The village of Nieuwoudtville lies on the Bokkeveld Plateau, where the Cape Fynbos meets the Hantam Karoo, Boesmanland and the Knersvlakte. It is a place where the experience of silence, space and stars contribute to a tranquil way of life.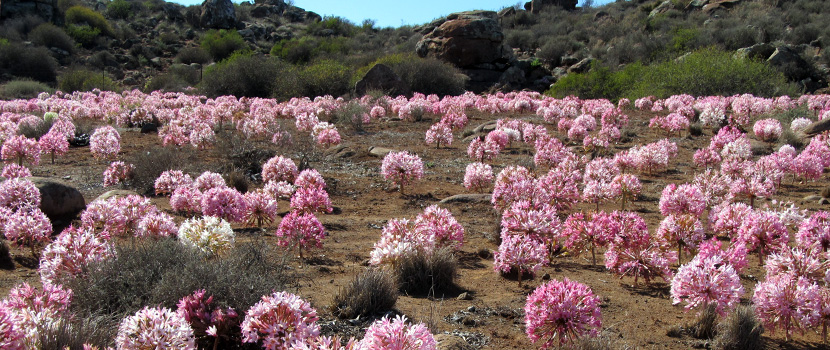 Visit the Neo-Gothic Sandstone Church (National Monument), local Historical Sandstone Ruins, Quiver Tree Forest (Aloe Dichotoma); Glacial Pavement; abundant Rock Art; Nieuwoudtville Wild Flower Reserve; Hantam National Botanical Garden; Oorlogskloof Nature Reserve and the Nieuwoudtville Waterfall Reserve.