Wat veronderstel moet wees om 'n rustige nag te wees, het in 'n groot rivier van lawe vuur opgegaan waar dit vir kilometers ver waargeneem kon word.   Duisende vlugtelinge vlug vir hul lewens.  Alhoewel sy al lankal tekens getoon het van geweldadige uitbarsting,  het dit steeds nie die mense om haar gekeer om toe al te vlug nie.  Op die laaste nippertjie was hul vlug voor tonge van vuur en aankomende vuurballe van rotse en lawa wat alles in haar pad verorber en vernietig het.  Weet darem nie of ek naby so 'n berg sou wou bly wat aanhou rammel en waarsku nie – mens se hart gaan uit aan al daardie inwoners wat so moet vlug, vlug sonder heenkome.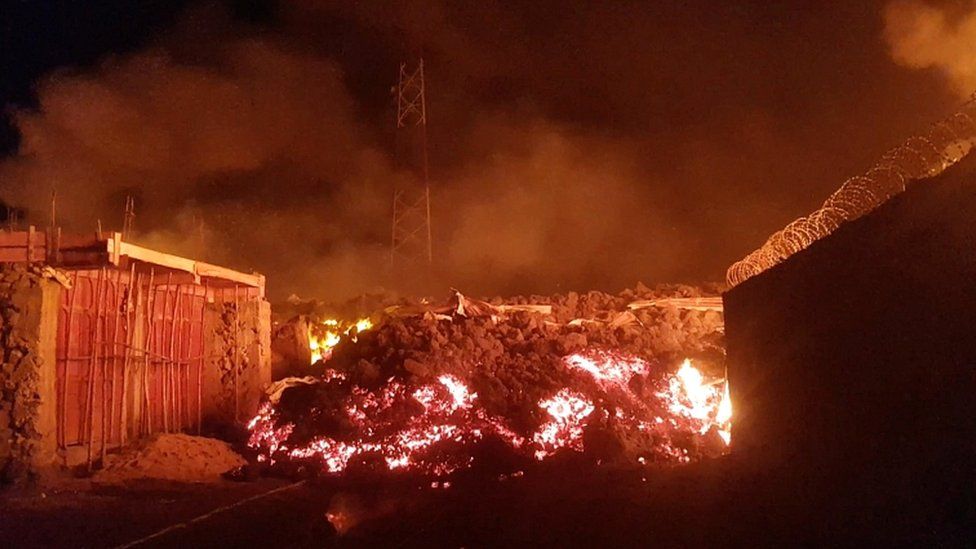 *
BBC het heelwat foto's op hul webbladsye beskikbaar.
The Nyiragongo volcano started a large eruption on May 22nd, 2021. This eruption began after the breaching of a large lava lake near its summit. After a large evacuation, one of these flows of lava is now heading towards Goma. This flow of lava has already reached the airport, and may eventually reach lake Kivu. This video will discuss this volcano, and its current ongoing eruption.
*
Thousands of Congolese, including children, women and old people, have sought refuge in neighbouring Rwanda as the volcano erupted.   They sleep with their belongings on a street in the town of Gisenyi on the border with DR Congo.
https://www.bbc.com/news/world-africa-57217598
*
Aerial images show the destruction to the region in east Democratic Republic of Congo after the nighttime eruption of Mount Nyiragongo sent thousands of terrified residents fleeing in panic. AERIAL
*
A volcanic eruption near the city of Goma in the Democratic Republic of Congo has forced thousands of people to flee for safety. At least five people died in a car crash in the panic. Neighbouring Rwanda has opened its border to let in those fleeing the eruption. Initially, scientists said the lava flow was heading away from Goma, but now they've warned that new fractures have put two million residents at risk.
*
The military in Congo says a major city threatened by a massive volcanic eruption has been spared. They say molten lava that was streaming toward Goma came to a stop just a few hundred meters from the city limits. Authorities had urged Goma's two million residents to evacuate after Mount Nyiragongo erupted for the first time in almost two decades.
But many accuse them of responding too late, after thousands had already fled into neighboring Rwanda. The flowing lava made this road impassible: When Mount Nyiragongo erupted Saturday evening, people quickly packed some belongings and fled. There were widespread power outages in the nearby city of Goma. Residents were unsure of where to find a safe haven. Mount Nyiragongo is in the eastern part of the Democratic Republic of Congo, close to the border with Rwanda. It's considered one of the world's most dangerous volcanoes. Its last eruption in 2002 killed 250 people. As lava approached Goma's airport on the eastern edge of the city, officials urged residents to evacuate. New fractures opening in the volcano allowed lava to flow south toward the city center.
*
Power was cut in large parts of the city and hundreds of residents began leaving their homes and heading towards the nearby border with Rwanda.
Related