Ons land se paaie is waarlik in 'n krisis gedompel en motorongelukke is meestal as gevolg van 'n pad wat nie ordentlik onderhou word nie.   Voertuie moet soms vinnig uitswenk en beland of in 'n sloot of teen 'n ander voertuig of trok met hartseer,  lelike en slegte nagevolge.     Soms is daar geen pad nie, slegs hier en daar 'n enkel stukkie teer te bespeur.   Waar is al die begrotings vir die afgelope 3 dekades vir ons land se paaie heen?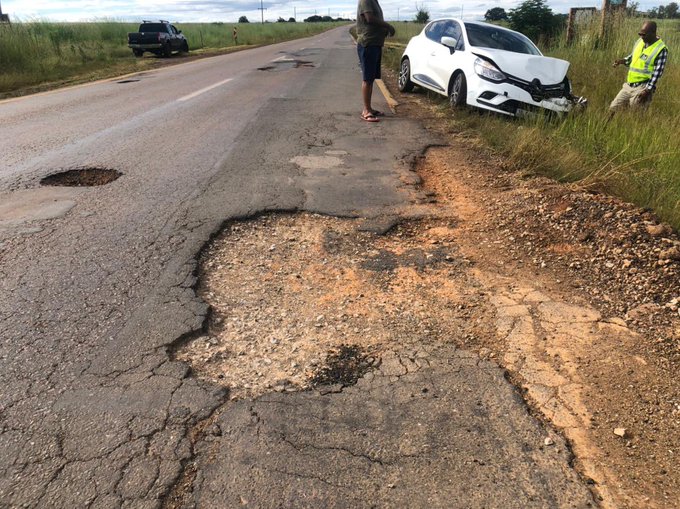 *
*
Why are there budgets to control and maintain roads?   What about the hugh heavy trucks that do delivering of especially heavy mine products, etc?
South Africa's ageing road infrastructure is fraught with dangers. As motorists, we have to be aware of other vehicles, animals and pedestrians. We also have to take defensive action against an increasing number of potholes.
In Johannesburg, an average of 1,000 potholes are reported to authorities each week. The city claims it fixes up to 4,500 potholes per month.
At the other end of the country, the City of Cape Town reportedly spends more than R110 million per year repairing 250 potholes per week. Despite their efforts, potholes are still prevalent on the roads.
It is not always the case that it is "climate" or rain that damage the roads.
Extreme weather conditions, poor road maintenance and high volumes of load-bearing traffic all contribute to the creation of potholes.
In South Africa, high temperatures cause cracks to form in the tar. Over time, these cracks widen, and rain water seeps in, affecting the consistency of the underlying layers of crushed rock and gravel.
The layers lose strength and collapse, creating a hole that gets bigger and bigger as the edges erode due to the traffic passing above.
How to prevent the formation of potholes
Maintaining a proper road surface with a gradual slope is key to the prevention of potholes. Water runs off the surface into a ditch or roadway drainage system.
The gravel shoulder of the road should be sloped away from the surface, and this is easily achieved by a motor grader. By regularly grading and re-sloping road shoulders, and clearing any debris from culverts and drains, water drains away. As a result, there's no seepage, and no surface collapse.
Resurfacing roads as soon as cracks are detected, and employing motor graders to create the optimal road surfaces, are implementable best practice solutions that can go a long way in preventing the spread of the pothole scourge on our roads.
How South Africa is tackling the pothole problem
Major cities have the resources and trained personnel to tackle the problem of potholes head-on. The likes of the Johannesburg Road Agency (JRA) and Transport for Cape Town (TCT) are mandated to repair potholes. They are well funded, and teams are trained and properly equipped for the task.
The JRA has even launched the Find & Fix mobile app, inviting residents to photograph and report the exact location of potholes. But are they winning the war?
According to a survey conducted by Wheels24 in 2016, the city of Johannesburg was voted the SA city with the worst potholes.
Cape Town appears to be doing a much better job, as it was recognised as having the lowest number of potholes in the country. Residents simply have to alert the city via SMS, and, according to one respondent, the problem is resolved in 30 days or less.
Small town mobilisation
In smaller towns, budgetary constraints haven't helped matters. One Western Cape town is, however, encouraging residents to mobilise and fix potholes themselves.
Folk living in the popular Garden Route tourist destination of Knysna are rolling up their sleeves and doing the dirty work. The municipality has even published a brochure titled How to fix a Pothole, encouraging citizens to take action themselves. Perhaps it's time for more South Africans to become pothole activists!
Motor graders from KH Plant
Motor graders play a vital role in repairing and maintaining our country's public roads, as well as private roads on mines, construction sites, farms and other commercial properties.
At KH Plant, we specialise in restoring Caterpillar 140G, 140H and 140K motor graders to as-new condition – so you can get the performance benefits and reliability of a new motor grader at a fraction of the cost of a new machine. Contact us for more information or to discuss your needs.
https://www.khplant.co.za/blog/article/all-about-potholes-sa
Potholes are a problem all over the coutry?    Busy cities,  towns and harbours have mostly a few potholes.   Tyres are very prices,
More about this topic and the situation is really bad – there are no or little maintenance on our roads done.
Wie wen by motorongelukke?
Regering kry ekstra 15% belasting as inkomstes.     Motorbande en – ruite word beskadig en versekerings kan nie voorbly om te herstel nie, indien daar wel so iets is.    En weer eens is die 15% belasting betrokke.
Sou iemand vir 2-3 maande in 'n hospitaal beland is dit weer eens 15% belasting wat betrokke daarby is.
Die publiek is die algehele verloorder.
Myns insiens word daar ruim begroot vir herstel van paaie op alle vlakke van regering, nasionaal, provinsiaal sowel munisipaal.  Erfbelastings sluit ook die herstel van paaie hierby in by munisipale of stadsrade se  begrotings in dorpe en stede self.   Dit word soms gedoen en tenders word geplaas, geld word uitgegee vir 'n swak of geen diens.  Soms word dit aan 'n derde party ook herhaal wat weer eens geld terugeis en die belastingbetaler moet dit betaal uit hul erfbelastings, wat myns insiens niks anders as diefstal is.   Sulke partye mag dalk herstelwerk doen, maar roem dis hulle wat die werk doen, maar die eise kom uit die belastingbetaler (munisipaliteit) se sak uit (vir 'n tweede of derde keer).
Soms moet groot gedeeltes van die vrot pad verwyder word om ordentlik te herstel, wat in gebreke bly en die gat val groter weg.
Tolpaaie is netso swak gedoen waar miljoene betaal is vir 'n swak pad.
Waar is die werklike ingenieurs wat hierdie paaie moet inspekteur voor diegene wat getender het, betaal word.
Waar is al die mynmaatskappye wat swaar gelaaide trokke stuur vir die vervoer van hul produkte vanaf punt A na B of na hawens en goeie uitvoerpryse ontvang.   Oral is dit die rugkant van die pad wat eerste swak tekens toon van gate, wat net al hoe groter word.
Bestaan daar ooit 'n weegbrug by elke mynmaatskappy voor hul die provinsiale, nasionale of selfs munisipale paaie gebruik of provinsies kruis.   Selfs oorlaaide busse betaal minder as normaalweg.