Take a look at what new cars are coming to South Africa in 2020!     New car buyers are in for a proper treat in 2020 as a flood of new cars are headed for South Africa. Whether it be budget cars, crossovers, SUVs, sedans, bakkies, luxury cars, supercars, sports cars, electric cars, you name it, there's a lot to look forward to!    Only a few to mention:
Ferrari F8 Spider – Q4 – The new F8 Spider is a folding soft-top version of the Tributo and offers immense performance for an open-topped car.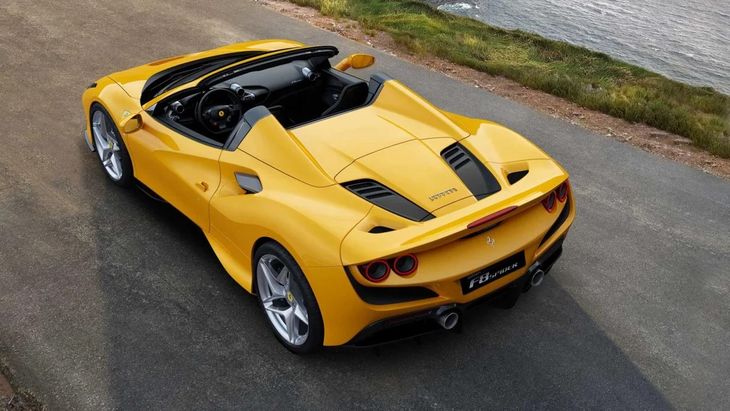 *
Powering the F8 Spider is Ferrari's turbocharged 3.9-litre V8 engine. With an intake system and Inconel exhausts manifold from the 488 Challenge competition car, this F8 Spider does not lack for potency. The V8 engine boosts 530 kW, supported by 770 Nm of torque. Those outputs turn the rear wheels via a seven-speed dual-clutch transmission. It ranks as a terrifically quick car, capable of 0-100 kph in 2.9 seconds and a top speed of 340 kph – preferably with the roof in place.

https://www.cars.co.za/motoring_news/new-cars-coming-to-sa-in-2020/47840/
*

Ferrari 812 GTS Unveiled

Powered by a 6.5-litre V12, the 812 GTS produces an insane 588 kW and 718 Nm. With a 7-speed dual-clutch gearbox, it's claimed to blitz to 100 kph in under 3 seconds, will do 0-200 kph in 8.3 seconds and will max out at over 340 kph. Fuel consumption is irrelevant if you're earning the kind of money to afford one of these beauties, but there is a 92 litre fuel tank, so you should be able to cover some distance before needing to refuel.

https://www.cars.co.za/motoring_news/ferrari-812-gts-unveiled/47365/

*

Jaguar has revealed its updated F-Type sportscar! It's hard not to like the F-Type and we have a soft spot for its sporty looks, sonorous engine vocals and impressive performance abilities. Now, Jaguar has updated the F-Type with fresh styling and updated interior features while still offering a choice of powerful 4-, 6- and 8-cylinder engines to suit your performance needs.

All engines are mated with an 8-speed Quickshift automatic transmission and the F-Type range starts with the 4-cylinder, 2.0-litre turbocharged engine with 221 kW and 400 Nm of torque.    For more grunt, a supercharged 3.0-litre V6 with 283 kW and 459 Nm is also available.

A supercharged 5.0-litre V8 with 331 kW and 580 Nm is also on offer and results in a zero to 100 kph sprint time of 4.4 seconds and can run to 285 kph.

An uprated F-Type R tops the range and now boasts outputs of 423 kW and 700 Nm of torque (previously 405 kW/680Nm). Zero to 100 kph is blisteringly fast at 3.7 seconds with a top speed of 300 kph. The updated F-Type will be offered in Coupe and Convertible form.

*


Mazda recently launched the 5th member of its global SUV range in Europe, the CX-30. The strangely-named newcomer, which squeezes between the Hiroshima-based firm's existing CX-3 and CX-5 models, will be launched in South Africa during the 1st quarter of 2020. In South Africa, it's likely that the CX-30 will be offered with the familiar 88 kW / 153 Nm 1.5-litre- and 121 kW/213 Nm 2.0-litre four-cylinder naturally aspirated petrol engines. Pricing and exact specification will be confirmed closer to launch.

*

Unlike its utterly outrageous supercar offerings, the McLaren GT focuses more on comfort and luxury. Power comes from a 4.0-litre, twin-turbocharged V8 engine and the outputs are impressive. With 462 kW and 630 Nm mated to a 1 530 kg body, the McLaren GT is still a sensationally quick machine with a claimed acceleration of 3.2 seconds to 100 kph and a top speed of 326 kph.

*

Datsun is expected to launch its first budget crossover model in South Africa to bolster its local Go and Go+ offerings which have proven to be very popular. Aptly named the Datsun Cross, power comes courtesy of a 1.2-litre petrol engine with 58 kW and 104 Nm of torque and comes mated with a 5-speed manual transmission. The Datsun Cross also features a useful ground clearance of 200 mm and can seat up to 7 people. Pricing and specification will be made available closer to launch.

*

Since its arrival in South Africa back in 2017, Alfa Romeo's Stelvio SUV has largely failed to find favour with local buyers. Nonetheless, an updated version can be expected towards the end of 2020. At present, the Stelvio QV tops the local range and offers 375 kW and 600 Nm from its bi-turbocharged 2.9-litre V6 engine. A Stelvio Race Edition is also currently on offer.


*

A new Honda Ballade (also known as City in Asia) was recently revealed in Thailand. Powering this new Honda Ballade is a new 1.0-litre turbocharged 3-cylinder motor which develops 90 kW and 173 Nm. Power goes to the front wheels via a CVT and it is said to consume around 4.2 L/100 km. Exact arrival dates have yet to be confirmed by Honda South Africa.

*

The new Land Rover Defender will arrive in South Africa in the second quarter of 2020 with the long-wheelbase Defender 110 being launched first, followed by the short-wheelbase Defender 90 in the third quarter.

South Africa will initially get 2 engines at launch in the 110 version. Starting with diesel, the D240 makes use of a 2.0-litre 4-cylinder to develop 177 kW and 430 Nm of torque. The other choice is a 3.0-litre straight-six turbopetrol good for 294 kW and 550 Nm of torque.

As for off-roading credibility, the Defender has 291 mm of ground clearance. The long-wheelbase 110 has an approach angle of 38-degrees, a 28-degree break-over angle and a 40-degree departure angle (in off-road mode). It will also wade through water 900 mm deep.

*

Visually, this facelifted Renegade hasn't changed dramatically and it still retains those rugged Jeep looks. The key changes include all-new engines, more safety features and updates to the infotainment system. Starting with the engines, there is a new 1.0-litre turbocharged, 3-cylinder petrol motor pushing out 90 kW and 190 Nm. Next up is a 1.3-litre turbo 4-cylinder petrol engine with 110 kW and 270 Nm. There are revisions to the 1.6-litre and 2.0-litre turbodiesel engines too. All Jeep Renegades can be mated to a 6-speed manual gearbox, 6-speed dual-clutch transmission or 9-speed automatic.


*

The Japanese company has confirmed that resources will be allocated to upgrade its Port Elizabeth facility with the aim of producing Isuzu's next-generation D-Max in South Africa, for both domestic and export markets. The new D-Max will be powered by a revised version of the current 3.0-litre turbodiesel motor packing 140 kW and 450 Nm while the chassis and suspension have also been extensively revised. We will keep you updated as soon as more details are revealed.