Geld verander in blink diamante wat die lug  in opgeblaas word – vermors, selfs in Afrika, wat nie agtergebly het nie.  Watter tipe gifstowwe wat ons inasem is in al hierdie vuurwerke vervat, dat daar selfs mense blind geword het.  Hoeveel is afkomstig uit China wat heelwat vervaardig en hoeveel is regtig gewettig?  Suid-Afrika en Afrika is nie gespaar nie en op sommige plekke soos oorlog geklink.  Oral is daar vlugtendes as gevolg van voedseltekorte en werksgeleenthede, tog is daar soveel geld spandeer in vuurwerke.  Hoeveel eienaars en diereliefhebbers vandag na hul diere soek of selfs begrawe is 'n oop vraag.   Dierebeskermingverenigings werk gratis, van donasies afhanklik en oortyd in die tydperk.   Daar is reeds heelwat diere wat dood is as gevolg van die vuurwerke en nagevolge.

America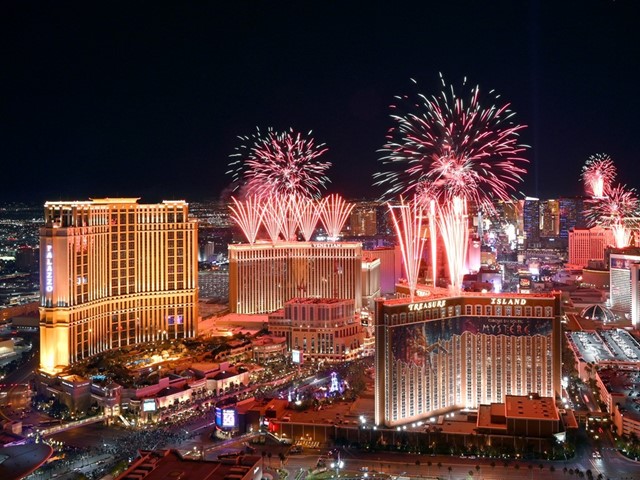 Ten spyte van al die woedende brande ….
Alle "ontploffing" in die lug, mag dalk mooi wees om te aanskou vir die oomblik of selfs te luister, maar wat hou dit vir die publiek in?    Alles wat opgaan kom af – hoeveel dakke is beskadig en ander brande veroorsaak, huise en selfs voertuie uitgebrand.
Australia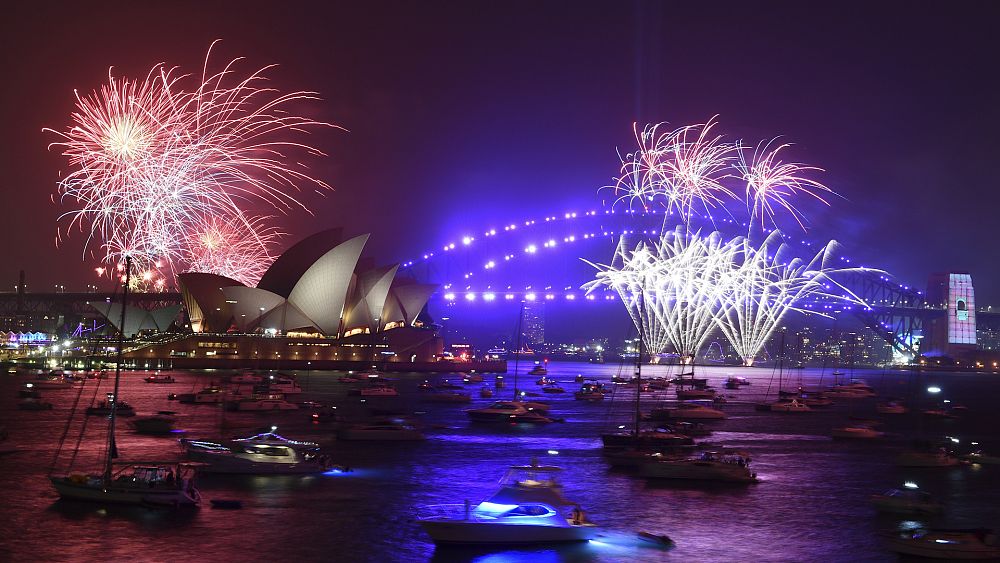 /
*
Hoeveel besoedeling is veroorsaak wat weer ongelukke tot gevolg gehad het.    Daar is vuurwerke vandag, maar die volgende dag is daar steeds armoede en nog meer wat hulle by die groep armes voeg omdat daar nie finansies is vir voedsel nie.   Die rykes moet onthou, fonteine droog op.
Lewens is al met vuurwerke be-eindig en tog woed die drang na vuurwerke voort.   Daar word "munisipale" bywette en wetgewing gemaak – maar niks word uitgevoer nie.
Op 1 Januarie stroom die NAgevolge in van vuurwerke – helaas vir sommige te laat om te leef of te laat oorleef.   Diere veral soek nou nog na hul tuistes.
Heelwat video's is geplaas op internet, regdeur al die kontinente, het dit self geplaas, sodat mense kan sien hoe word daar miljarde die lug ingeblaas.    Afrika en Suid-Afrika waar daagliks gekla en gewys word hoe arm  ons is, eintlik leuens, Afrika en ander vlugtelinge staar hongerte daagliks in die gesig, tog word geld so die lug in vermors.   Is armoede die werklikheid as daar soveel spandeer word aan vuurwerke?   Hoekom kan hierdie finansies nie aan opheffing, dienste en besighede spandeer word nie?   Daar is oorgenoeg geld vir soveel vuurwerke, maar nie genoeg om kinders op te hef vir geleerdheid of 'n werksgeleentheid nie.  Smokkelaars van onwettige vuurwerke, ook in Suid-Afrika is volop.
Terwyl daar vuurwerke plaasvind is daar inbrake en word sommiges rot en kaal besteel, selfs aangerand – ons in Suid-Afrika ervaar daaglikse "vuurwerke" tussen volksgroepe wat uit ander lande ook hier kom plak vir 'n "beter lewe" waar daar ook in hul lande vuurwerke gevuur is.
Waarom het Australie nie hul geld spandeer om die mense op die strande te red wat vasgekeer is weens die brande nie?
In Nederland is daar ook nagevolge soos in Suid-Afrika.   Sommige ook "misdaad" verwant in die tydperk van "vuurwerke" afvuur.
*
1 January 2020
 In total, the Dutch spent a record €77m on fireworks this year, according to the Dutch pyrotechnics association. The biggest public display took place in Rotterdam, where tens of thousands of people turned out to watch the national countdown to 2020.   

And the other countries?
*
In many neighborhoods in The Hague, many cars are set on fire in particular. At the beginning of December, the municipality announced that the traditional bonfires that took place during the New Year could not go ahead this year. Severe disturbances as a result, evening after evening. 
The fire brigade in particular seems to be busy at the moment. The fire brigade in Veendam has scaled up to a very large fire. An empty shop premises seems to go up in flames there. In IJsselstein a fire was raging in an old school on the Poortdijk, according to the Utrecht Safety Region, several extinguishing vehicles from the area were called in to help extinguish. Finally, a storage shed for paper is on fire at Moezelhavenweg in Amsterdam, according to the Amsterdam-Amstelland Fire Department.
In Rotterdam, 3 people tried to break into the house during the New Year. Agents caught the three in the act. A warning shot appeared to be necessary to arrest them. 
Agents have arrested 3 suspects after a burglary act and arson in cars. This was at the # Waalstraat / # Plompertstraat #Rotterdam. A warning shot was fired during arrest with #BTGV (Approach to Dangerous Suspects Technology).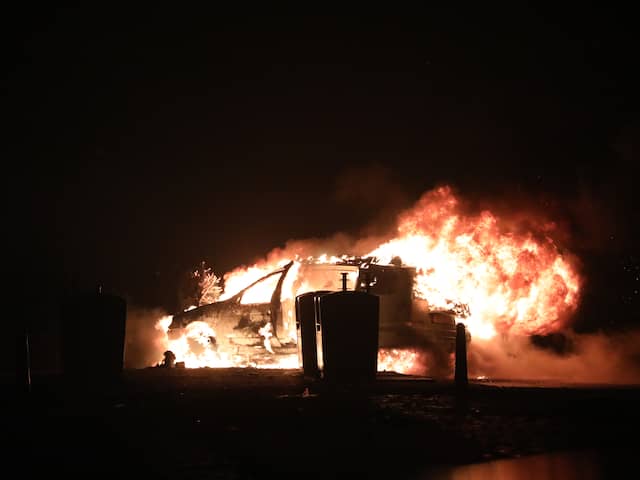 LOOKS LIKE IN SOUTH AFRICA
It is in the Netherlands
*
The 'wild west party' feared by Minister Ferd Grapperhaus is not yet the case. However, local police and fire brigades have been busy with fire alarms all evening. In different places, emergency services – just like in previous years – are pelted with fireworks. In the Utrecht, Rotterdam and The Hague regions in particular, agents or firefighters are impeded during their work.
http://www.tellerreport.com/news/2020-01-01—car-fires-in-the-hague–four-seriously-injured-in-a-fire-in-the-arnhem-apartment-building-.S1HUHajtyI.html
A man and his four-year-old son died in a fire at a block of flats in Arnhem during the New Year festivities which appears to have been caused by fireworks, the fire brigade said on Wednesday morning. Two other members of the family, who were visiting the complex, were seriously injured in the fire.
According to some reports all four were in the lift which filled with smoke during the blaze and had come to a halt when power was lost. Police told Radio 1 news early on Wednesday afternoon they are questioning boys aged 12 and 13 and that surveillance camera footage shows the blaze was started by fireworks. 'This is a terrible event which will have a major impact on the lives of everyone involved,' Arnhem mayor Ahmed Marcouch said on Twitter.
Elsewhere the New Year celebrations involved the traditional car fires and attacks on emergency service workers and arrest totals are still being calculated. However, in Duindorp in The Hague, where there was a major police presence following the decision not to hold the traditional beach bonfire, there was little trouble, police said. In total, the Dutch spent a record €77m on fireworks this year, according to the Dutch pyrotechnics association. The biggest public display took place in Rotterdam, where tens of thousands of people turned out to watch the national countdown to 2020.
In Bovenkarspel, in Noord-Holland province, a windmill dating from 1848 was totally destroyed by fire probably caused by a firework.
There were other fires in Veendam, in an old school in IJsselstein and in a storage space for old paper in Amsterdam.
In Vught fireworks caused considerable damage to the railway station. The Jimmy Woo nightclub in Amsterdam also had to be evacuated after a firework entered a window and caused a small blaze, according to local broadcaster AT5.
Officials in Amsterdam described the celebrations in the capital as 'unruly'.
In Rotterdam, firemen were called out to deal with 709 incidents. 'This was not a quiet New Year and certainly not a tradition we should be keeping,' local security chief Arjen Littooij told RTL Nieuws.
Car fires There were 'dozens' of car fires in both The Hague and in Utrecht, where 38 people, most of them minors, were arrested.
Six cars were destroyed by fire in the Brabant village of Veen, three were set on fire in Uithorn and at least seven in Eindhoven. In Zwolle, a 52-year-old man was shot dead and police say they do not yet have a clear picture of what happened. No-one has been arrested.
Mist Heavy mist, in the north of the country in particular, reduced visibility on the roads and one woman was killed in a multi-car pile-up on the A32 highway near Akkrum in Friesland earlier in the evening.
According to the AD, another woman died in a car accident in Drenthe. The mist is still causing delays at Eindhoven airport. Injuries A total of 18 people were treated at the specialist eye hospital in Rotterdam and half of them will suffer permanent damage to their vision, doctors told RTL Nieuws. The youngest was 14-years old and none of the victims had been wearing safety glasses. Eye specialists have called for a ban on consumer fireworks for years.
Man and child, 4, die in fire as the Netherlands celebrates New Year (update)
*
ROTTERDAM
*
INSIDENT  2015
https://www.dailymail.co.uk/news/article-3292050/Incredible-footage-captures-moment-house-fire-Holland-spreads-attic-ignites-enormous-secret-stash-fireworks.html
*
2017
Anyone who has ever been in the Netherlands for New Year's Eve (Oud en Nieuw) has experienced the outstanding, impressive spectacle of fireworks in the sky. Starting from early in the morning on the 31st of December, they can be heard and seen all over the country, getting more and more grandiose closer to midnight. Because of the festive atmosphere that they are supposed to create, very often fireworks are being ignited by regular people on the streets, close to the houses, cars, municipal buildings and other property. This way of celebrating the end of the old year and the beginning of the new one is, obviously, very dangerous. Especially when performed by young kids – which happens needlessly very often. It may easily go wrong and create a potential threat not only for the person who lights up the firework, but also for the people around. This year is, sadly, no exception.
For instance, according to the information from the Rotterdam Eye Hospital, this year at least 14 people were reported to have become victims of fireworks with serious consequences and permanent damage. This can mean reduced or limited vision, complete blindness or eye removal. On the New Year's Eve itself there were three operations performed to repair the damage caused to eyes by fireworks, five people permanently lost their eye. The ophthalmologists say that these are preliminary numbers, as every year with a course of time there turns out to be more complications than originally expected. And even though none of these victims were children, half of them were just bystanders who didn't participate directly in lighting up the fireworks. None of the victims wore protective glasses.
In addition to eye damage, fireworks often result in burns and hand injuries. Plastic surgeons had to resort to quite a few hand and finger amputations this year. In general, injuries and traumas this year were noticeably worse compared to the past. Among them the doctors name such life-threatening conditions as open bone fractures, severe burns and lacerations, serious facial injuries and severe brain damage. 30 percent of the victims had to be operated the same night or the next day and at least 30 percent of the injured will probably have the damage for the rest of their lives. 33 children received wounds because of the fireworks misuse. One person died while lighting up firework next to his house. The 39-year-old man from Swifterbant was trying to ignite an illegal firework called mortar that exploded almost immediately at the moment of discharge. The explosion became fatal. The man's wife and children were witnesses of the accident.
A few times fireworks were used as a weapon against the police and the fire brigades during their attempts to extinguish fire or against the arrests. The fireworks were thrown by young people directly at the officers or at their cars. As a result, a few policemen were seriously injured. According to the officials, half of the fireworks used were illegal. Even though the number of accidents this year was slightly lower than the year before, the injuries received were a lot more dangerous. The Dutch Ophthalmic Society (Nederlands Oogheelkundig Gezelschap), together with a few other organizations, is calling for a ban on consumer fireworks and proposes to organize professional firework shows instead. They created a manifesto, through which they hope to persuade the politicians to implement such ban by 2020.
https://www.hollandtimes.nl/articles/national/serious-injuries-caused-by-fireworks-in-2017/
*
2015
When a home caught on fire in the town of Wezep in The Netherlands, the flames made their way to the house's attic where there just so happened to be an inordinate amount of fireworks stored.   Three people were injured in the incident and Dutch police are investigating why the homeowners had the arsenal of fireworks in the first place.