29 December 2019 – DA federal council chairperson Helen Zille has once again caused a stir on Twitter – this time for posting a cartoon, by a cartoonist who goes by the name "Jerm", about land, rape and race generalisations.      The name "Helen" was trending at number two on Twitter for most of Monday morning, with thousands having tweeted on the subject as of noon.  According to Zille, the cartoon "exposes the lunacy of blaming everyone, on the basis of their race, for the crimes of others".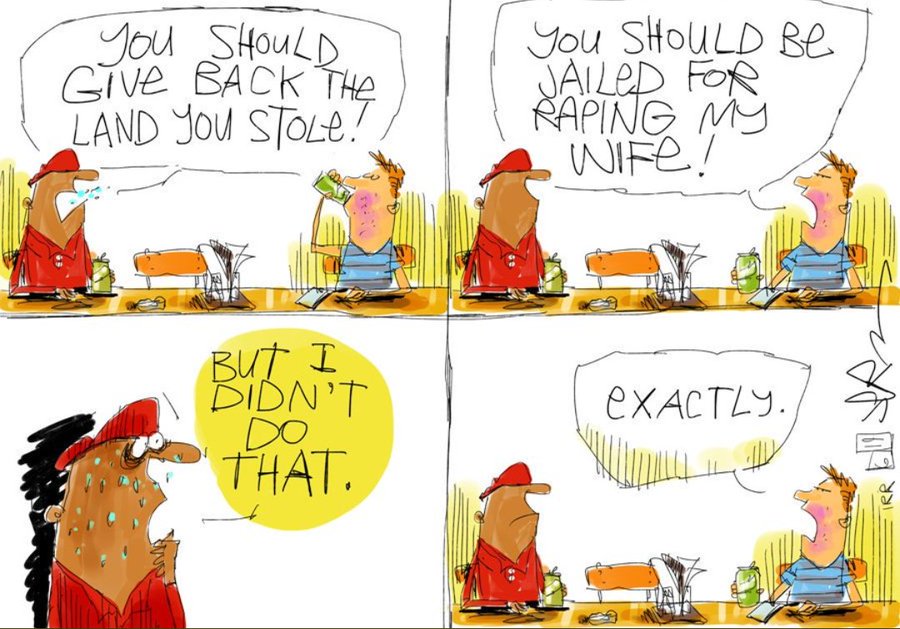 *
The cartoon depicts a black man, seemingly in EFF regalia, who tells a white man to "give back the land you stole".
In turn, the white man accuses him of raping his wife, which he denies, looking shocked.
"But I didn't do that," the first man says.
The second man then replies: "Exactly".
Some have not taken kindly to Zille's latest Twitter foray, claiming that, as a public figure and leader, she was breaking bridges rather than building them.
Others defended the general message of the cartoon against generalisations.
*
Zille defended the cartoon in subsequent tweets, saying both generalisations in the cartoon were wrong.
*
*
*
*
*