Hoe bedel 'n besigheid geld by mense wat meer as dubbel vir elektrisiteit betaal, en nog meer, wat strooi opvreet – net sodat die elites miljoene in die maand kan huis toe neem en dan word beurtkrag net weer ingestel – dit het laasjaar en vorige jare so gebeur en tog, wie word aangekla van diefstal en korrupsie?   DIT terwyl daar duisende is wat nie betaal nie en alles steeds gratis verlang.      So gooi hul hul radikale meesterlike "toys  uit die kot" uit as hul nie hul sin kry nie.  Dat hul ook geen skaamte het oor al die geliegery nie, maak dit veel erger.   Nie seker hoe lank gaan dit weer herhaal word nie.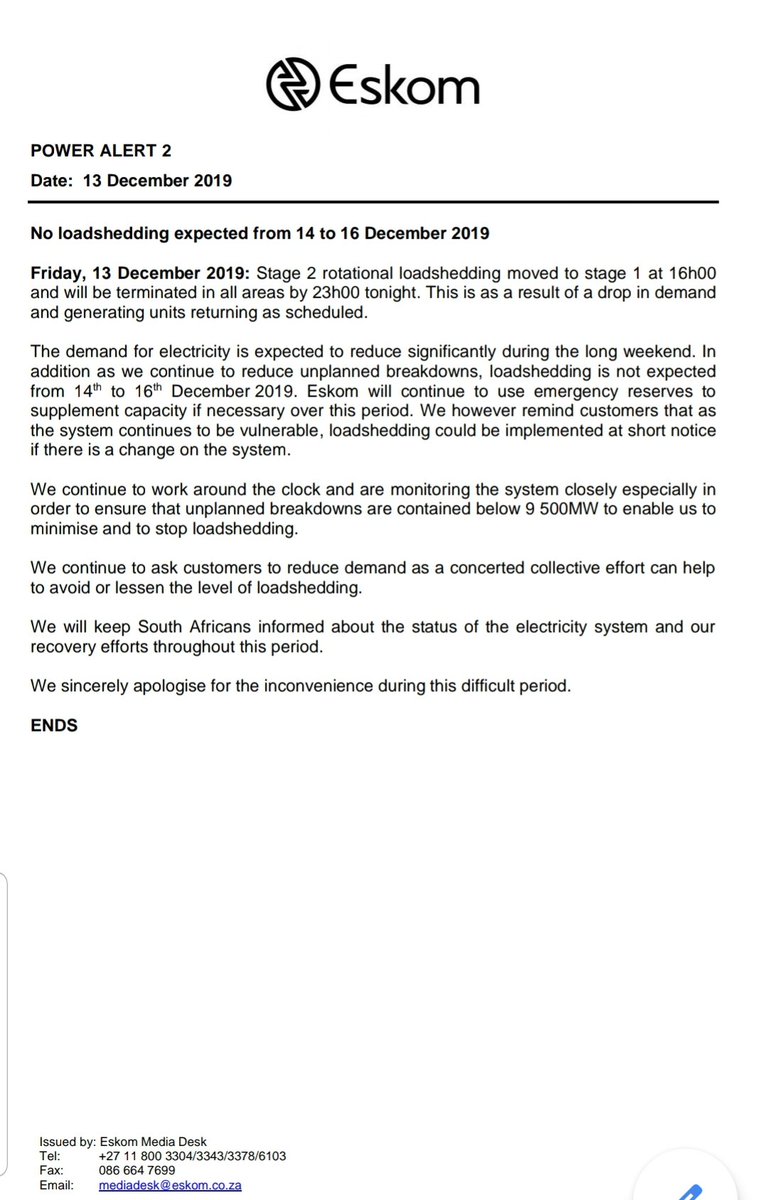 *
Power utility Eskom said on Friday night that it did not expect load-shedding over the long weekend.
In a statement issued on social media channels at about 8.30pm, the embattled company said that lower demand for electricity – combined with the reduction in "unplanned breakdowns" – meant that rotational blackouts were not expected from December 14 to 16.
"Eskom will continue to use emergency reserves to supplement capacity if necessary over this period. We however remind customers that as the system continues to remain vulnerable, load-shedding could be implemented at short notice if there is a change on the system," the statement said.
Earlier on Friday, Eskom downgraded load-shedding to stage 1 from 4pm, and then terminated the rotational power cuts to all areas by 11pm.
*
9 December 2019
Eskom wants R27.2 billion to be added to power tariffs to account for the amount under-recovered in the 2018/19 period, the City Press reports.   National energy regulator Nersa has published Eskom's latest application for public comment, in which Eskom suggests that this increase be implemented over the next two years.
If Nersa was to grant Eskom the full R27.2 billion for 2021, electricity tariffs for the year would increase by 11.38% rather than the currently expected 5.01%.
The application is made in terms of the regulatory clearing account (RCA), which allows Eskom to retrospectively mitigate risk that assumptions regarding tariffs may be incorrect.
As part of the application, Nersa will compare Eskom's spending in the 2018/19 period to the tariff that it was awarded for this period.
According to Eskom, it was awarded R86 billion in this period, while its costs totaled R99.4 billion.
Eskom said that its increased expenditure is due to several miscalculations.
The national power utility wants an additional R5.4 billion to be allocated as a result of lower-than-predicted sales.
This does not include reduced sales as a result of load-shedding, Eskom said, which cost Eskom R762 million over the course of 418.5 hours of power cuts.
Eskom said that sales to municipalities, mines, and households were particularly lower than expected.
The power provider also said it spent R16.7 million more on the purchase of coal than was predicted.
Eskom criticised Nersa for allocating less to coal purchases in the 2018/19 period than it did for the previous year. This figure was also nearly R10 billion less than what Eskom applied for.
The power provider said that Nersa did not account for the cost of existing coal contracts which Eskom had already committed to; instead, the regulator supposedly based the figure on an index that ignored Eskom's procurement policy as well as developments in the mining sector.
Eskom also wants R4.8 billion for various other costs including depreciation and operations.