Heavy rains and potential flooding have been forecast for much of the province, with Thursday night predicted to see the worst of it.  IN light of the severe weather warning issued by the South African Weather Service (SAWS) for tomorrow (Thursday) and Friday, the Port of Richards Bay has urged all stakeholders to take proactive safety measures.
*
Durban weather warning for Thursday 14 November
They are warning that there is "an extreme danger to life" with this upcoming forecast. Dangerous conditions like landslides and overflowing rivers are likely to endanger hundreds, if not thousands of residents across the province. According to Saws, around 150mm of rain could fall in a 24-hour period:
"Over the central and eastern parts of KwaZulu-Natal, this heavy rain is expected to lead to flooding of roads and settlements both formal and informal, which may result in some communities being displaced and inaccessible. High rainfall totals have already been recorded across KwaZulu-Natal, resulting in the ground being saturated."

"There is an extreme danger to life due to fast flowing rivers. There is also a possibility of landslides and soil erosion along highly elevated areas which might lead to further disruption to traffic flow. Accumulated rainfall amounts for Thursday and Friday could exceed 100-150 mm in places over KwaZulu-Natal."

SA Weather Service
The far-east areas of Mpumalanga and Limpopo are also set for an epic dousing, whereas Free State will get another lashing on Thursday. However, all eyes are on KZN, as local authorities look to limit the damage.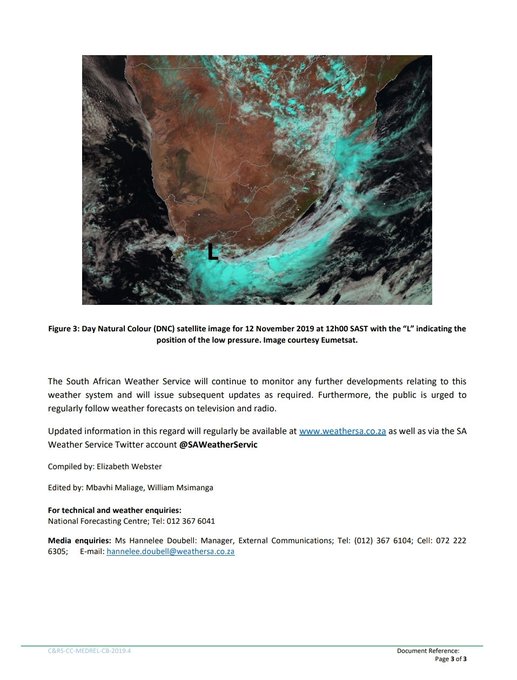 Durban weather: Rain on Thursday poses "an extreme danger to life"
*
Operators of vessels berthed in the Port of Richards Bay must ensure all vessels' engines remain on immediate standby, that sufficient mooring lines are deployed, anchors are prepared, hatch covers replaced and cargo secured.
They must also take any other steps deemed necessary to mitigate the impacts of the severe weather.  The Harbour Master instructed terminal operators to ensure all gantries and cargo operating equipment are secured, and advised all yacht and small craft owners to secure their vessels.
https://zululandobserver.co.za/203370/port-richards-bay-urges-safety-measures-implemented-ahead-severe-weather/?fbclid=IwAR27eFCVk2lIiZAbXCL1kK7-x7NAz7Dr_QJV8U8Xif0-V0c4uSFxZ2o468c
*
The Weather Bureau say that we are in for the mother of all storms starting tomorrow. They refer to it as of Biblical proportion. Port Shepstone will be the worst hit area where we can expect over 150 – 200 mm of rain in 24 hours. Roads will be closed, soil subsiding will cause major problems, rivers will be in full throttle flood. Durban and Richards Bay will not feel the brunt of it, but can still expect 100mm in the same period. Best to stay off the roads and make sure your gutters and drains are clear.