Who is really working behind this curtain in South Africa and its NHI system, is this only the ANC?   There are various organisations, partners and businesses involved here (as it was in 1994 with Codesa).   The purpose is to take away and give it for free away to others … to capture the health system and be the only monopoly, like Eskom, SAL and others, with corruption on corruption as it is today, in control of all of us.
WHO IS BEHIND NHI SCENES?
SEE THE VIDEO CLIP ABOUT BACKGROUND INFORMATION
South Africa Country Operational Plan 2016
(COP16)
Strategic Direction Summary (SDS)
Implementation – October 2016 – September 2017
Submitted 14 April 2016; approved 19 May 2016
Ver. 8 June 2016
December 3, 2018
U.S. announces a total of $1.2 billion over two years to support South Africa's HIV response to reach epidemic control
The United States' Global AIDS Coordinator & Special Representative for Global Health Diplomacy, Ambassador Deborah L. Birx M.D, and South Africa's Minister of Health, Dr. Aaron Motsoaledi, announced yesterday at the Global Citizen concert that the United States, through the U.S. President's Emergency Plan for AIDS Relief (U.S. PEPFAR), is investing $1.2 billion USD (over 16 billion Rand) over two years to support South Africa's efforts to reach HIV epidemic control by 2020.
*
(note – NSP – IS B-BBEE)
In support of the South Africa National Strategic Plan (NSP) for HIV and AIDS, TB and STIs (NSP), the United States through PEPFAR will implement a broad portfolio of programs toward the goal of epidemic control in the 27 highest HIV burden focus districts in South Africa, representing 82 percent of PLHIV. The strategy for the PEPFAR Country Operational Plan for the period from October 1, 2016 through September 30, 2017 (COP16) will continue program strategic priorities identified and implemented in COP15. The overall goals align PEPFAR with South African government, Global Fund and other resources to support the Joint United Nations Program on HIV/AIDS (UNAIDS) "90-90-90" targets (90 percent of all people living with HIV know their status, 90 percent of all people diagnosed with HIV infection receive Antiretroviral Therapy (ART), 90 percent of all people receiving ART have viral suppression), and improve linkages and program planning between prevention, treatment and orphans and vulnerable children (OVC) programs at the community and facility levels.
PARTNERS
https://www.heaids.ac.za/partners/
*
The Clinton Health Access Initiative, Inc. (CHAI) was founded in 2002 with a transformational goal: help save the lives of millions of people living with HIV/AIDS in the developing world by dramatically scaling up antiretroviral treatment.
When CHAI was founded, many viewed this goal as unreasonable because health systems in poor countries were too weak and prices of relevant drugs and diagnostic tests were too high. CHAI played a leadership role, working alongside governments and other partners, to lower the costs of treatment and help build the in-country systems necessary to provide lifesaving treatment to millions of people.
Since then, CHAI has pursued several similarly ambitious goals, from scaling up pediatric AIDS treatment in order to achieve equity with adults in a time frame few thought possible, to rapidly accelerating the rollout of new vaccines. CHAI has achieved many of its most important successes when seeking to fundamentally change the way the world approaches an issue and pushing the boundaries of what is considered feasible in global health.
CHAI's focus is transformational work that creates a fundamental change in the way actors approach and realize goals. To do this, the degree of impact of a CHAI program must be dramatic, the scale must be at the national or global level, the breadth must change the way others approach the problem, and the sustainability must allow for CHAI's eventual exit without erosion of impact.  Today, CHAI operates in 36 countries around the world and more than 80 countries are able to access CHAI-negotiated price reductions, vaccines, medical devices, and diagnostics.     https://clintonhealthaccess.org/leadership/
https://www.researchgate.net/figure/Abbreviations-ARV-antiretroviral-drug-EU-European-Union-Global-Fund-Global-Fund-to_fig1_51487140
*
The National Department of Health (NDOH) has embarked on a programme of ensuring that every Primary Health Care clinic has a Doctor on site, either on a full time or part time basis. The project has been embarked on with a focus on the 10 NHI Pilot districts. FPD focuses on a model whereby PEPFAR District Support Partners (DSPs), who currently work in 8 NHI pilot districts, will collaborate as a consortium to provide the required services to the NDOH. The consortium comprises the Foundation for Professional Development (FPD) who will act as the lead agency, Broad Reach, Aurum, Right to Care, the Wits Reproductive Health & HIV institute (WRHI) and African Health Placements (AHP), who focus on recruitment.

READ ABOUT THE PARTNERS
https://www.foundation.co.za/partners-in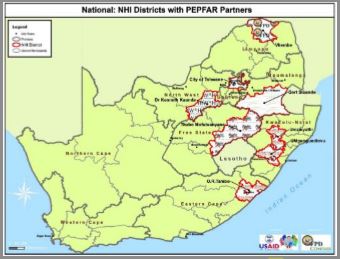 *
The Health-e News team consists of expert health journalists based in Johannesburg as well as a national network of citizen journalists strategically placed in the country's National Health Insurance (NHI) pilot districts.
*
WHO IS WORKING BEHIND THIS SA NHI – SEVERAL ORGANISATIONS
The organisation partly funded by Soros is directly involved in the NHI Pilot scheme in South Africa.
The agenda is to totally collapse SA. Ramaphosa , Clinton's , Soros, all the same. Ramaphosa is Africa's George Soros.