Prince Andrew was accused of groping a woman at Jeffrey Epstein's US home, according to newly released court papers.  The accusation is contained in documents from a 2015 defamation case, released by a judge on Friday.    Buckingham Palace said on Saturday this related to US proceedings "to which the Duke Of York is not a party".   "Any suggestion of impropriety with underage minors is categorically untrue."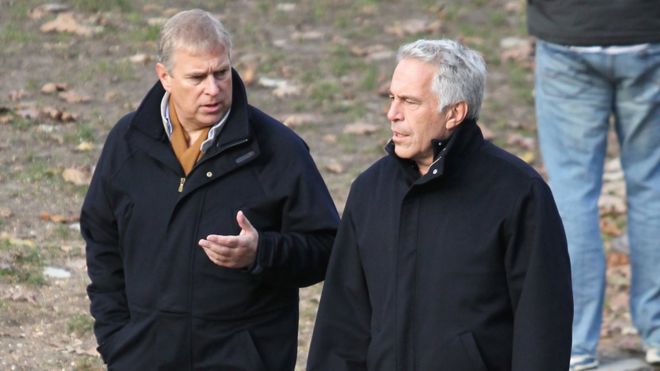 ***
Jeffrey Epstein is Dead, Here's What We Know
***
The court papers were released on Friday, a day before wealthy US financier Epstein was found dead in his prison cell while awaiting trial on sex trafficking charges.  Contained in the defamation case papers is an allegation by a woman called Johanna Sjoberg that Prince Andrew touched her breast while they sat on a couch in Epstein's Manhattan apartment in 2001.   She recalled in the documents: "I just remember someone suggesting a photo, and they told us to go get on the couch. And so Andrew and Virginia sat on the couch, and they put the puppet, the puppet on her lap.   "And so then I sat on Andrew's lap, and I believe on my own volition, and they took the puppet's hands and put it on Virginia's breast, and so Andrew put his on mine."
The papers relate to a defamation case brought by Virginia Giuffre, an alleged victim of Epstein, against socialite Ghislaine Maxwell.   Ms Maxwell was alleged to have procured underage girls for her then-boyfriend Epstein and his wealthy friends, but she has always denied the allegations.  Ms Giuffre subsequently sued Ms Maxwell for defamation after the media heiress claimed she was a liar.   Ms Giuffre had also claimed she was forced into a sexual encounter with the Duke of York.   But in 2015, Buckingham Palace denied this allegation, saying then that "any suggestion of impropriety with underage minors" by the duke was "categorically untrue".
***  ***
2015
How a telephone call set off a cascade of FBI investigations, secret plea deals and lawsuits from Palm Beach, Florida, to Buckingham Palace as questions resurface over whether the disgraced financier used his wealth and power to elude justice.   The desperate woman who telephoned Detective Michele Pagan of the Palm Beach police declined to give her name and would not leave a call-back number. But she had some information that she had to tell someone.   Her stepdaughter, a 14-year-old pupil at Royal Palm Beach high school, had told a friend that she'd had sex with a middle-aged man who gave her money.   The man was said to have a long face and bushy eyebrows and he lived in a big house at the end of a dead-end street. His name was Jeff. A teacher found $300 in the 14-year-old's purse.   That call to police – made 10 years ago this March – soon led Florida detectives to 358 El Brillo Way, a mansion owned by Jeffrey Epstein, one of America's wealthiest hedge fund tycoons.
A decade later, the cascade of FBI investigations, secret plea deals and lawsuits which followed that telephone call would be felt 4,000 miles away, behind the gates of Buckingham Palace.   The connecting thread was Epstein, now 61, a convicted sex offender and one-time friend of Prince Andrew, the Duke of York. The allegation: that Epstein forced another of his teenage victims into sexual encounters with Andrew on three separate occasions.   The accusation, contained in a court filing first reported by the Guardian and Politico, has become headline news across the world this week, even as it was forcefully and repeatedly denied by the Palace.    It has thrown a spotlight on Andrew's relationship with Epstein and resurfaced questions over whether the disgraced financier used his extraordinary wealth and power to elude justice.   There is no suggestion Andrew ever encountered the 14-year-old – referred to in police incident reports as 'SG' – whose stepmother's call to police triggered the initial investigation into Epstein in 2005.   SG told detectives that Epstein had made her remove her clothes and give him a massage while he masturbated, according to a police report.   Within weeks the FBI was listening to Epstein's calls, rifling through his trash and searching for other potential victims. They eventually identified around 40.     Assistant US attorney Ann Marie Villafaña relayed a summary of the investigation to Epstein's counsel in a letter in 2007.
https://www.theguardian.com/world/2015/jan/10/jeffrey-epstein-decade-scandal-prince-andrew
*** ***