Africa is a continent
Land Area:     11,670,000 (mi²) / 28,489,869 (km²)
Population:    1,119,307,147 (2016)
Countries:   54
Currently, there are between 47 and 55 countries on the continent of Africa. The most accurate count of countries for the continent of Africa is 
54
. This includes all internationally recognized territories and states on the continent.
Countries in Africa:
Algeria, Angola, Benin, Botswana, Burkina Faso, Burundi, Cameroon, Central African Republic, Chad, Comoros Islands, Democratic Republic of the Congo, Djibouti, Egypt, Equatorial Guinea, Eritrea, eSwatini (formerly Swaziland), Ethiopia, Gabon, Gambia, Ghana, Guinea, Guinea-Bissau, Ivory Coast, Kenya, Lesotho, Liberia, Libya, Madagascar, Malawi, Mali, Mauritania, Morocco, Mozambique, Namibia, Niger, Nigeria, Republic of the Congo, Rwanda, Sao Tome and Principe, Senegal, Sierra Leone, Somalia, South Africa, South Sudan, Sudan, Tanzania, Togo, Tunisia, Uganda, Western Sahara, Zambia, Zimbabwe.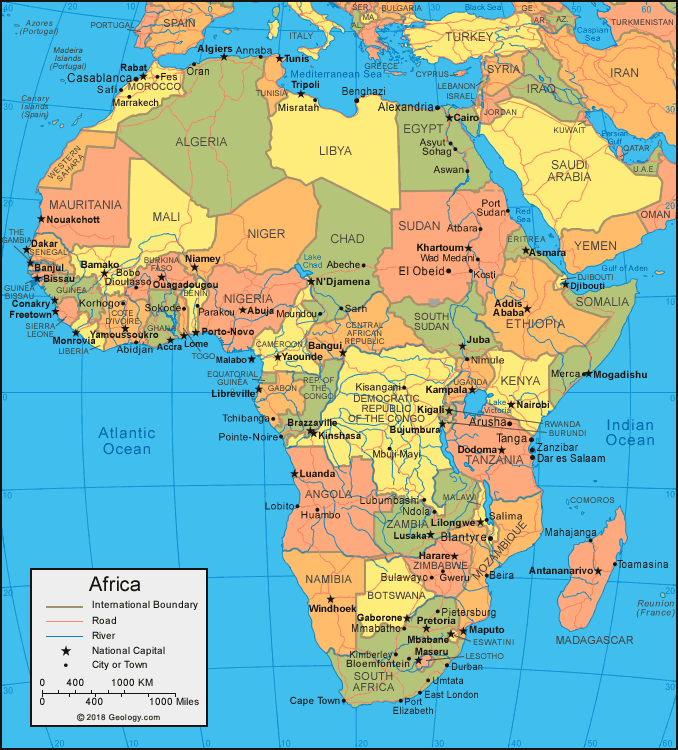 Be proud of what you are – each person do have roots to his own people, culture, traditions and language.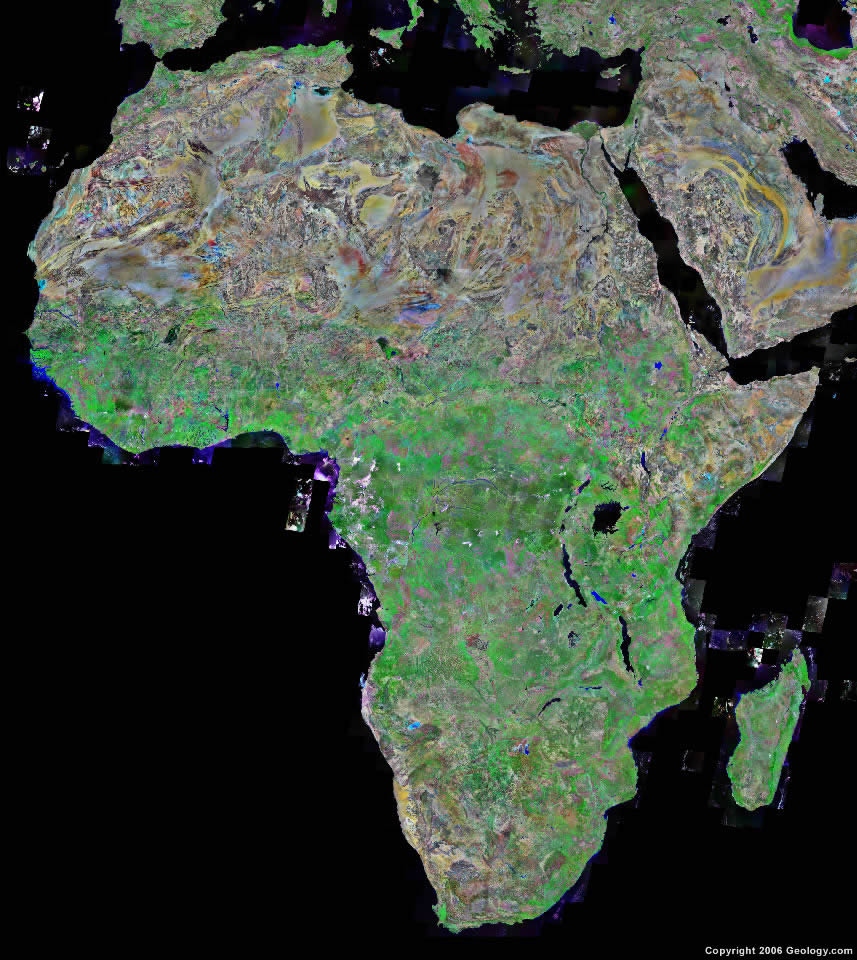 https://geology.com/world/africa-satellite-image.shtml
The continent of Africa is bordered to the West by the Atlantic Ocean. To the East you will find the boundary set by the Indian Ocean. To the South, the Southern Ocean gives Africa is "V" shape. To the North, the Mediterranean Sea and Red Sea define its boundaries. Africa is one of the few continents that is mostly defined simply by the bodies of water which surround it.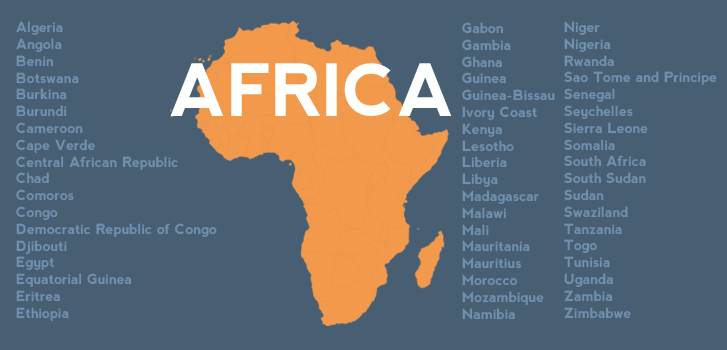 Daar is 'n verskeidenheid van volke in Afrika wat hul onafhanklikheid gekry sedert 1900 en daar is nog ander minderheidsvolke wat op pad is om hulle vryheid te verkry.  Suid-Sudan het in 2011 hul eie land geword.    Volke het nie nodig om mekaar uit te wis of te onderdruk nie, maar die reg tot 'n onafhanklike en eie regering, kultuur, taal, vooruitgang en doelgerigte voortsetting van eie tradisies.  Rassisme en diskriminasie is nie altyd net swart op blankes nie, maar heelwat is ook swart op swart en ander etniese volke wat mekaar onderling meesterlik onderdruk om mag te behou, waar mense hul lewens onnodig verloor.  Afrika is 'n groot kontinent en nie net een land aanmekaar nie, want daar is 'n verskeidenheid volks-, taal en kultuurgroepe binne die kontinent waarop elkeen 'n reg tot lewe het.   Volke kan en mag ook ooreenkomste aangaan, net soos wat die EU, Amerika en Brics ooreenkomste aangaan.
LIST OF COUNTRIES IN AFRICA
| African Country | Capital City | Population |
| --- | --- | --- |
|  Algeria | Algiers | 39,667,203 |
|  Angola | Luanda | 25,326,755 |
|  Benin | Porto-Novo | 10,782,365 |
|  Botswana | Gaborone | 2,176,741 |
|  Burkina Faso | Ouagadougou | 18,450,347 |
|  Burundi | Bujumbura | 9,824,320 |
|  Cameroon | Yaoundé | 21,918,057 |
|  Cape Verde | Praia | 525,662 |
|  Central African Republic | Bangui | 4,900,413 |
|  Chad | N'Djamena | 13,675,741 |
|  Comoros | Moroni | 783,544 |
|  Democratic Republic of the Congo | Kinshasa | 77,267,269 |
|  Djibouti | Djibouti | 961,037 |
|  Egypt | Cairo | 88,523,985 |
|  Equatorial Guinea | Malabo | 1,996,227 |
|  Eritrea | Asmara | 6,895,222 |
|  Ethiopia | Addis Ababa | 99,391,145 |
|  Gabon | Libreville | 1,873,230 |
|  Gambia | Banjul | 2,022,474 |
|  Ghana | Accra | 27,414,682 |
|  Guinea | Conakry | 10,935,259 |
|  Guinea-Bissau | Bissau | 1,788,088 |
|  Ivory Coast | Abidjan, Yamoussoukro | 23,126,355 |
|  Kenya | Nairobi | 45,533,204 |
|  Lesotho | Maseru | 1,908,335 |
|  Liberia | Monrovia | 4,046,007 |
|  Libya | Tripoli | 6,278,522 |
|  Madagascar | Antananarivo | 23,043,955 |
|  Malawi | Lilongwe | 16,307,685 |
|  Mali | Bamako | 17,796,125 |
|  Mauritania | Nouakchott | 3,632,657 |
|  Mauritius | Port Louis | 1,263,916 |
|  Morocco | Rabat | 34,380,277 |
|  Mozambique | Maputo | 28,013,037 |
|  Namibia | Windhoek | 2,281,238 |
|  Niger | Niamey | 18,880,785 |
|  Nigeria | Abuja | 182,202,652 |
|  Republic of the Congo | Brazzaville | 4,706,257 |
|  Rwanda | Kigali | 11,324,426 |
|  São Tomé and Príncipe | São Tomé | 194,000 |
|  Senegal | Dakar | 14,150,852 |
|  Seychelles | Victoria | 970,457 |
|  Sierra Leone | Freetown | 6,513,357 |
|  Somalia | Mogadishu | 10,972,148 |
|  South Africa | Bloemfontein, Cape Town, Pretoria | 5,495,724 |
|  South Sudan | Juba | 12,519,321 |
|  Sudan | Khartoum | 40,235,712 |
|  Swaziland | Mbabane | 1,119,524 |
|  Tanzania | Dodoma | 51,046,045 |
|  Togo | Lomé | 7,065,418 |
|  Tunisia | Tunis | 11,118,759 |
|  Uganda | Kampala | 37,102,024 |
|  Zambia | Lusaka | 15,474,644 |
|  Zimbabwe | Harare | 13,503,963 |
| Total | | 1,125,307,147 |
https://www.whatarethe7continents.com/africa-continent/how-many-countries-in-africa/