Mantashe said the survey would be consistent with the South Gauteng High Court ruling on mining Xolobeni and that "if the community says no, there will be no mining".   Minister of Mineral Resources Gwede Mantashe announced on Wednesday that the Department of Mineral Resources would commission an independent survey in Xolobeni – the community which opposed plans to unilaterally grant mining licenses in the area successfully in court.   Mantashe visited the Eastern Cape community and its natural dunes on Wednesday accompanied by a delegation from the Department of Mineral Resources and what has been described as heavy police presence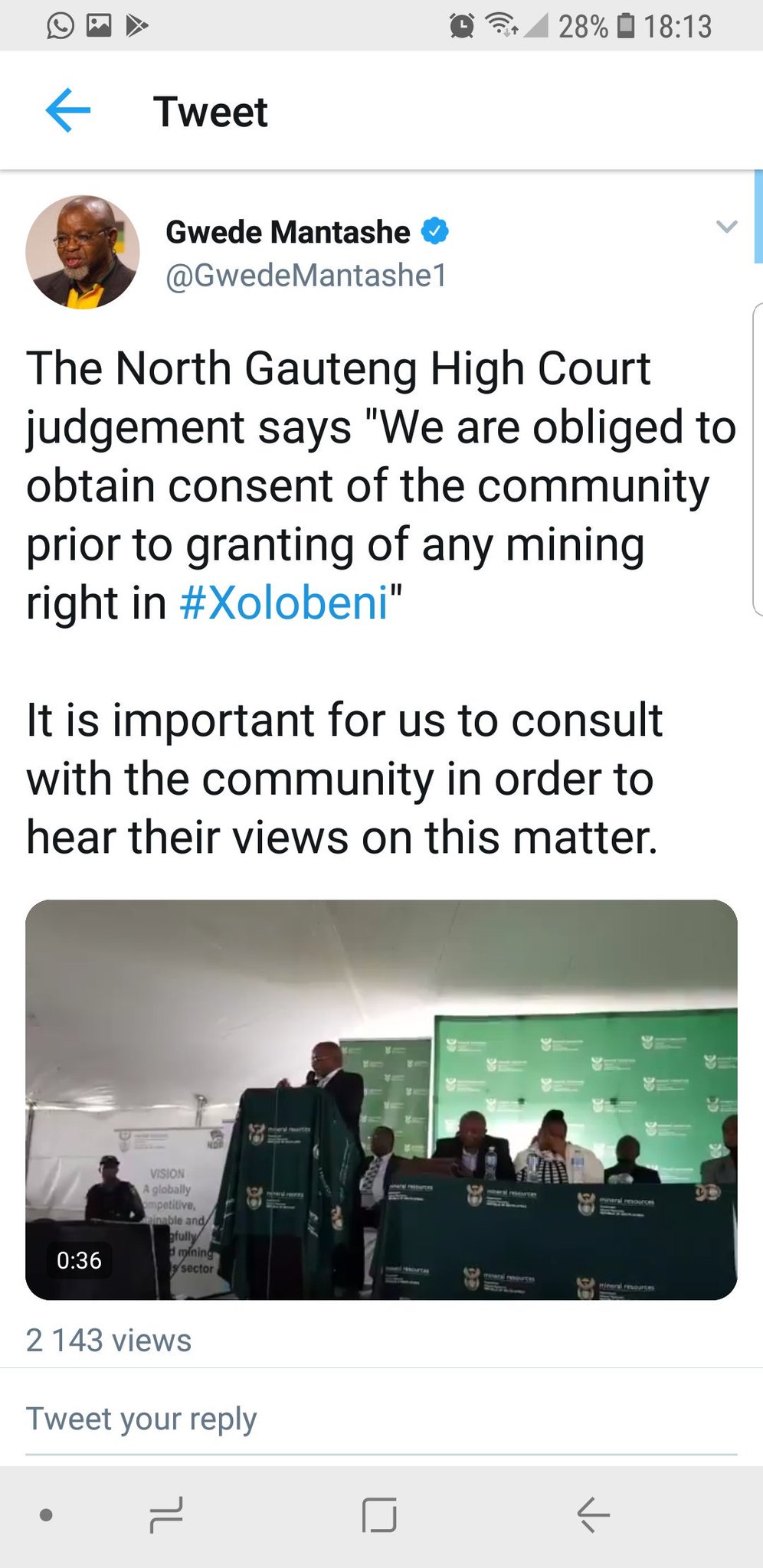 The Southern African Faith Communities' Environment Institute executive director Francesca de Gasparis wrote to Minister of Minister Resources Gwede Mantashe on Tuesday demanding that he not conduct a site visit to Xolobeni on Wednesday.
Mantashe said the survey would be consistent with the South Gauteng High Court ruling on mining Xolobeni and that "if the community says no, there will be no mining".
"On the basis of the outcomes of the survey, we will then take a firm decision on the way forward. If mining goes ahead in Xolobeni, it must be sustainable and coexist with tourism, agriculture and other economic development initiatives," Mantashe said.
On the other hand, Mantashe said, if the community says yes, mining will proceed.
"Whichever right-owner is granted the licence to mine must also adhere strictly to the provisions in the MPRDA and Mining Charter, including implementation of social and labour plans," Mantashe said.
Critics are accusing Mantashe of manufacturing the semblance of community consultation to feign the approval needed for him to issue a license for mining operations to commence in the area. Community members have raised fears of displacement and environmental impact.
The South Gauteng High Court last year ruled that no mining license could be issued for operations in the area until the minister has full and formal approval from the Xolobeni community.
Ahead of Mantashe's visit, the Amadiba Crisis Committee, a community-based group opposed to mining in Xolobeni accused the minister of "inviting himself" to the Xolobeni area as part of a plan to give Transworld Energy and Mineral Resources approval to mine there.
"DMR falsely claims that that the ACC on 17 November at Wild Coast Sun requested the minister to come back and meet with the broader community in Xolobeni. How broad is the Xolobeni community? From where will your buses come this time, Mantashe?" said a Facebook post on their page.
Meanwhile on the day of Mantashe's visit to Xolobeni, Richard Spoor Attorneys associate Johan Lorenzen shared a video on Twitter of what appeared to be a crowd dispersing during a hail of stun grenades.
https://www.fin24.com/Companies/Mining/mantashe-announces-independent-survey-on-mining-in-xolobeni-20190116
***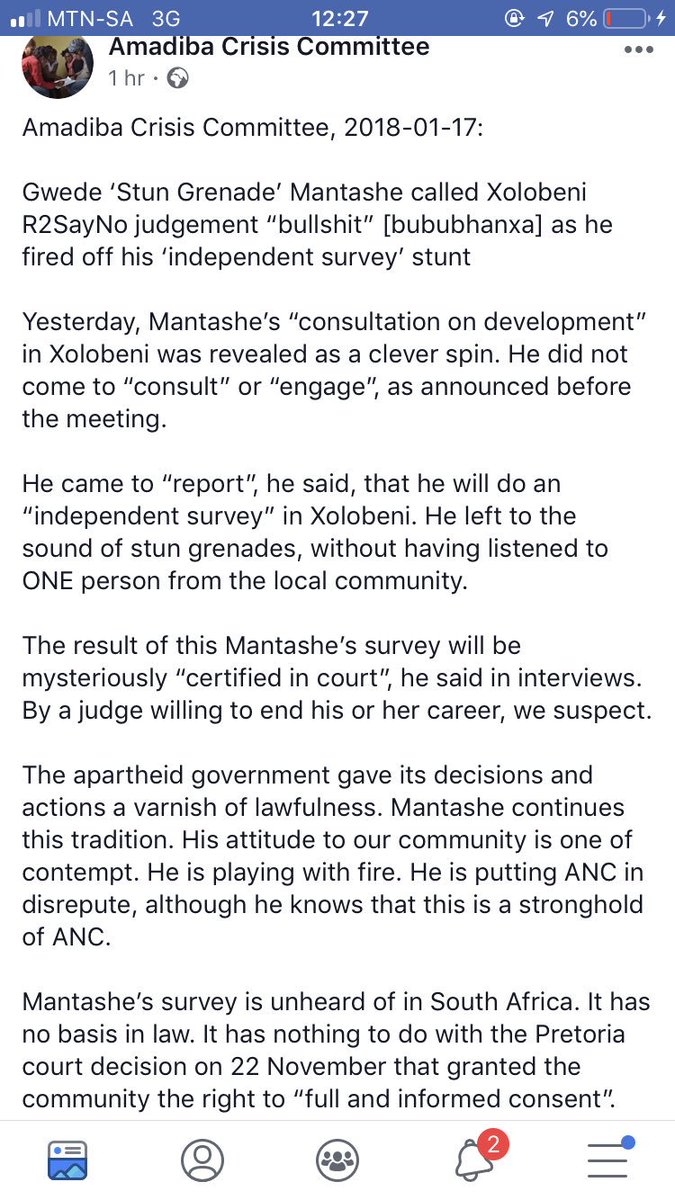 ***
Laat hierdie ook vir ons 'n les wees hoe desperaat die regering is om grond te bekom veral as daar minerale op is.   Die "regspad" is 'n duur storie, baie duurder as wat mense besef.
Hierdie hofsake van die gemeenskappe kom al 'n paar jaar aan en die volke wat daar bly, bly al vir etlike dekades daar.
Moenie dink grondhervorming, spesifiek onteiening,  gaan nie sonder probleme wees nie, inteendeel bly dit in my agterkom dat daar meer as 30000 soldate is van narysec, spesiaal vir grondonteiening.
Let op hoe die polisie hier optree waar Mantashe is en hoe 'n sekere segspersoon, wat 'n blanke is, in hegtenis geneem is.  Hoekom word hy in hegtenis geneem?   Heelwat besprekings vergelyk dit met die ou regime se SAP en mens kan nie help om aan die inwoners van Tibet te dink hoe hulle ook vermoor is vir minerale nie.