Wie beroof kinders van hul regte om te studeer as daar soveel misdaad plaasvind, rondom die skoolgronde, die kinders en soms deur kinders self.  Die skool met die "slim klasse", wat voorheen vanuit 'n vervalle struktuur bestuur is, was meer as R105 miljoen werd en sal honderde kinders uit die Oos-Randse gemeenskap bevoordeel. maar ongelukkig, 'n week later, was die meeste van die toerusting weg – 185 tablette is gesteel saam met 'n reeks ander waardevolle items insluitend skootrekenaars, projektors en kontant.
*
Waar is die sekuriteit op sulke skole?  Erens is daar ouers wat van hierdie toerusting tuis gebruik of toelaat om gebruik te word sonder om die misdaad(e) te rapporteer.   Duursame toerusting wat aangekoop is en opgerig spesiaal vir kinders om te gebruik en te geniet.
En hulle noem hierdie "georganiseerde" misdaad – deur wie?    Die groentegnologieskool, wat in die hartjie van Langaville in die Tsakane-township in Ekurhuleni is, spog met geriewe soos 33 slim klaskamers, 'n graad R-blok met vyf klaskamers, twee slim wetenskaplaboratoriums, twee slim veeldoelige kamers, 'n biblioteek en eetkamer. saal.
Dit word nie regmatig waardeer nie, want dit bestaan nie.  Waar is rassisme nou heen en vir wie is al hierdie duur toerusting aangekoop om te gebruik, maar eenvoudig gesteel.  Dit kos 'n fortuin om hierdie leerders toe te rus vir 'n toekoms wat hulle nie wil gebruik nie, want misdadigers kom weg daarmee.
Skaars 'n week nadat die LUR van onderwys die gemeenskap van Tsakane gevra het om die nuwe skool "nie te verniel nie"  is die skool beroof  van 185 tablette, agt rekenaars, twee projektors en drie groot rekenaars.  'n Plasma TV en R500 kontant is ook deur die skelms weggedra.
Intussen het Panyaza Lesufi, LUR vam Gautengse Onderwys die gemeenskap van Tsakane aangemoedig om met die polisie te werk en die misdadigers op te spoor wat die nuutgeboude skool in Ekurhuleni beroof het.  Verseker was al hierdie toerusting oop en geen wagte in sig nie.
*
The school with the "smart classes", which was previously run from a dilapidated structure, was worth over R105 million and will benefit hundreds of children from the East Rand community.  but unfortunately, a week later, most of the equipment were gone – 185 tablets were stolen along with a range of other valuables including laptops, projectors and cash.   And they call this "organised" crime – by whom?
The green technology school, which is in the heart of Langaville in Tsakane township in Ekurhuleni, boasts facilities such as 33 smart classrooms, a Grade R block with five classrooms, two smart science labs, two smart multi-purpose rooms, a library and dining hall.
"The start of the school year is about laying the foundation for a better future. We are investing in education a lot, especially in township schools.   "The investment we are making as a country is in these children. These children are the children that will be independent and build their own homes," said the Premier.   Makhura hailed the opening of Menzi Primary as a measure to improve the quality of education in township schools.   With a price tag of R105,508,403, Lesufi urged parents and community members to protect the newly constructed mega school infrastructure.
To prepare for the fourth industrial revolution, Lesufi said his department will also unveil two schools of specialisation in the areas of maritime studies and the motor industry.    In a bid to address high demand for space in Gauteng schools, the provincial Education Department announced that Tshepisong, Mayfield and Centurion Primary Schools will also be opened this month.   Allaying the fears of late applicants, Lesufi assured parents that his department is hard at work to place learners in classrooms.
***
Gauteng Infrastructure Development MEC Jacob Mamabolo has officially handed over the newly built Menzi Primary School to the provincial Education Department.   Education MEC Panyaza Lesufi, together with Gauteng Premier David Makhura and other government officials, opened the school in Tsakane in Ekurhuleni in January 2019.
Obvious, they do not like the old ways of learning, but the best for this young pupils.   Lesufi says the Tbuilt Menzi Primary School is the first in Tsakane to have smart classrooms.   "This is the first primary school where our children will not smell chalk, will not be asked to go and clean a duster and will not know what's a chalkboard." –
See this room and library – there are other pupils in South Africa as well, but … not even a better toilet for them as well.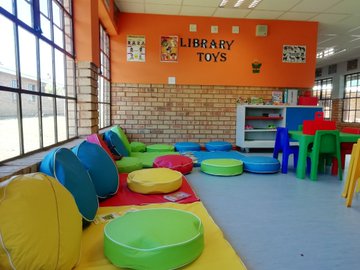 Those who called it "organised crime"    The Gauteng Legislature's portfolio committee on Education has condemned a robbery at a newly opened multi-million rand smart school in Ekurhuleni.
https://ewn.co.za/2019/01/16/gauteng-legislature-committee-condemns-robbery-at-new-tsakane-school
**
Now they want answers from the communit but told the media it is organised crime
Less than a week after the Gauteng Education Department officially opened a newly built state-of-the-art school in Ekurhuleni, it's been robbed.   It's understood robbers broke into Menzi Primary school in Tsakane in the early hours of Tuesday morning.They made off with a number of valuables, including nearly 200 tablets, teachers' laptops, a plasma TV and cash.
https://ewn.co.za/2019/01/15/gauteng-education-dept-shocked-by-break-in-at-newly-built-tsakane-school
***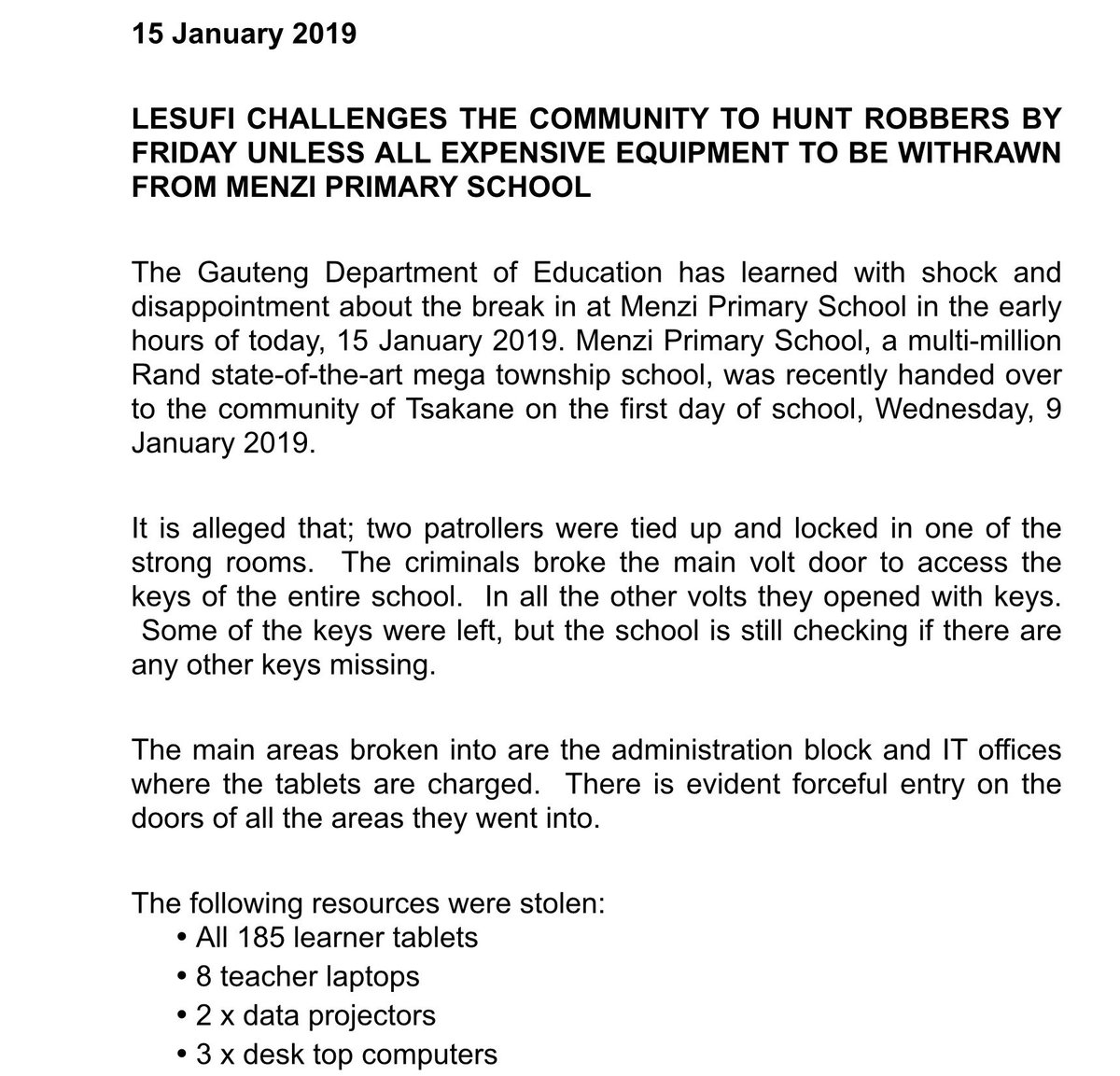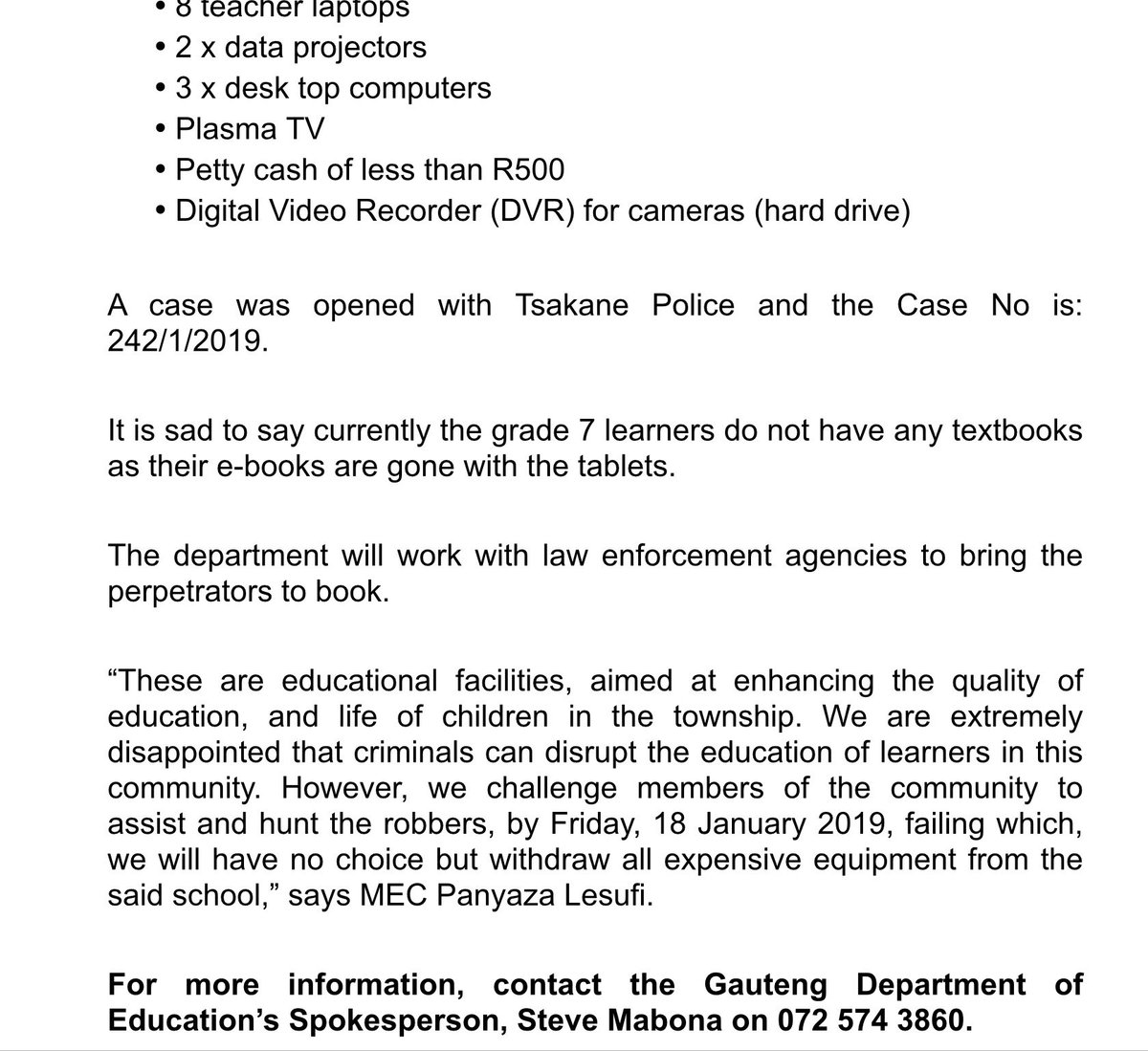 ***