Batsirai verander heelwat van posisie en sterkte.   Dit bly steeds sterker vorm aanneem.   Neem maar ekstra voorsorg vir die sikloon wat op pad is, veral die oostelike en suidkusgebiede.  Daar is ook vog wat uit die noorde inkom (vir ander dele van die land).
The intense tropical cyclone which is expected to influence the weather in Rodrigues  and in Mauritius.   Then, in a few days to  the eastern and south coasts of Southern Africa.
(twitter .. Zimcast)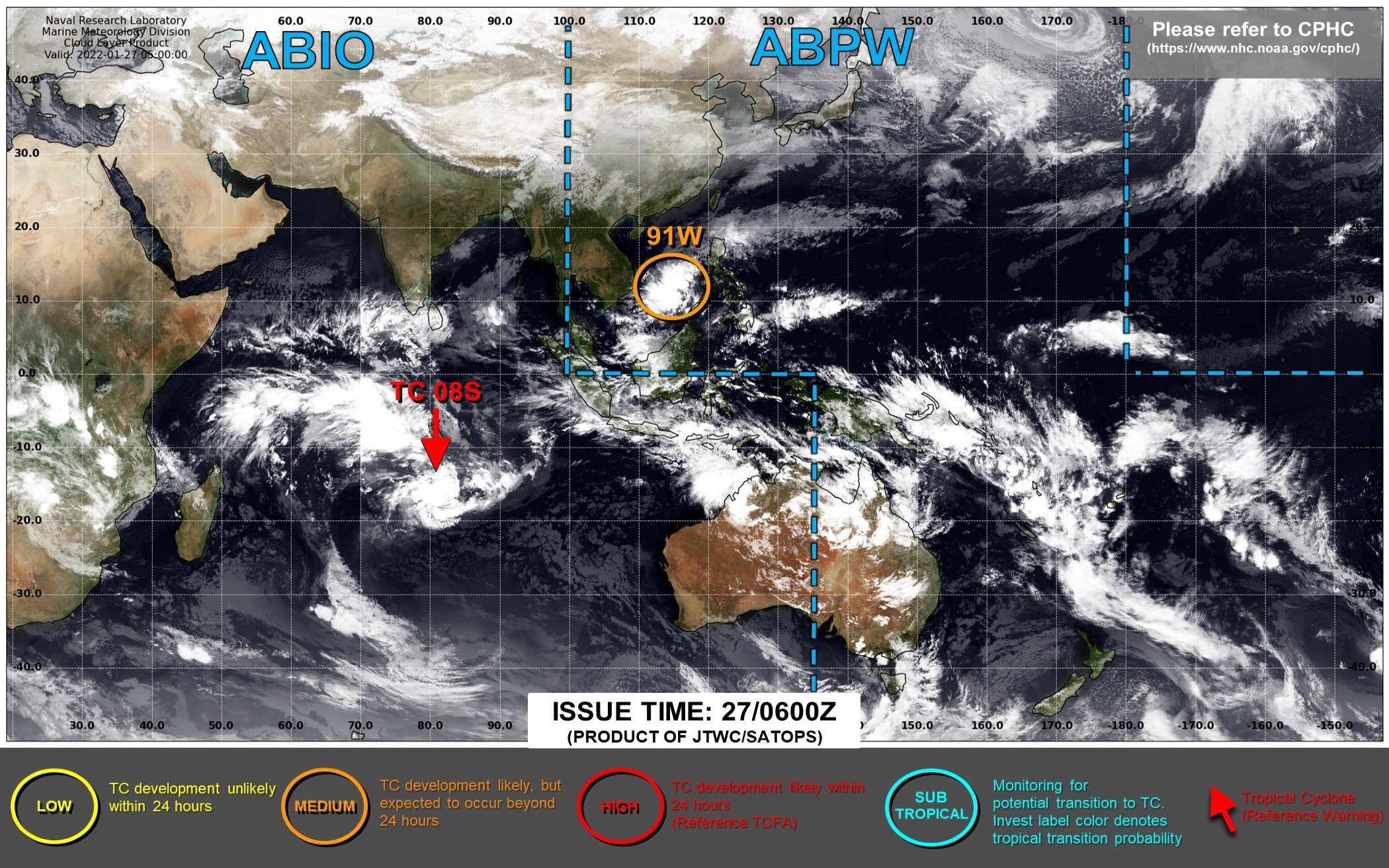 *
#Batsirai literally jumped from Moderate Tropical Storm status to Intense Tropical Cyclone Status in a literal heartbeat.    #Batsirai is rapidly intensifying as it continues to move generally westwards.
*
https://www.expat.com/en/expat-mag/6536-cyclone-batsirai-is-first-of-the-season.html
https://www.wunderground.com/hurricane/southern-hemisphere/2022/tropical-cyclone-batsirai?map=sat
Batsirai
*
During the past 6 hours, Moderate Tropical Storm BATSIRAI has undergone explosive intensification and is now an Intense Tropical Cyclone. At 4:00 p.m., the intense tropical cyclone BATSIRAI was centered around the point 17.9 degrees south in latitude, and 80 degrees east in longitude, approximately 2,340 km east-northeast of Mauritius and moving in a general west-southwest direction at about 30 km/h.
Weather: Moderate tropical storm BATSIRAI, now an intense tropical cyclone
*
Cyclone Batsirai has continued its westward track, now inching closer to the island of Rodrigues as of this update. Currently located 395km away from the island, Class I Warnings are in effect for there as Batsirai may continue to affect the region with strong gusts.
Cyclone Batsirai has intensified over the past several hours, and has now become a category 2 cyclone according to Meteo France, and the current forecast keeps Batsirai a cyclone-strength system over the next 5 days. There is no CDPS in place for Batsirai as Rodrigues is no longer within the cone of uncertainty, however, a CDPS stage will likely be put into place soon for Mauritius and La Reunion, with both the islands being within the cone of uncertainty.
*
https://www.windy.com/-Rain-thunder-rain?rain,-34.307,-17.051,3
#Batsirai is starting to turn into a serious situation. It's back up to TC strength (MFR scale) & could reach Inten… twitter.com/i/web/status/1…—
Vortix (@VortixWx) January 29, 2022
*
This was ANA – a few days back …
ANA was also intense …