After documents about possible tax evasions of world leaders known as the "Pandora Papers" came to light, the state of South Dakota was designated as one of the great tax havens, competing with those already existing in Europe and the Caribbean.   More than the Panama papers.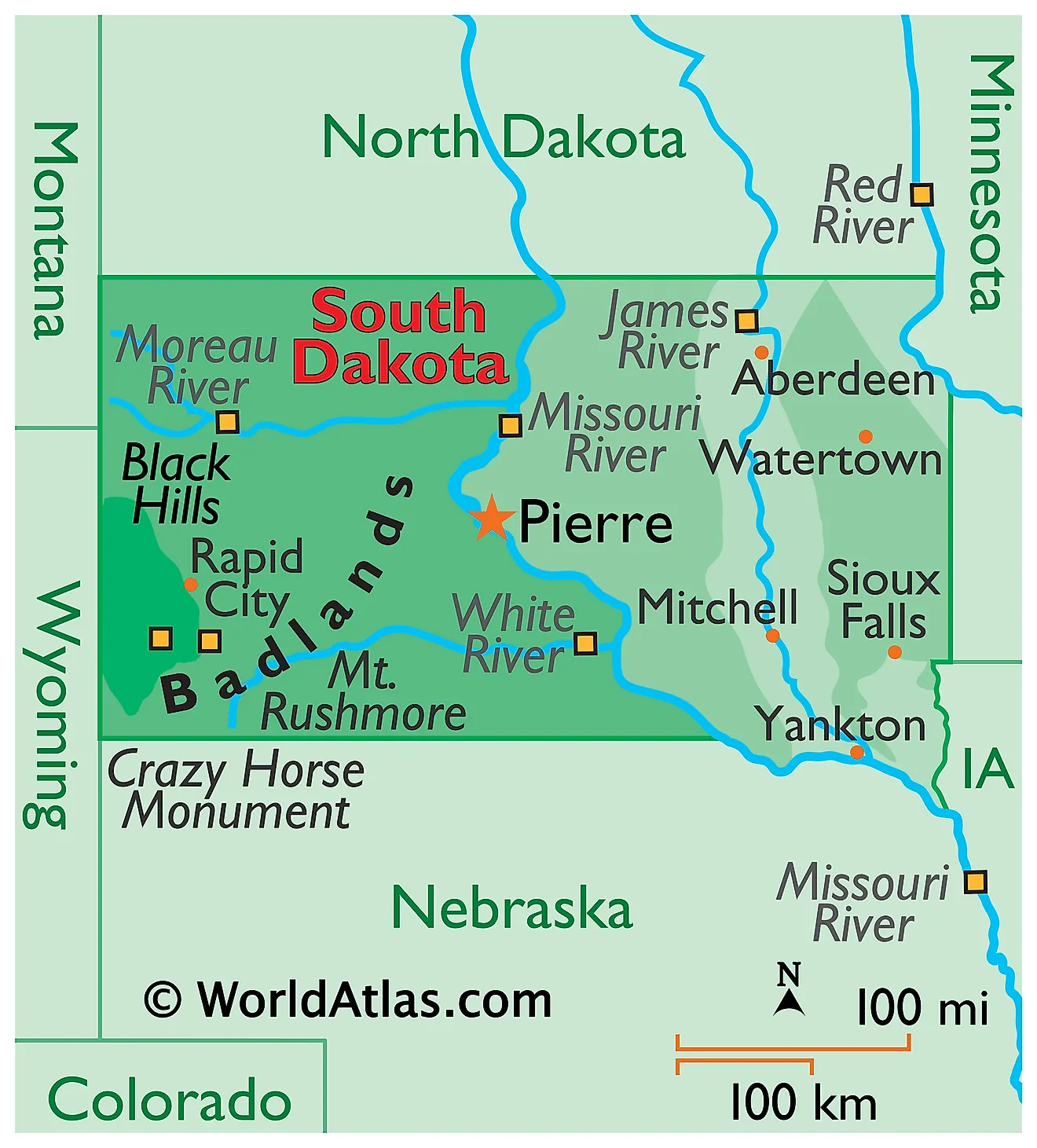 *
According to the records, the largest leaks of confidential documents in history are based on around 12 million documents detailing tax evasions carried out by 14 companies using "offshore" bank accounts to hide their fortunes, he reviewed  The New York Post.
The documents provide details on the movement of hundreds of millions of dollars from coastal havens in the Caribbean and Europe to South Dakota, a sparsely populated US state that has become a major destination for foreign money.", indicated the International Consortium of Investigative Journalists (ICIJ).
It was known that near $ 360 billion in assets of clients are currently in trusts based in South Dakota, but that number has quadrupled in the last decade, the ICIJ detailed.   In that period, South Dakota lawmakers had enacted legislation championed by people who contained inside information in the trust industry to safeguard their clients, highlighted the ICIJ.
According to information from The Washington Post, media that supported the landmark investigation, it is a fact that South Dakota rivals jurisdictions "Notoriously opaque" in Europe and the Caribbean in "Financial secret".   The documents also revealed that the city of Sioux Falls, South Dakota, has served so that millions of dollars in assets are protected, and the documents are linked to people and companies that are accused of human rights abuses and other crimes. 
Part of the records in 2019 revealed that "Relatives of a former Dominican president, who once ran one of the largest sugar producers in that country, set up several trusts"said the newspaper.
"The trusts owned personal property and shares of the company, which has been accused of labor and human rights abuses, including the illegal demolition of impoverished families' homes to expand plantations."added The Washington Post.
In addition to South Dakota, other states include Nevada and Florida they were named in ICIJ documents as states that have received trusts linked to alternate accounts, the report revealed.
So far there have been no official pronouncements by South Dakota authorities for the state's involvement in these fraudulent movements.
https://www.americanpost.news/pandora-papers-south-dakota-is-designated-as-one-of-the-main-tax-havens-worldwide/
*
What happened with those involved in the PANAMA PAPERS.    Nothing, because they only create legislations for their "supporters".   Now it is just other states mentioned?
Twitter:  It exposes more than twice as many account holders and twice as many public officials as the Panama Papers did.
Twitter:  The Panama Papers stories led to the resignations of the leaders of Iceland and Pakistan. There could be political stakes for some of those named in the Pandora documents.
Nobody will like to live in places like this, but who paid for this if most of them are in high positions of countries?  Why must the middle man, the businesses pay their taxes but not those rich people?  Most of them have already benefits in their positions,

*
Read also this (limited reading on this paper)
https://www.washingtonpost.com/business/interactive/2021/pandora-papers-offshore-finance/

*
During 2018,  the Chinese government prepared to enact tough new tax rules, the billionaire Sun Hongbin quietly transferred $4.5bn worth of shares in his Chinese real estate firm to a company on a street corner in Sioux Falls, South Dakota, one of the least populated and least known states in the US. Sioux Falls is a pleasant city of 180,000 people, situated where the Big Sioux River tumbles off a red granite cliff. It has some decent bars downtown, and a charming array of sculptures dotting the streets, but there doesn't seem to be much to attract a Chinese multi-billionaire. It's a town that even few Americans have been to.
The money of the world's mega-wealthy, though, is heading there in ever-larger volumes. In the past decade, hundreds of billions of dollars have poured out of traditional offshore jurisdictions such as Switzerland and Jersey, and into a small number of American states: Delaware, Nevada, Wyoming – and, above all, South Dakota. "To some, South Dakota is a 'fly-over' state," the chief justice of the state's supreme court said in a speech to the legislature in January. "While many people may find a way to 'fly over' South Dakota, somehow their dollars find a way to land here."
Super-rich people choose between jurisdictions in the same way that middle-class people choose between ISAs: they want the best security, the best income and the lowest costs. That is why so many super-rich people are choosing South Dakota, which has created the most potent force-field money can buy – a South Dakotan trust. If an ordinary person puts money in the bank, the government taxes what little interest it earns. Even if that money is protected from taxes by an ISA, you can still lose it through divorce or legal proceedings. A South Dakotan trust changes all that: it protects assets from claims from ex-spouses, disgruntled business partners, creditors, litigious clients and pretty much anyone else. It won't protect you from criminal prosecution, but it does prevent information on your assets from leaking out in a way that might spark interest from the police. And it shields your wealth from the government, since South Dakota has no income tax, no inheritance tax and no capital gains tax.
https://www.theguardian.com/world/2019/nov/14/the-great-american-tax-haven-why-the-super-rich-love-south-dakota-trust-laws
*
https://www.france24.com/en/business/20211003-pandora-papers-reveal-hidden-wealth-of-world-leaders-celebrities-billionaires
https://www.newsbreak.com/news/2392223675548/south-dakota-joins-bermuda-as-tax-haven-for-the-rich
*
Pandora benefits – October 2021
The International Consortium of Investigative Journalists' 2021 investigation the Pandora Papers reveals how the offshore money machine operates in every corner of the planet, including the world's largest democracies.
*
Offshore – tax havens
In a major international investigation, Four Corners reveals the secrets of the Pandora Papers.
*
While billions in international aid was pouring into Jordan, including $800 million from Canada, its leader King Abdullah II was amassing a giant collection of luxury homes. That's just one of the revelations contained in the new 'Pandora Papers' obtained by the International Consortium of Investigative Journalists, including CBC News.