The Chinese government is digging a new field of what appears to be 110 silos for launching nuclear missiles in the barren desert 1,200 miles west of the capital, Beijing. The Federation of American Scientists (FAS) members  Matt Korda and Hans Kristensen on July 26, in a statement, cited the satellite images near Yumen in Gansu province. It said, "The second missile silo field is located 380 kilometres (240 miles) northwest of the Yumen field near the prefecture-level city of Hami in Eastern Xinjiang."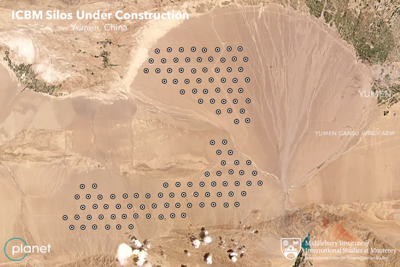 *
The Chinese government is digging a new field of what appears to be 110 silos for launching nuclear missiles in the barren desert 1,200 miles west of Beijing. 

Windfarms or something else?


The analysts have noted that the Hami missile silo field is in a much earlier stage of development than the Yumen site. As per the statement, the construction there began back in March 2021 in the southeastern corner of the complex and continues at a rapid pace. Since that time, FAS noted that several dome structures have been erected over at least 14 silos and soil cleared to prepare for the construction of 19 more silos. The experts have also determined, based on the "grid-like outline" that the entire complex will eventually include 110 silos. 
The Hami site was first spotted by Matt Korda, the Research Associate for the Nuclear Information Project at the Federation of American Scientists, using commercial satellite imagery. The greater resolution images of the site were eventually provided by 'Planet'. The FAS said that the silos at Hami are positioned in an "almost perfect grid pattern, roughly three kilometres apart, with adjacent support facilities." The construction at the second site is similar to the 120 silos at the Yumen site and around one dozen silos constructed at the Jilantai training area in Inner Mongolia.
https://www.republicworld.com/world-news/china/china-building-second-nuclear-missile-base-say-experts-citing-satellite-imagery.html


*
China's second nuclear base was uncovered in Xinjiang province. Silo field is located 380 km from Yumen. This means that China could be building its second-largest nuclear missile silo field near Hami in eastern Xinjiang. This information was revealed in a new report by the Federation of American Scientists (FAS).

https://www.youtube.com/watch?v=wapDL3bpTc8

*

After decades of restraint, China is showcasing the vast expansion of its nuclear arsenal. Under Xi Jinping, China is taking more aggressive steps, and it has entered a new territory with the nuclear arsenal. China is building a second missile base of nuclear silos in the western province of Xinjiang. The new construction site is in a remote area that Chinese authorities have cut off from most visitors.
https://www.youtube.com/watch?v=8aFti-oYqtA

*

China is building more than 100 missile silos in the desert, according to an analysis of satellite photos, which researchers say signals a possible expansion of the country's nuclear capabilities.

https://www.youtube.com/watch?v=ysaTy-igBgQ

*
March 2021
China is building more underground silos from where its most powerful intercontinental ballistic missiles could be launched, according to reports.   They are reportedly being built in the north of the country and are designed to accommodate the DF-41 and DF-31AG missiles that have a range of 10,000km to 14,000km (6,200 to 8,700 miles) – meaning they could reach US territory.
The People's Liberation Army Rocket Force has begun constructing at least 16 silos in a missile training area west of Wuhai in Inner Mongolia, Washington-based think tank the Federation of American Scientists (FAS) said in a report in late February, citing satellite images. 
China's DF-41 missiles can carry multiple nuclear warheads and can be fired from a silo-based platform or a road- or rail-based mobile launcher. 
The new underground silos are located in the centre of the Jilantai training base, within a total area of 200 sq km, and are spaced between 2.2km and 4.4km apart so that no two of them can be destroyed in a single nuclear attack, according to the report.
Launching missiles from silos is the most reliable and precise way to hit a target, and the new facilities were built for the rocket force's new DF-41 brigade under the Western Theatre Command, according to an article posted  to Weapon Station, a military analysis account on social network WeChat.

read more
https://ca.movies.yahoo.com/china-building-more-underground-silos-123919460.html

China has revealed footage of its next-generation Dongfeng-26 ballistic missile. The mid-range ballistic missile is described as having improved stability and accuracy. It reportedly can fly 3,000km to 5,741km (1,864 to 3,567 miles), putting the US island territory in the western Pacific within striking distance. Analysts say the missile drill is an attempt to send a clear message to the United States about China's increased military power, amid rising tensions between the two nations.
*
WIND FARM
China's Gansu Mega Wind Farm as seen on Google Maps – Currently at 8,000 MW, aiming for 20,000 MW by 2020

https://www.reddit.com/r/energy/comments/a0i5vx/chinas_gansu_mega_wind_farm_as_seen_on_google/