Heavy flooding in Western Europe – people were trapped in their homes.   Some houses washed away with the river of water.  Record rainfall has caused swollen rivers to burst their banks and wash away homes and other buildings in western Europe – leading to more than 90 casualties and over 1000 people missing. Data from the Copernicus Sentinel-1 mission are being used to map flooded areas to help relief efforts.   It is very sad news to those that lost their lives and houses – condolences.  Sterkte word u toegebid – dit raak verskillende lande in Wes-Europa.






*


At least 95 are dead and hundreds are missing following the days of floods that have devastated German, Belgian and French cities and villages. 
In Germany, 200,000 people lost access to their power. In Belgium, towns were also left cut off from the external world: 21,000 are without electricity and some even cellular coverage – heightening the need for evacuation due an inability to cook, keep food, or reach emergency services. 
In France, vegetable fields, homes and a museum were flooded at Romagne-sous-Montfaucon. Other places in the UK such as London have also been experiencing heavy rainfall due to storms that have caused flooding in tube stations, roadways, and houses. In 48h, some areas received the equivalent of what would normally be one month of rainfall.
https://europeangreens.eu/news/severe-floods-germany-belgium-and-france-are-stark-reminder-climate-change-already-here


*
The German states of Rhineland-Palatinate and North Rhine-Westphalia were among the worst hit by the torrential rainfall, with water levels rising in the Rhine River, as well as the Walloon Region in Belgium. The storms and high waters have also battered neighbouring Switzerland, the Netherlands and Luxembourg. 
This radar image uses information from two separate acquisitions captured by the Sentinel-1 mission on 3 July and 15 July 2021, and it shows the extent of the flooding in red. Radar images acquired before and after flooding disasters offer immediate information on the extent of inundation and have proved useful in monitoring floods, thanks to Sentinel-1's ability to 'see' through clouds and rain.

https://www.esa.int/ESA_Multimedia/Images/2021/07/Satellites_map_floods_in_western_Europe

*


Countries in central Europe have been hit by severe flooding this week. Extreme rainfall has caused rivers across the region to break their banks, with the Danube and Elbe particularly affected. People living in affected regions in Austria, Czech Republic, Germany, Hungary and Slovakia have been evacuated from their homes. 13 people are known to have died.


*



In one flooded German town, the ground collapsed under family homes. In another, floodwaters swept through an assisted living center, killing 12.
Rescue workers across Germany and Belgium rushed Friday to prevent more deaths from some of the Continent's worst flooding in years as the number of dead surpassed 125 and the search went on for hundreds of missing people.

Aerial photos showed what appeared to be a massive landslide at a gravel pit on the town's edge.
Several dikes on the Meuse Rriver that runs from Belgium into the Netherlands were at risk of collapsing, Verlinden said. Authorities in the southern Dutch town of Venlo evacuated 200 hospital patients due to the river's looming threat. 
The World Meteorological Organization said some parts of Western Europe have received up to two months of rainfall in the space of two days.

https://apnews.com/article/europe-health-environment-and-nature-floods-9796ab4c2458604ff15203ef630b43f6

*

https://twitter.com/PaliparanDotCom/status/1415643743160619012

Water levels of river

https://twitter.com/PaliparanDotCom/status/1415646762547695620

Different photos




https://www.usatoday.com/story/news/world/2021/07/17/days-after-heavy-flooding-europe-photos-show-damage-cities/8001619002/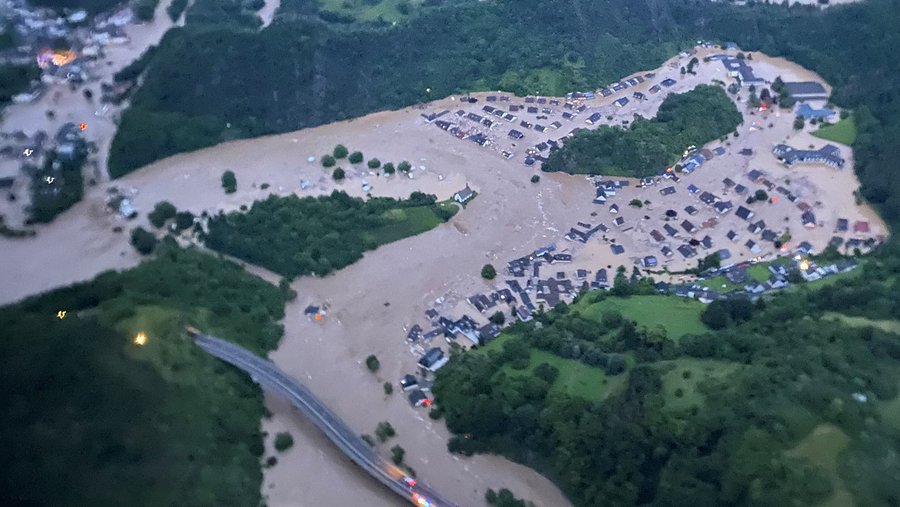 *
Catastrophic flooding across western Europe as politicians blame climate change – More than 120 people have died and hundreds are still missing after record rainfall caused the worst flooding in parts of Western Europe for many decades. 

https://www.youtube.com/watch?v=8A65JzDltY4
*

Dozens of people remain missing as severe floods sweep through western Germany and other parts of Europe.

https://www.youtube.com/watch?v=nilrMNaechw


*
Record-breaking floods have killed at least 150 people in western Europe. Most of the deaths are in Germany's west – where the disaster area stretches between the towns of Heinsberg, Erftstadt and Ahrweiler, near the border with the Netherlands and Belgium. More than 130 people have been confirmed dead and more than a thousand are still missing. President Frank-Walter Steinmeier has promised support for victims' families, and to the damaged towns. In Belgium, at least 20 people have died in the flooding. The government has declared Tuesday a national day of mourning. The towns of Liège in Belgium and Venlo in the Netherlands have been hit hard. In Venlo 10,000 people were told to evacuate, as well as 200 patients from a hospital. In Liege, the swollen Meuse river has burst.

https://www.youtube.com/watch?v=TGPzF-HhOkw