Regeringsamptenare beweer in die media hulle weet van niks of rekords oor die 10 baba's nie.   Is this the truth?  A South African woman has reportedly given birth to 10 babies at once, besting a world record set just last month.    The Pretoria News reported that Gosiame Thamara Sithole, 37, gave birth by Caesarean section to 10 babies.    Seven boys and three girls.    If confirmed, Sithole's delivery would make it the first known birth of decuplets.     Her husband, Teboho Tsotetsi was surprised by the 10 decuplets after scans only show eight in the womb.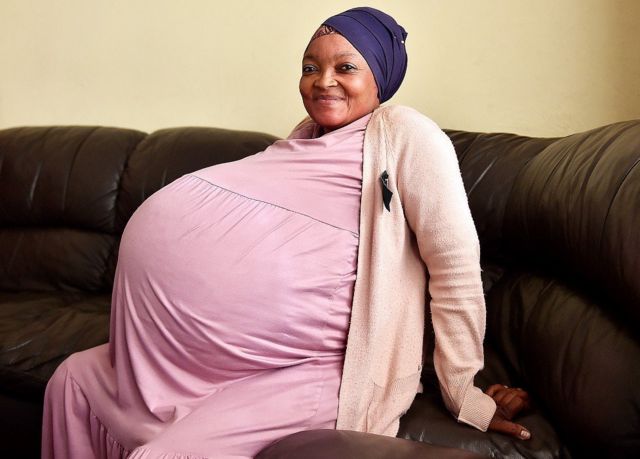 *
According to the report, Sithole, a mother of 6-year-old twins, said her pregnancy was natural and that she had not received fertility treatment, which has been linked to other multiple-baby births.
"Guinness World Records is aware of the news that Gosiame Thamara Sithole has given birth to decuplets, and we send our congratulations and best wishes to the family," a spokesperson said.
The current record is held by Halima Cisse, who gave birth to nine kids in Malia earlier this year in Morocco.
https://www.clickorlando.com/features/2021/06/09/ten-woman-gives-to-10-babies-at-one-time-report/
https://www.bbc.com/pidgin/tori-57417781
*
Teboho Tsotetsi with Piet Rampedi shares more details on the birth of the 10 babies, and adds that his wife is doing well.
*
1.5 Sextuplets (6) 1.6 Septuplets (7) 1.7 Octuplets (8) 1.8 Nonuplets (9)

Quintuplets occur naturally in 1 in 55,000,000 births. The first quintuplets known to survive infancy were the identical female Canadian Dionne Quintuplets,  born in 1934. Quintuplets are sometimes referred to as "quins" in the UK and "quints" in North America.
Feodor Vassilyev and his first wife (whose name is not recorded) are alleged to hold the record for the most children a couple has parented. She gave birth to a total of 69 children – sixteen pairs of twins, seven sets of triplets and four sets of quadruplets – between 1725 and 1765, a total of 27 births.
*
The Gauteng government on Wednesday said it had not found any confirmation of the birth of decuplets at both private and public hospitals across the province.
The country has been gripped by the mystery of the so-called Tembisa 10 after the Pretoria News first reported about the births on Tuesday morning.
https://www.news24.com/news24/southafrica/news/no-record-of-10-babies-born-in-any-gauteng-hospital-govt-20210609
https://www.news24.com/news24/southafrica/news/has-a-gauteng-woman-given-birth-to-10-kids-govt-says-it-cant-find-verification-after-media-reports-20210608
*
Gosiame Thamara Sithole, 37, gave birth to her decuplets – two more than doctors had earlier detected during the medical scans – at a hospital in Pretoria last night, said her husband Teboho Tsotetsi.
 *
"It's seven boys and three girls. She was seven months and seven days pregnant. I am happy. I am emotional. I can't talk much. Let's talk again in the morning please," Tsotetsi said.
In an interview at their family home in Tembisa last month and the publication of which was delayed at the request of the couple for safety and cultural reasons, Sithole said she was shocked and fascinated by the pregnancy.
She said she had been in a state of disbelief when the doctors told her earlier this year that she was expecting six children (sextuplets) before further scans showed that it was in fact octuplets.
Two others could not be detected initially because they were inside the wrong tube, Sithole said.
"I am shocked by my pregnancy. It was tough at the beginning. I was sick. It was hard for me. It's still tough but I am used to it now. I don't feel the pain anymore, but it's still a bit tough. I just pray for God to help me deliver all my children in a healthy condition, and for me and my children to come out alive. I would be pleased about it," Sithole said.