The dispute over the controversial oil and gas pipeline known as "Nord Stream 2" ended on Wednesday when the United States Department of State announced that the Biden administration was waiving sanctions against the pipeline's Russian owner, Nord Stream 2 AG, and its German CEO, Matthias Warnig.   German chancellor Angela Merkel has said Germany will discuss "necessary common ground" with the United States on relations with Russia after the US waived sanctions on the company overseeing the Nord Stream 2 gas pipeline.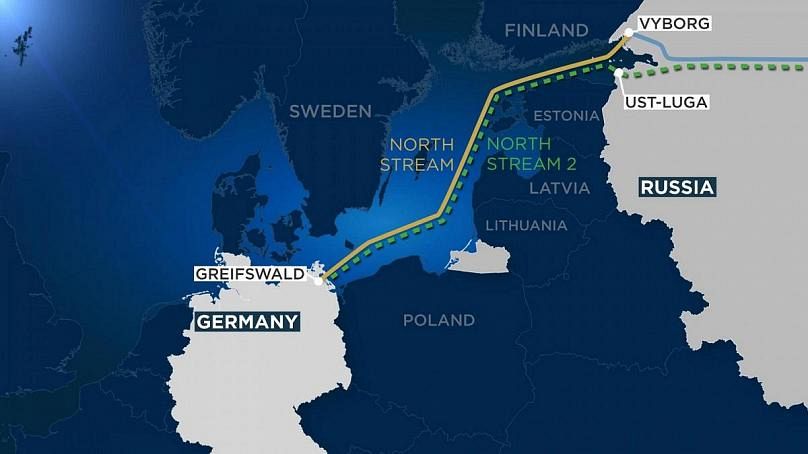 *
The US decision came days after Germany's Federal Maritime and Hydrographic Agency (BSH) ruled that another two-kilometre stretch of the pipeline can be laid in May. Environmental groups had complained that this would threaten bird species in the area and had filed several lawsuits against the controversial project.
Groups including the German Nature and Biodiversity Conservation Union (NABU) took the case to court in January, citing resting birds in the German Baltic Sea, and halted construction. But the BSH in Hamburg has granted the work permit for "safe continuation", with the new stretch now due to be laid after May on the seabed in the German exclusive economic zone (EEZ).
The sanctions on Nord Stream 2 AG have been in place since the previous U.S. administration, with the State Department sending a list of sanctioned entities to Congress every 90 days.
https://www.euronews.com/2021/05/18/nord-stream-2-germany-cleared-to-continue-works-on-gas-pipeline

*

Proponents of the Nord Stream 2 gas pipeline between Germany and Russia hope US President-elect Joe Biden will make life easier for them. But they could be mistaken. The US opposes the 1,200-kilometer pipeline and has threatened to impose sanctions on companies involved in the project, which is nearly finished. Washington says Nord Stream 2 will make Europe more dependent on Russian gas deliveries – and will allow Russia to cut off supplies to countries like Ukraine. Biden's team has already spoken out against the project.
*

President Joe Biden has bulldozered over the policy originally put forward by his secretary of state after waiving sanctions on the Russian-owned company in charge of the Nord Stream 2 pipeline. The reversal indicates a major shift in the Biden administration with the president and Secretary of State Anthony Blinken pivoting from opposing to supporting the natural gas pipeline.

https://www.youtube.com/watch?v=OM-1OPbI1us

*

Pipeline
https://www.youtube.com/watch?v=-wSQjPJS2H4

*
This means that the final 10% of the 759 mile pipeline directly from Russia to Germany can now be built in the Baltic Sea. This new pipeline will bypass Poland, Ukraine, and the Baltic States – all of whom received transshipment fees from existing overland pipelines but will lose that entitlement with Nord Stream 2.
The Nord Stream 2 decision puts the Democratic Party in innumerable uncomfortable, and often contradictory, positions regarding energy. Just last year two Northeast NBN 0.0% governors, Andrew Cuomo of New York and Phil Murphy of New Jersey, blocked the construction of the Northeast Supply Enhancement Project pipeline that would have stretched 23 miles in Raritan Bay and provided New York City with reliable natural gas supply.  The "NESE" project would have encouraged drilling using American environmental safeguards in the Marcellus Shale region. Now, almost exactly one year later, the Democratic Administration permits the construction of a 759 mile long pipeline in the Baltic Sea that will encourage Russian drilling in ecologically sensitive areas of the Arctic using practically no environmental safeguards.

https://www.forbes.com/sites/danielmarkind/2021/05/21/nord-steam-2-saga-ends-as-biden-waives-sanctions/?sh=147d0a2340ce


*

When presidential candidate Mitt Romney pronounced Russia to be the "No. 1 geopolitical foe" of the United States, Obama, Biden, Clinton, Kerry and liberal media members mocked it as antiquated, Cold War-style thinking. They're singing a different tune today

https://www.youtube.com/watch?v=RdVQu18OWko