Iraq's parliament called on Sunday for U.S. and other foreign troops to leave as a backlash grows against the U.S. killing of a top Iranian general, and President Donald Trump doubled down on threats to target Iranian cultural sites if Tehran retaliates.    Deepening a crisis that has heightened fears of a major Middle East conflagration, Iran said it was taking another step back from commitments under a 2015 nuclear deal with six major powers.  Iran struck back at the US early Wednesday for killing General Qassem Soleimani, firing a series of ballistic missiles at two military bases in Iraq housing US troops in a major escalation between the two longtime foes.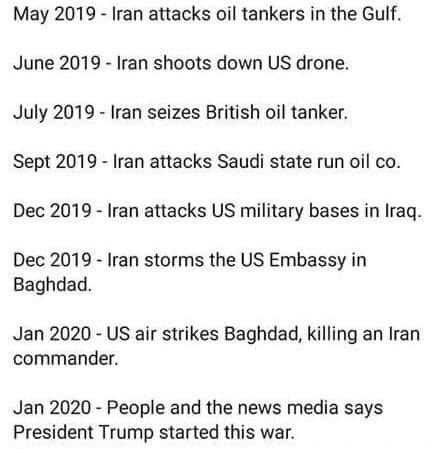 *
*
France condemns Iranian missile strikes on US forces, urges de-escalation

Iran fired missiles at two bases in Iraq housing US troops early Wednesday in revenge for the US killing of General Qassem Soleimani. It is unclear if there were any casualties.
Iraq and a number of European countries in the anti-Islamic State (IS) group coalition – including France, Britain, Germany, Spain, Poland and Denmark – said none of their military personnel were hurt in the strikes.
Responding to the attacks, US President Donald Trump tweeted, "All is well!" Trump said he would make a statement later Wednesday.
Iran's Supreme Leader Ayatollah Ali Khamenei said the strikes were a "slap in the face" of the US and called for a withdrawal of US troops in the region. In a televised speech, Khamenei said resuming nuclear talks with Washington would pave the way for US dominance.
France has condemned the latest Iranian attack and reiterated the importance of maintaining the fight against the IS group while respecting Iraq's sovereignty. Paris is in contact with all parties and will try to de-escalate tensions, said a French foreign ministry statement.
Defending his country's retaliation, Iranian Foreign Minister Javad Zarif said the strikes were "proportionate measures" in response to Soleimani's killing.

https://www.france24.com/en/20200108-live-reactions-to-iran-missile-strikes-targeting-us-forces-in-iraq?ref=tw_i

*
Recent reports say that many of the missiles launched by #Iran missed the targeted #US military bases in #Iraq.
*
Iran says it has launched "tens" of surface-to-surface missiles at Iraq's Ain Assad air base housing U.S. troops over America's killing of a top Iranian general.