Fires are consuming huge swathes of Australia and conditions are expected to worsen. The situation is attracting global interest, and reporting has been extensive.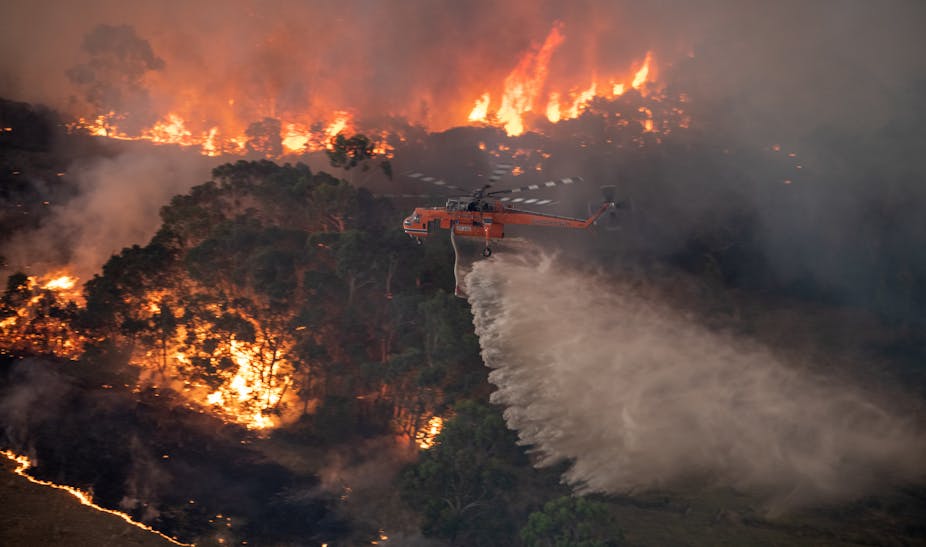 *
VIDEO
https://www.thesun.co.uk/news/10317573/where-are-australia-fires-map-bush-fires/
3 JANUARY 2020

NEW South Wales has declared a week-long state of emergency as fires continue to spread across Australia.

To date, 20 people have tragically lost their lives due to the bushfires raging across Australia since September, with a further 28 people missing.

Killer fires are continuing to ravage Australia with people fleeing New South Wales where a week-long state of emergency is in force.

Local authorities will be carrying out forced evacuations while tourists have been warned to leave the area before January 4.

In Victoria the Navy has started evacuating thousands of people from a seaside town on the coast.

The fires have destroyed 381 homes in NSW and an additional 43 in Victoria, with numbers expected to rise further still.

Approximately six million hectares of bush, forest and parks have been burned.
*
'Devil' face snapped as farmers struggled to hold back the flames
December 2019

On December 11, the Rural Fire Service confirmed that 724 homes, 49 facilities and 1582 outbuildings had been destroyed in NSW.
On December 19, five hero firefighters were injured when their tanker was overrun by fire.
On the same day two volunteer firefighters were tragically killed after a tree fell on their vehicle.
In the run up to Christmas, cars melted, homes flattened and hundreds of Australians faced a homeless festive season.
In more devastating news, it was revealed 30 per cent of koala habitat had been destroyed and experts warned the marsupials could become extinct.

November

Throughout November, 1,228,050 acres of land was destroyed in a bushfire at a national park in NSW.
The country saw terrifying apocalyptic scenes as families were trapped inside their homes and skies turned red in November.
In Queensland, 49,000 acres and six homes were destroyed on November 11.
And on the same day in South Australia authorities warned of an "uncontrolled" blaze heading towards homes in the area.
The following day, Sydney said they were braced for "catastrophe" and Russell Crowe's mansion came under threat.
On November 13, a terrifying 600 mile wide wall of flames swept across NSW.
And in a  shocking rant, disgraced rugby star Israel Folau blamed the country's wildfires on same-sex marriage and abortion.
On November 19, Sydney was left "trapped" inside a thick cloud of smoke with dozens of people treated for asthma and breathing problems.
On November 20, a huge blaze broke out on Yorke peninsula, aircraft were scrambled to water bomb the blaze as it crept closer to two local towns.
On 21 November, lightning strikes ignited a series of fires in Victoria.

October

In south-east New South Wales, late October saw the start of a number of bushfires in remote woodland.
These blazes raged on, eventually becoming one massive inferno, dubbed the Wattle Creek Fire.
Several fires also broke out across Tasmania during the month.
Fire crews in Tuncurry attempt to bring a forest fire in the area under control
October 30 brought heartbreaking news that hundreds of koalas were thought to have been burned alive as fires swept through an important koala breeding ground.

September

On September 6, northern areas in New South Wales began experiencing bushfires. The blaze carried through until October, tragically killing two.
The following day, on September 7 a number of out of control blazes threatened townships across South Eastern and Northern Queensland, destroying several homes.
On September 8, a historic lodge in the Gold Coast that had stood for 86 years was destroyed in the fires, which had previously razed several homes.

On September 9, a blaze on the Sunshine Coast tore through homes.
On September 10, a heartbreaking image was circulated online showing a burnt koala shielding her tiny baby from harm.
And on the same day, The Sun revealed that I'm A Celebrity could be under threat from the raging wildfires, as they swept dangerously close to the £7million state-of-the-art studio.

https://www.thesun.co.uk/news/10317573/where-are-australia-fires-map-bush-fires/
*
More evacuation notices have been issued in Australia ahead of extreme weekend weather conditions expected to spark massive new fires
*
In this Monday, Dec. 30, 2019, aerial photo, acres of scorched land are seen in Bairnsdale, Australia. (Glen Morey via AP)
Once a residence
A burnt-out residence is seen in Sarsfield, East Gippsland, Victoria, Tuesday, Dec. 31, 2019. (James Ross/AAP Images via AP)

*
In this image dated Dec. 30, 2019, and provided by NSW Rural Fire Service via their twitter account, firefighters are seen as they try to protect homes around Charmhaven, New South Wales. (Twitter@NSWRFS via AP)
This Monday, Dec. 30, 2019 photo provided by State Government of Victoria shows wildfires in East Gippsland, Victoria state, Australia. (State Government of Victoria via AP)
*
Boats are pulled ashore as smoke and wildfires rage behind Lake Conjola, Australia, Thursday, Jan. 2, 2020. (Robert Oerlemans via AP)
*
Navy rescues people from fire-hit Mallacoota
Throughout Friday, landing vessels took people to two ships – MV Sycamore and the much larger HMAS Choules.   A local MP, Darren Chester, called it an "unprecedented mass relocation of civilians".

Some 4,000 residents and tourists fled to the beach on Monday night, when racing bushfires encircled the town.    The evacuees will be taken to Western Port, the navy said – around 16 hours' voyage down the coast.    With roads cut off, the military evacuated around 60 people by helicopter on Thursday. The air has so far been too smoky for further air evacuations.

The evacuation was voluntary. By Thursday night, 963 had signed up for the boats, with a few more doing so on Friday morning, Commander Scott Houlihan said.    The larger ship, HMAS Choules, has a "few hundred beds". Further trips are possible, depending on demand.   The evacuees were allowed to take their pets on the ship.

Victoria's Premier Daniel Andrews declared a state of disaster for six areas and resorts, including Mallacoota.

"Some people will want to go, some people will be happy to stay," he said of the evacuation.  High temperatures and strong winds are forecast for the weekend, leading to what officials call "widespread extreme fire danger".   In other parts of Victoria, people were urged to evacuate by road in convoy. There were also large queues at railway stations.

"It is forecast we will see dry thunderstorms coming across the state and the potential of lightning strikes," Andrew Crisp, emergency management commissioner for Victoria, warned on Friday.   He called on people to leave as soon as possible.

"This is your opportunity to get out," he said. "It is not just the fires we know [about]. It is the new fires that might start today."     Thousands of people are also fleeing parts of neighbouring New South Wales, where a week-long state of emergency is in force.    Since September fires have killed at least 20 people in the two states and dozens remain missing.

The fires have so far destroyed more than 1,300 homes.