This is Saudi Arabia—Hundreds of workers scurried in the stifling summer heat around cranes by a 100-foot-tall processing unit, a vital part of this sprawling oil facility, now charred black and reeking of tar and burned metal following an attack .     Saudi Arabia took media to inspect oil facilities hit by attacks that Washington and Riyadh blame on Iran, showing melted pipes and burnt equipment, as Tehran vowed wide retaliation if heightened tensions boil over into hostilities.

*
The kingdom sees the Sept. 14 strikes on its Khurais and Abqaiq facilities — the worst attack on Gulf oil infrastructure since Iraq's Saddam Hussein torched Kuwaiti oilfields in 1991 — as a test of global will to preserve international order.
Iran denies involvement in the attack, which initially halved oil output from Saudi Arabia, the world's largest petroleum exporter. Responsibility was claimed by Yemen's Houthi movement, an Iran-aligned group fighting a Saudi-led alliance in Yemen's four-year-old conflict.    At Khurais, which the Saudi defense ministry says was hit by four missiles, Reuters reporters were shown repair work under way, with cranes erected around two burnt-out stabilization columns, which form part of oil-gas separation units, and melted pipes.
"We are confident we are going back to the full production we were at before the attack (on Khurais) by the end of September," Fahad Abdulkarim, Aramco's general manager for the southern area oil operation, told reporters.
blob:https://www.wsj.com/bcd198cd-6df0-4eeb-a572-6303fe474fbf
*
UAE's Yemen Troop Withdrawal Follows New Houthi Weapons and Threats of Attack on Dubai
*
Sky's Mark Stone visits the two Saudi oil production facilities which were hit by a fleet of drones and cruise missiles costing the world 5% of its oil production.
*


*
YEMEN WAR
WHY ATTACKED YEMEN?
Saudi Arabia promises $1.5 billion in aid to Yemen — but it's still bombing the country
But critics, among them a number of Yemenis, have questioned the motives behind the donation, given the Saudis' own role in prolonging the crisis.    An estimated 10,000 people have been killed in the conflict between a Saudi-led coalition and the Iran-aligned Houthi movement.
The US-backed coalition began bombing Houthi-controlled areas in 2015 when the group seized the capital city of Sana'a from the internationally recognized Yemeni government of President Abd-Rabbu Mansour Hadi.     What began as a local conflict spurred on by domestic grievances spiraled into a proxy war between regional powers Saudi Arabia and Iran.
The UN has called the conflict "the worst man-made humanitarian crisis of our time." Aid groups say the crisis has been made worse by a Saudi bombing campaign and a blockade that has hampered aid efforts.
Today, hunger and disease are rampant across the country. Yemen is suffering from the worst cholera epidemic in history. Two million people have been displaced and as many as 8 million people are near starvation, according to the UN.
Most of the aid announced on Monday will go to UN agencies and international aid organizations working on the ground, the Saudi coalition said. The plan also aims to expand Yemeni ports under the coalition's control and create new routes for aid.
Saudi Arabia had already announced a $2 billion injection for Yemen's central bank.
Mohammed Saeed al-Jaber, Saudi Arabia's ambassador to Yemen, said the aid would provide "urgent relief for the widespread deterioration in food and water security that has occurred as a result of the continued attacks of Iranian-backed Houthi militias."
https://www.pri.org/stories/2018-01-24/saudi-arabia-promises-15-billion-aid-yemen-its-still-bombing-country
*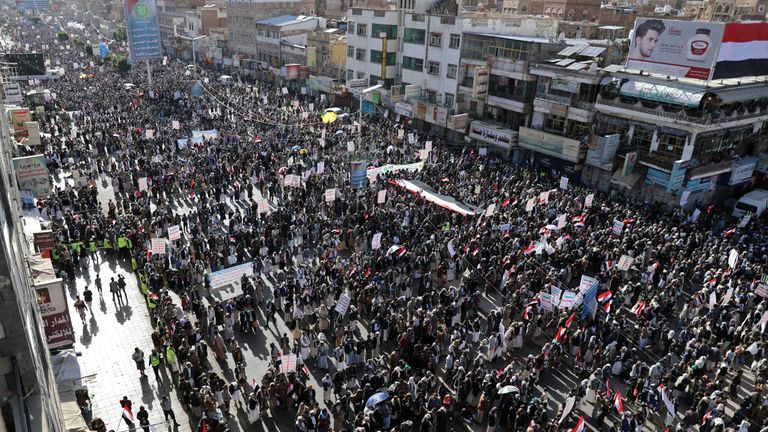 *
The promise came a week after the rebels said they were behind a major missile and drone attack on Saudi oil facilities.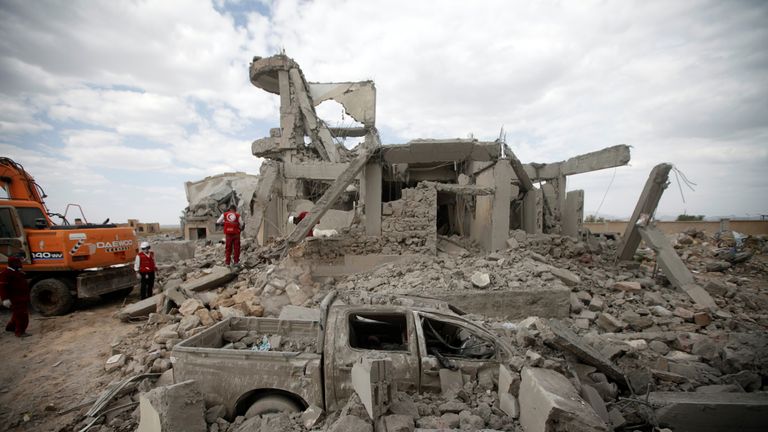 *
https://news.sky.com/story/yemen-un-welcomes-houthi-vow-to-cease-missile-and-drone-attacks-on-saudi-arabia-11816498
*
2018
Saudi Arabia, UAE, launch attack on Yemen's port city of Hodeidah
A major battle is under way in Yemen. The Saudi-Emirati coalition has begun an offensive to capture the port city of Hodeidah, a stronghold of the Iran-backed Houthi rebels. The coalition is backing Yemeni government troops who are poised to attack from the south. But the United Nations is warning of a humanitarian catastrophe.
*
Yemen's Houthis claim seizing 20 positions in Saudi Arabia
*