As Hurricane Dorian pulled away from the Bahamas, relief workers, medical personnel, pilots and others gathered at a private terminal of the Nassau airport on Wednesday amid boxes of supplies, anxiously awaiting permission from the government to fly to devastated areas and provide assistance.

*
This father who is blind carried his son with disabilities to safety when Hurricane Dorian blew the roof off their home in the Bahamas
*
Hurricane Dorian is hitting Nova Scotia, Canada, bringing wind gusts of close to 100 mph and dangerous storm surge. Get the latest details in our LIVE HURRICANE DORIAN COVERAGE. In addition to bringing hurricane conditions to Nova Scotia, Dorian is also forecast to impact New Brunswick, Prince Edward Island, and other areas in eastern Canada. In this interactive live stream, host Steve Lookner brings you the latest updates on Hurricane Dorian as it hits Nova Scotia, including the newest hurricane forecast, and he'll also read your comments and questions on the air!
*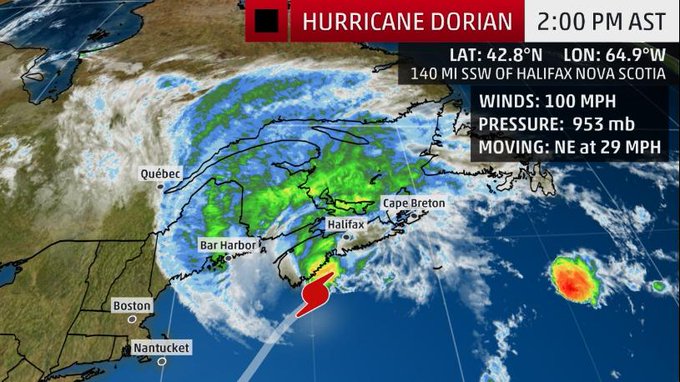 Dorian hurricane – American coast
*
*
But with most of the runways on Abaco Islands and Grand Bahama — the islands most heavily pummeled by the storm — flooded or covered in sand, it was difficult to deliver help or even assess the damage wrought by the storm. In addition, the government has given priority to helicopter evacuations.   "It is frustrating," said Wes Comfort, director of operations for Heart to Heart International, a Kansas-based group. "There are people who want to help and professionals who know how to help."
Dorian made landfall as a Category 5 hurricane on Sunday, then lingered, pummeling the northern islands of the Bahamian archipelago for more than three days. At least seven people have died, including children, government officials said, adding that the toll is expected to rise. Now a Category 2 storm, Dorian is heading toward the Eastern Seaboard.   Despite the limited access to the islands, pilots have conducted flyovers revealing scenes of absolute devastation. Entire neighborhoods were reduced to unrecognizable fields of rubble, houses were crushed into splinters and boats were tossed into heaps like toys.   The Bahamian prime minister, Hubert Minnis, was able to go on a reconnaissance mission over Abaco on Tuesday afternoon, tho  ugh sto rm conditions still prevented flying over Grand Bahama, the larger island.   
The deputy commander for the United States Coast Guard's Altantic area, Rear Adm. Todd Sokalzuk, said on Tuesday they had brought seven helicopters into the central Bahamas. The Coast Guard, together with Customs and Border Patrol, were able to airlift 61 people from the Bahamas over two days, the United States Embassy in Nassau said on Twitter Wednesday.
Though the weakened hurricane is pushing its way toward Florida, it did not clear the islands until early Wednesday.
"Storm surge is the number one killer in a tropical storm," said Dennis Feltgen, a meteorologist at the National Hurricane Center in Miami, speaking of the rising sea level that results from the wind and pressure changes brought on by a storm.
In Freeport, the largest city on Grand Bahama, Sarah Kirkby watched helplessly as a massive tidal flood poured in and inundated her house.
"It was absolutely terrifying," she said. "I have never seen water come in like that. You don't realize the power until you're in it."
The islands in the northwestern Bahamas that were hit the hardest — the Abaco Islands and Grand Bahama — are 30 feet at their highest point, and the storm surge reached up to 23 feet, not counting the waves, said Joel Cline, the Tropical Program Coordinator at NOAA.
Photographs from flights over Abaco show trees sheared of limbs and leaves and saltwater ponds covering swaths of land where homes once stood. Some houses had their roofs ripped clean off, while others were reduced to piles of debris mired in water. All around, a rough ocean lapped at the low-lying islands.
The Grand Lucayan Resort and Casino on Grand Bahama had opened its doors to those who needed shelter, said Michael Scott, who is the chairman of the government-owned hotel.
"It's a catastrophic and dystopian mess," he said on Tuesday, estimating that more than 400 people were now being cared for at the hotel. "Other shelters which have been compromised are having their people decanted into our facility."