Tell us this is a joke – if it is not, this won't help either if you see this photo,  because now anybody (it will be open to all mafia as well to fire everybody) can go in no go zone areas with that kind of fire arms in private clothes like in a Wild Western film.    Playing games or a movie whatever you call that – this government is playing a fools game and musical chairs, they busy making movies – what is the name of the movie – "skop skiet en donder"?   What if the other sides will use the same fire arms and open fire too?   Wish I can say this is not real and a movie, but it is not.   What happened to all the destroyed businesses and lives?  Will government bring it back?  No.   They will not bring any farmer back that was killed.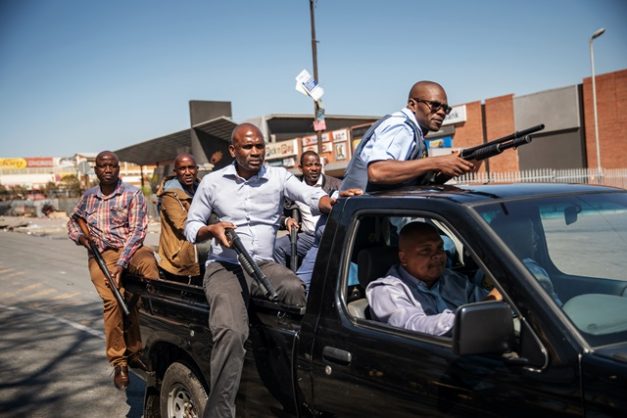 Crime is very expensive to all of us, especially if you are a business person or entrepreneur. Government is already taking more than enough to their accounts, first they get 25-45% normal tax from businesses/work (already deductions), etc.   What about the VAT of 15%?   Now they get more than 50% of your income.
*
The president yesterday issued a statement on the violence, but analysts called for more proactive thinking in tackling issues that could further hurt a teetering economy.   The slow response to the violent protests and looting targeted at foreign nationals in different parts of Gauteng over the past few days has seen an expert slate government for a lack of proactive thinking, while another blamed politicians for fuelling xenophobia with their past sentiments about foreign nationals.
Widespread incidents of looting and violent protests erupted in various parts of Johannesburg and Pretoria this week, with some participants resorting to burning public and private property.   This comes in the wake of weeks of tension between authorities and foreign nationals, following widespread efforts to shut down illegally operated businesses.   Protesters claimed to be operating in solidarity with those accused of attacking immigrant truck drivers.
Chairperson of the African Diaspora Forum Dr Vusumuzi Sibanda said the organisation was aggrieved by the incidents that took place that proved the lives of migrants did not matter at all to the South African government.   "Police visibility was very poor [on Monday] and appeared to be more of a public relations exercise instead of stopping the violence," he said.   He added that government had also been reckless in statements that inflamed xenophobia and these attacks.
After maintaining his silence on the matter since the first protests on Sunday evening, President Cyril Ramaphosa took to his Twitter account to address the issue, condemning the violence.   However, political analyst Andre Duvenage said the president's late response showed that he had succumbed to the pressure from the public to speak out.
"He is saying the right things but he is not providing a comprehensive plan on how he will deal with it," said Duvenage. "We lack leadership and we need more proactive action and not reactive action. There is no administrative solution to this problem … we need political action."   Another analyst, Ralph Mathekga, said although the condemning of the violence against foreigners was welcomed, politicians should have started condemning them "far back" and should take partial responsibility for their contribution to xenophobia.
He said it was no secret that a lot of politicians were "indifferent" to the attacks against foreign nationals and that politicians had never come out firmly against xenophobia.   "Most politicians must take responsibility for this from past sentiments they made. Their silence about the attacks in the past is also partially responsible for this," said Mathekga.   "There is no realistic way that all foreigners will leave the country and in fact that will cause more harm to the economy than good. There is a need to push for proactive engagement to find out what the real issues are," said Mathekga.

CLOSE AND CONTROL ALL BORDERS, HARBOURS AND AIR
*
"Let's handle our grievance in a democratic way." This is a call from President Cyril Ramaphosa who was reacting to the recent violence and looting plaguing some parts of Gauteng. The President has just posted his reaction to the violence on his Twitter timeline.