Moscow: A Russian Airbus with more than 230 people on board was forced to make an emergency landing in a corn field outside Moscow on Thursday after hitting a flock of seagulls, officials said.     (Ural Airlines Airbus 321)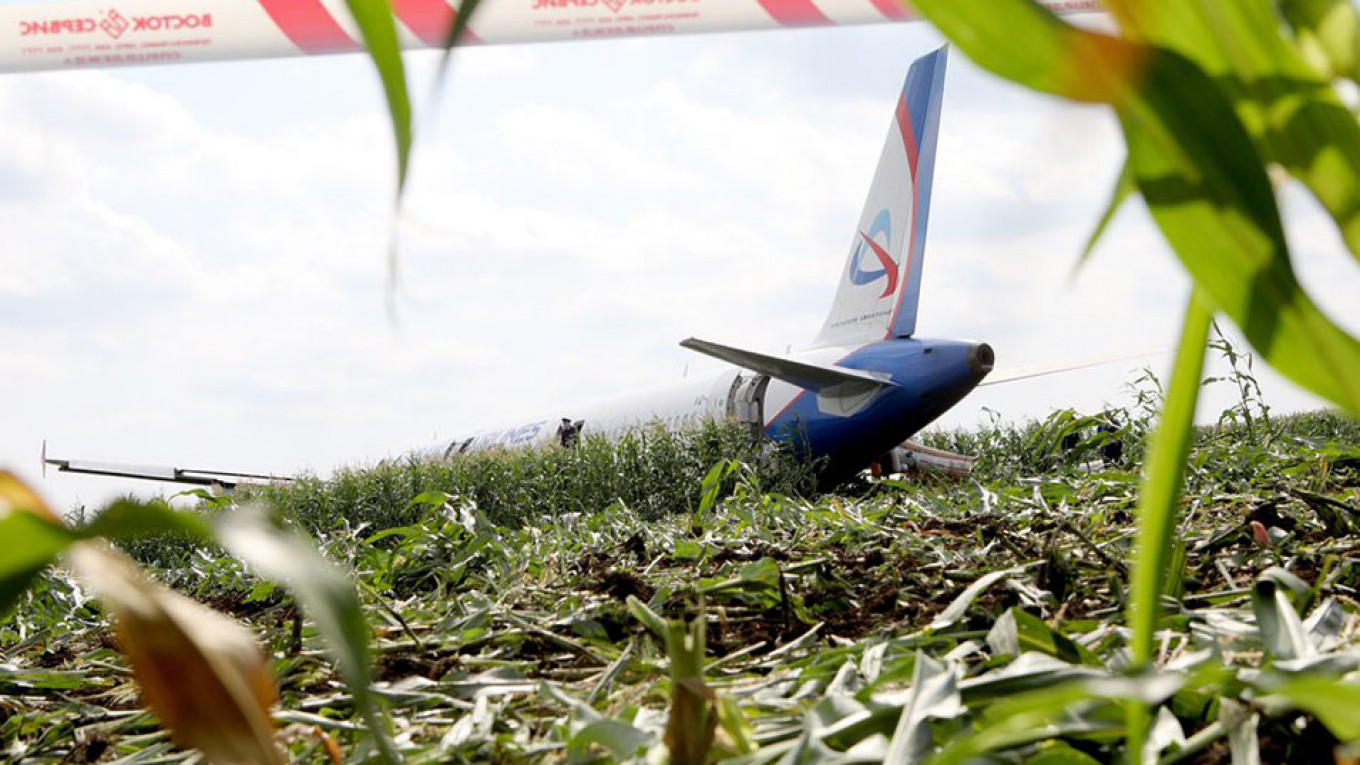 *
 There were no immediate reports of serious injuries.   The Ural Airlines A321 was carrying 226 passengers and seven crew from Moscow's Zhukovsky airport to Simferopol in Russia-annexed Crimea, the Rosaviatsia air transport agency said in a statement. 
The bird strike occurred shortly after take-off, causing engine trouble, and the crew decided to immediately land.    One of the engines caught fire after the birds were sucked into them but the fire didn't spread into the passenger cabin, TASS quoted an unnamed emergency services source as saying.
 The plane landed in the corn field about a kilometre from the runway, with its engines off and landing gear retracted, Rosaviatsia said.  Passengers were evacuated on inflatable ramps, with some taken to hospital and others back to the airport.   The health ministry said 23 people were hospitalised, including nine children, but that none suffered serious injuries.
Russians have said it was a miracle that no one was killed when the Ural Airlines Airbus 321 came down in a field southeast of Moscow with its landing gear up after hitting a passing flock of gulls, disrupting the plane's engines. The plane was traveling from Moscow to Crimea's Simferopol with 234 people on board.
Footage shot by passengers showed the flight lasted less than two minutes and that the engines had experienced difficulties almost immediately after take-off.
Vitya Babin, 11, who was on the plane with his mother and sister, said passengers had not been warned there was going to be an emergency landing. There was silence in the cabin and then screams began when it touched down, footage showed.
"We were not warned," said Babin.
One passenger, Fyodor Galin, told the Mash Telegram channel that the plane began to shake about 5 seconds after takeoff.
"Then the lights started flashing and there was a burning smell. The plane landed and we all ran out," Galin can be seen saying in a video published by the Telegram channel.

https://www.themoscowtimes.com/2019/08/15/moscow-passenger-plane-makes-miraculous-crash-landing-in-cornfield-a66855https://www.reddit.com/r/aviation/comments/cqm7fh/russian_airlines_airbus_a321_makes_an_emergency/?utm_source=share&utm_medium=web2x
*
An Airbus 321 has crash-landed outside Moscow after birds were sucked into its engines. The pilots of the plane were dubbed heroes after landing the plane in a cornfield, saving the lives of 233 passengers.
*
Drone footage shows the Russian Ural Airlines jet after its emergency landing in a cornfield near Moscow's Zhukovsky airport on Thursday. The Ural Airlines Airbus A321 was en route to Simferopol from Moscow with 226 passengers and seven crew aboard when its engines malfunctioned due to at least one bird being ingested by one of the engine turbines, according to Russia's Federal Air Transport Agency. Russia's Ministry of Health said that 23 people were injured in the rough landing. The exact circumstances of the incident are being investigated.