The risk of migrants and refugees becoming shipwrecked in the Mediterranean and dying at sea is the highest it has ever been due to a lack of NGO rescue ships and the conflict in Libya hastening departures at an alarming rate, the UN has warned.  "If we do not intervene soon, there will be a sea of blood," said Carlotta Sami, the spokeswoman for the UN refugee agency, UNHCR, in Italy.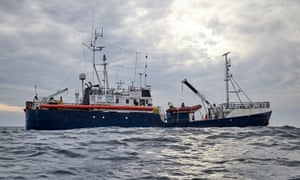 With favourable sea conditions, thousands of people are preparing to leave Libya as the country is mired in war and floods caused by heavy rain. But without rescue boats, the number of shipwrecks is likely to rise dramatically.
According to aid groups, almost 700 people have left the coast of Libya in recent days, only 5% of whom were intercepted by the Libyan coastguard and sent back to detention centres. Forty per cent arrived in Malta and 11% in Italy; it is not known what happened to the others.
Although the death toll has fallen in the past year, the number of those drowning as a proportion of arrivals in Europe from Libya has risen sharply this year. According to data from UNHCR and the International Organization for Migration, 1,940 people have reached Italy from north Africa since the beginning of 2019, and almost 350 have died en route – putting the death rate for those crossing at more than 15%.
A study by the Institute for International Political Studies (ISPI), an Italian thinktank, based on interior ministry figures, showed one in eight people attempting the crossing from Libya between January and April had died en route.
Sami said: "We are witnessing a sharp increase in departures. Obviously, migrants have no say in how or when to leave. The traffickers make that decision for them. They couldn't care less if the people arrive dead or alive. In recent days, more and more vessels have been overflowing with people. Who will save them if they [become] shipwreck[ed]?"
Anti-immigration policies introduced by the Maltese and Italian governments have driven the sharp decrease in rescue missions. The Italian ruling coalition of Matteo Salvini's far-right League and the populist Five Star Movement has described the NGO boats as "sea taxis" and accused them of doing business with traffickers. After an election campaign in which Salvini, the interior minister, pledged to adopt tough polices on migration, one of his first moves was to close Italian ports to aid group ships.
Criminalised by authorities, deflagged, struck by seizures and judicial investigations that have so far proved groundless, NGOs have been gradually forced to abandon the central Mediterranean.
Of the 10 NGO rescue boats that were active in the Mediterranean, only one – operated by the German organisation SeaWatch – remains. Three weeks ago, SeaWatch 3 was seized by authorities for carrying 47 people. The boat has since been docked in Licata, Sicily, but will head towards Libya in a few days.
Giorgia Linardi, the spokeswoman in Italy for SeaWatch, said: "Our airplanes have identified 20 dinghies carrying migrants in distress since 10 May. The situation is alarming. We sighted dinghies that waited hours and entire nights before being rescued. These are intolerable conditions. It is absurd that there is no aid in the world's most militarised and travelled maritime area."
For years, NGO rescue boats were accused of being a "pull factor" for migrants and refugees attempting to make the crossing, but statistics from ISPI tell a different story. So far this year, without NGOs at sea, about 85 people a day have tried to cross the Mediterranean in order to reach Europe. With NGO vessels present, the number is about 76.
According to UNHCR, there are about 60,000 asylum seekers in Libya. Over the past two months, 90,500 Libyans have been displaced due to the conflict in and around Tripoli. Aid groups report thousands of asylum seekers are locked in detention centres and subjected to abuse and torture.
https://www.theguardian.com/world/2019/jun/09/mediterranean-sea-of-blood-migrant-refugee-rescue-boats-un-unhcr
***
Italian military officials have accused Matteo Salvini of "unprecedented interference" as tension mounts over the far-right interior minister's policy of closing ports to rescued migrants.
Salvini, who is also Italy's deputy prime minister, sent a letter to the heads of the navy and coastguard reportedly ordering them to maintain the policy by paying close attention to events at sea, in particular the movements of Mare Jonio, a charity rescue ship that was seized in March after defying an order not to bring migrants to Italy.
While the interior ministry oversees the police, which also received the letter, the navy and coastguard are within the remit of the defence ministry.
Sources from the military and defence ministries told the news agency Adnkronos that Salvini's directive had "crossed a red line" and represented an "improper pressure".
"The [directive] is a real and unprecedented interference in the recent history of the republic that violates every principle and protocol," the sources said.
A group of MPs from leftwing parties have called for the issue to be raised in parliament.
"It is a question of government collegiality on very delicate subjects such as defence, foreign policy and the protection of borders – matters on which different lines cannot exist," said Riccardo Magi, a politician with the Italian Radicals.
The row emerged after Fayez al-Sarraj, the prime minister of Libya's UN-recognised government, warned fighting in the country could cause an estimated 800,000 migrants to flee to Europe.
Libya's deputy prime minister, Ahmed Maiteeq, also warned 400 Islamic State terrorists held in prisons in the country could escape and try to reach Europe amid the chaos as the Khalifa Haftar, who rules eastern Libya, attempts to seize the capital, Tripoli. Maiteeq told reporters in Rome the fighting had so far killed more than 100 people and caused 18,000 to be displaced.
Salvini said the risk of terrorists infiltrating migrant boats was a "certainty" and he held authority in terms of public security.
"This is why I must reiterate that no docking will be allowed on Italian shores," he told Rai Radio.
"The port is assigned by the interior minister, whether you like it or not, Italians pay me to defend them and I am doing it."
Salvini closed ports to migrant rescue ships shortly after becoming interior minister last June, but the policy is causing friction with his government's coalition partner, the Five Star Movement (M5S).
Salvini accused Elisabetta Trenta, M5S's defence minister, of being "pro-immigration" after she criticised the policy, adding earlier this week that "with the war in Libya, migrants become refugees". Salvini also dismissed comments by his co-deputy prime minister and M5S's leader, Luigi Di Maio, who said the port blockade was "only temporary".
https://www.theguardian.com/world/2019/apr/17/salvini-crossed-red-line-in-pushing-refugee-boat-policy-says-military
***
"There are not only the 800,000 migrants potentially ready to leave, there would be Libyans fleeing this war, and in the south of Libya the terrorists of the Islamic State that the Tripoli government with the support of the city of Misrata had expelled from the town of Sirte three years ago".
Sarraj said Haftar's foreign-funded forces "are attacking civilian structures, roads, schools, houses, the airport and medical facilities: ambulances and hospitals. General Haftar says he is attacking terrorists, but there are only civilians here."
He added: "Haftar's treacherous action will bring destruction to Libya and neighbouring countries; no negotiation will be possible if its attack on the population does not cease and if it does not withdraw."
The Italian prime minister, Giuseppe Conte, meeting supporters of the Sarraj government in Rome, underlined the scale of the problem. He said: "We must avert a humanitarian crisis that could be devastating, not only for the repercussions on Italy and the EU but in the interests of the Libyan people themselves."
Migration from Libya to Italy fell severely more than a year ago, in part due to deals made by the previous Italian government. Between January and 10 April this year, 551 migrants reached Italy.
The UN International Organization for Migration said it was impossible to predict how many migrants might flee Libya and head for Europe. The IOM pointed out that Italy was able to welcome more than 6,000 migrants per month up until 2017. But that level of migration prompted a political backlash, and the interior minister, Matteo Salvini, has built his popularity on a tough migration stance.
At least 147 people have been killed and 614 wounded in the offensive launched by Haftar on 4 April to take Tripoli, the World Health Organization said.
The clashes have also displaced more than 18,000 people, according to the latest figures from the United Nations Office for the Coordination of Humanitarian Affairs.
The international community remains divided over the best course in Libya, with a coalition of Egypt, Saudi Arabia, France and the United Arab Emirates seeing Haftar as a possible source for stability after years of civil war. These countries highlight the role played by Islamist militia in Tripoli, and insist they want to bring stability to a country that has been overrun by terrorists.
But the UN special envoy for Libya, Ghassan Salamé, rejected Haftar's explanation for his actions, saying the attack resembled a coup rather than a counter-terror operation.
Speaking on BBC Radio 4, Salamé said Haftar's conflict with the Tripoli government "started a long time ago, in fact three or four years ago, in a counter-terrorism logic, but what is happening now is not necessarily a counter-terror logic. It is an attempt clearly to control the capital of the country where one-third of the population lives, at least. This was made even clearer by the fact that he issued a warrant of arrest against the prime minister, Serraj, and others, which sounded like a coup more than counter-terrorism."
Serraj also claimed Tripoli had been locked in a military stalemate over the past eight days with neither side making decisive advances.
The acting assistant secretary, US Bureau of Near Eastern Affairs, David Satterfield, called for all sides to show restraint, but dialled down previous American criticism of Haftar, and instead emphasised the destructive role of militia, adding that the US favoured an enduring solution.
https://www.theguardian.com/world/2019/apr/15/fighting-in-libya-will-create-huge-number-of-refugees-pm-warns