The media reported on 14 May 2019 that the government of Mozambique has approved the development plan for the Rovuma LNG project, according to Mozambique Rovuma Venture.    This will produce, liquefy, and market natural gas from the deepwater Mamba fields in the Rovuma basin in the Area 4 block offshore Mozambique, two of which straddle the boundary with neighboring Area 1.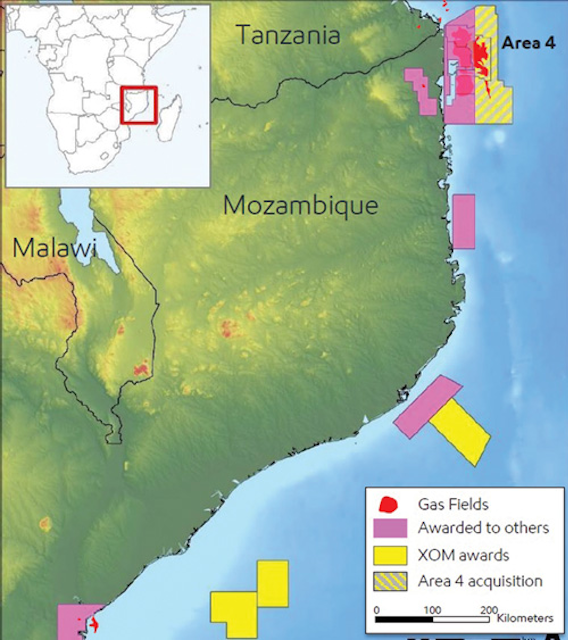 *
It was previously reported during October 2017 that Mozambique's first offshore oil and gas project was officially sanctioned by Eni and its partners earlier this year. Coral South is the first phase of Eni East Africa's (EEA) wider plan of development for the 85 tcf of gas discovered in Area 4 of the deepwater Rovuma basin.
*
Area 4 is operated by Mozambique Rovuma Venture S.p.A. (MRV), an incorporated joint venture owned by ExxonMobil, Eni and CNPC, which holds a 70% interest in the Area 4 exploration and production concession contract. Galp, KOGAS, and Empresa Nacional de Hidrocarbonetos E.P. each hold a 10% interest.

ExxonMobil will lead construction and operation of natural gas liquefaction and related facilities on behalf of MRV, and Eni will lead construction and operation of upstream facilities.

The marketing effort for the LNG produced is jointly led by ExxonMobil and Eni. Sales and purchase agreements for 100% of the LNG capacity for trains 1 and 2 have been submitted to the government of Mozambique for approval, which together will produce more than 15 million tons of LNG per year.

A final investment decision is expected later this year.

The Rovuma LNG project partners will work to build the local workforce through focused recruitment and skills development.

Ernesto Elias Max Tonela, Minister of Mineral Resources and Energy, said: "This is the third development plan approved in this five-year period to enable the sustainable development of the huge natural gas reserves discovered in the Rovuma basin and represents the government's commitment to ensure the implementation of projects that will drive the development of Mozambique.

"We want Mozambican entrepreneurs and Mozambicans to be the main beneficiaries of the various business opportunities made available by the multinationals because we believe that these companies should grow with the national businesses and with Mozambique."

The Rovuma LNG partners have developed a series of plans to support community development in line with the government's priorities. During the production phase, the project expects to provide up to 17,000 tons of liquefied petroleum gas (LPG) per year in Mozambique from Area 4 resources, which is currently about 50% of the country's LPG imports. The Area 4 partners also plan to distribute up to 5,000 LPG burners and cooking stoves in the Afungi area to replace the burning of wood.

https://www.offshore-mag.com/field-development/article/16790933/mozambique-approves-rovuma-lng-development-plan

Construction of the hull for the Coral South FLNG vessel has started at the Samsung Heavy Industries shipyard in Geoje Island, South Korea.    The FLNG construction started in March of this year in Singapore with the steel cut for the ship's turret.
*
Mozambique's first offshore oil and gas project was officially sanctioned by Eni and its partners during 2017.    Coral South is the first phase of Eni East Africa's (EEA) wider plan of development for the 85 tcf of gas discovered in Area 4 of the deepwater Rovuma basin. EEA is the operator of Area 4 and holds 70% participating interest in the concession while Galp Energia, Korea Gas Corp., and Empresa Nacional de Hidrocarbonetos de Mozambique E.P. each hold 10%. In March 2017, Eni signed an agreement to sell 50% of its shares in EEA to Exxon Mobil Corp. Following the completion of the $2.8-billion transaction, EEA will be co-owned by Eni (35.7%), ExxonMobil (35.7%), and China National Petroleum Corp. (28.6%). Eni will continue to lead the Coral South project and all upstream operations in Area 4, while ExxonMobil will lead the construction and operation of natural gas liquefaction facilities onshore.

Discovered in May 2012, Coral is estimated to contain 16 tcf of gas in place. In September 2015, Coral South was the first project in the Rovuma basin to be granted an environmental license, following due diligence by local communities and national authorities. In February 2016, the government of Mozambique's Council of Ministers approved the plan of development, which calls for six subsea wells connected to a floating liquefied natural gas (FLNG) vessel moored in 2,000 m (6,562 ft) of water. The project is expected to produce up to 5 tcf over 25 years starting in mid-2022. In October 2016, the Area 4 partners agreed to contract the entire LNG volumes produced over the first 20 years to BP.

In June at the final investment decision (FID) ceremony in Maputo, the various parties, in the presence of the country's president, signed the main drilling, construction, and installation contracts for the production facilities, and agreements with the government concerning the regulatory framework and financing for the $8-billion project. Around 60% of the cost of the FLNG facility will come from Project Finance, the first instance of such an arrangement for a liquefaction floater, according to Eni. Fifteen international banks have subscribed, backed by five export credit agencies.

The TJS consortium of TechnipFMC, JGC Corp., and Samsung Heavy Industries (SHI) received the engineering, procurement, construction, installation, commissioning, and start-up contract for the FLNG facility, its associated risers and subsea flowlines system, and installation of the umbilicals and subsea equipment.

Under the $2.5-billion contract, SHI is responsible for engineering, procurement, and construction for the hull and production engineering and construction of the topsides. The vessel will be 439 m (1,440 ft) long, 65 m (213 ft) wide, 38.5 m (126 ft) deep, and weigh 210,000 tons. It will be designed to produce 3.4 MM tons/yr of LNG and 480,000 tons/yr of gas condensates (ultra-light oil). SOFEC Inc., a MODEC Group company will supply the internal turret mooring system for the vessel. Project delivery includes both the turret mooring system (mooring legs, mechanical connectors, and anchor piles) and fluid transfer system (piping, swivels, safety and controls). The company will also assist in turret integration and offshore commissioning activities. The single-point mooring system will feature the company's high integrity pressure protection systems (HIPPS) technology.

Baker Hughes, a GE company (BHGE) will provide rotating equipment for the power and gas refrigeration process of the vessel. This will comprise four turbo-compression trains for mix refrigeration services, using the company's aeroderivative gas turbine (model PGT25+G4) technology, and four Turbo-generation units, also driven by aeroderivative gas turbines (model PGT25+G4). All components will be manufactured at BHGE's Nuovo Pignone complex in Florence, Italy, with the train assembled and tested in the Massa plant. The turbo-generation units will feature electric generators provided by the GE Power Conversion business.

BHGE will also supply boil-off gas and booster compressors capable of operating at -180°C (-292°F) to re-liquefy excessive boil-off gas evaporating from the LNG storage tanks.

In addition, BHGE will deliver seven xmas trees, three two-slot manifolds with integrated distribution units, MB rigid jumpers, seven subsea wellheads with spare components, a topsides control system to be installed on the FLNG facility, IWOCS and landing strings, tools, spares and technical assistance for installation, commissioning, and start-up.

Aker Solutions will supply three steel tube umbilicals, more than 19 km (11.8 mi) long in total, that will connect the vessel to the field's subsea production system. They will be manufactured in Moss, Norway, and will be delivered at the end of 2019.

Saipem's drillshipSaipem 12000will drill the development wells over a 15-month period, starting in mid-2019. However, the contact includes options up to a maximum of 45 months.

At the FID ceremony Eni CEO Claudio Descalzi said: "Our ambition to become a global integrated gas and LNG player is based on working alongside key partners such as Mozambique. The Coral South project will deliver a reliable source of energy while contributing to Mozambique's economic development. This partnership approach with our hosting countries is the foundation on which our joint sustainable growth strategy is built."

https://www.offshore-mag.com/business-briefs/article/16755946/coral-south-kicks-off-mozambiques-deepwater-development
*
More information available :
https://www.offshore-mag.com/drilling-completion/article/16773706/eni-scores-more-gas-in-mamba-complex-offshore-mozambique
*
Mozambique LNG1, the jointly owned sales entity of the Mozambique Area 1 co-venturers, has signed a sale and purchase agreement (SPA) with Japan's JERA and CPC Corp., Taiwan (CPC).

According to project operator Anadarko Petroleum, the agreement involves delivery of 1.6 MM metric tons/yr (1.76 MM tons) of LNG from gas produced from Offshore Area 1 over a base term of 17 years from the commercial start date.

Mitch Ingram, Anadarko's executive vice president, International, Deepwater & Exploration, said: "We are excited to take the next step with the expected announcement of a final investment decision FID for the Mozambique LNG project on June 18, as we remain on track to complete the project financing process and secure final approvals.   "This new SPA brings our total long-term agreements to 11.1 [MMt/yr]…"

Mozambique's first onshore LNG facility will comprise two initial LNG trains with a total nameplate capacity of 12.88 MM metric tons/yr (14.2 MM tons) to support development of the Golfinho/Atum field in Offshore Area 1.

Last week, Anadarko accepted Occidental's takeover bid. Occidental in turn has agreed to sell all Anadarko's Africa E&P interests to Total.

https://www.offshore-mag.com/field-development/article/16790862/far-east-groups-secure-longterm-mozambique-lng-supplies
*
READ MORE:
Mozambique is an African country and home to a population of 29 million people.  Its name came from its first known ruler, a Muslim Arab emir named Mussa ibn Bique. The Portuguese started referring to the region as the "Lands of Mussa ibn Bique" and from there the name was simplified to Mozambique.
*
*