Wanneer daar na die video gekyk word, is dit die werker wat die ou tante gestamp het dat sy val en haar arm breek.   Die werker wou nie die ekstra jogurt aan die dame gegee het nie en gedink as sy haar stamp sal dit beter word of ontslae raak van die ouer persoon.   Dit het nie beter geword nie want ouer persone wat val, breek maklik bene en so word rugbeserings opgedoen dat die persoon naderhand totaal en afhanklik raak van iemand anders.  Geen werker is veronderstel om 'n kliënt so hard te stamp dat sy val nie.  Vir wat werk sy in 'n versorgingsoord vir ou mense.  Dis ook reg dat ons as lede van die publiek aandring op beter behandeling, immers word hierdie werkers betaal vir wat hulle veronderstel is om te doen.   "Bikers" het netsoveel reg soos enige ander lid van die pubiek.  Daar was ook nie gesing om enige iemand te vermoor soos ander radikals dit doen of brand geboue af nie.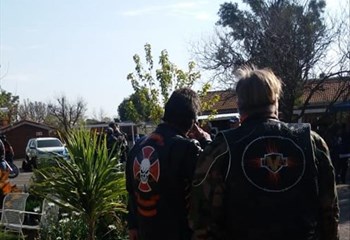 The Ons Tuiste Sentrum vir Bejaardes in Bloemfontein has come under the public eye again in a single week, this time as a local biking club's well-intentioned visit to the Engo family care home on Saturday took a negative turn.
Manager for the home, Jannie Nothnagel, tells OFM News that a yet to be named group of bikers went to the home to donate some food parcels to the elderly living there. The situation then took an ugly turn when the leader of the biker group gathered all the caregivers and began to address them.
In a video provided to OFM News today, the man is heard noting his discontent regarding the incident in which a 79-year-old woman broke her left forearm in an altercation with a general worker over an extra tub of yoghurt.
*
"I too have seen the footage and I think it's shocking. I just want to make it clear to everybody, that if it gets out again that someone in this institution is hurt. The next time we come back here, it's not gonna be with clothes and you can take that any way you want to. It is what it is. Pushing around defenceless people is not the way it works."
The caregivers tell OFM News they felt threatened by the statement, further asking why is it necessary for them to be threatened when the accused in question, 55-year-old Nomakhosazana Cynthia Lebea faced internal disciplinary proceedings and was charged with assault by police for the matter. Nothnagel notes the caregivers discontentment and agrees the statement was inappropriate. He laments that "something that was intended to be good, ended up very bad, which is unfortunate".
The Ons Tuiste manager is deeply concerned by the negative media attention the centre is receiving over the incident when there are old people there receiving good care. Engo, the umbrella body of Ons Tuiste Sentrum vir Bejaardes, released a statement dated 30 May that assures the public all is well at the facility amidst tensions over the criminal investigation into an assault captured by CCTV cameras. The facility's management met with the staff on Wednesday morning and afternoon to provide insight into the internal and criminal investigations launched into Lebea and an unnamed nurse. The 79-year-old Elize Devenish broke her arm in an altercation with Lebea over yoghurt. Lebea and the unidentified nurse, then left Devenish lying on the floor for more than five minutes.
https://www.ofm.co.za/article/centralsa/274961/next-time-we-come-here-it-won-t-be-with-clothes-warns-bikers-at-bfn-old-age-home-caregivers-?fbclid=IwAR0fjyqzlU49TegwIIefCp_L34t99bCmJYUcxfnr07IzViBuUCegIpKZwbo
***
FREE STATE – SOUTH AFRICA
Pensioners – Pensionarisse (shocking video)