Cocaine with a street value of R700 million was recovered off a ship in the Port of Ngquru, just outside Port Elizabeth yesterday, by the Hawks.   Big steak for  Kikki " Good work Kikki."  Dutch Shepherd Kikki who sniffed the cocaine pictured with her handler Diwan Oosthuizen and National Head of Hawks Adv Godfrey Lebeya.  https://twitter.com/RaahilSain/status/1082559598475862017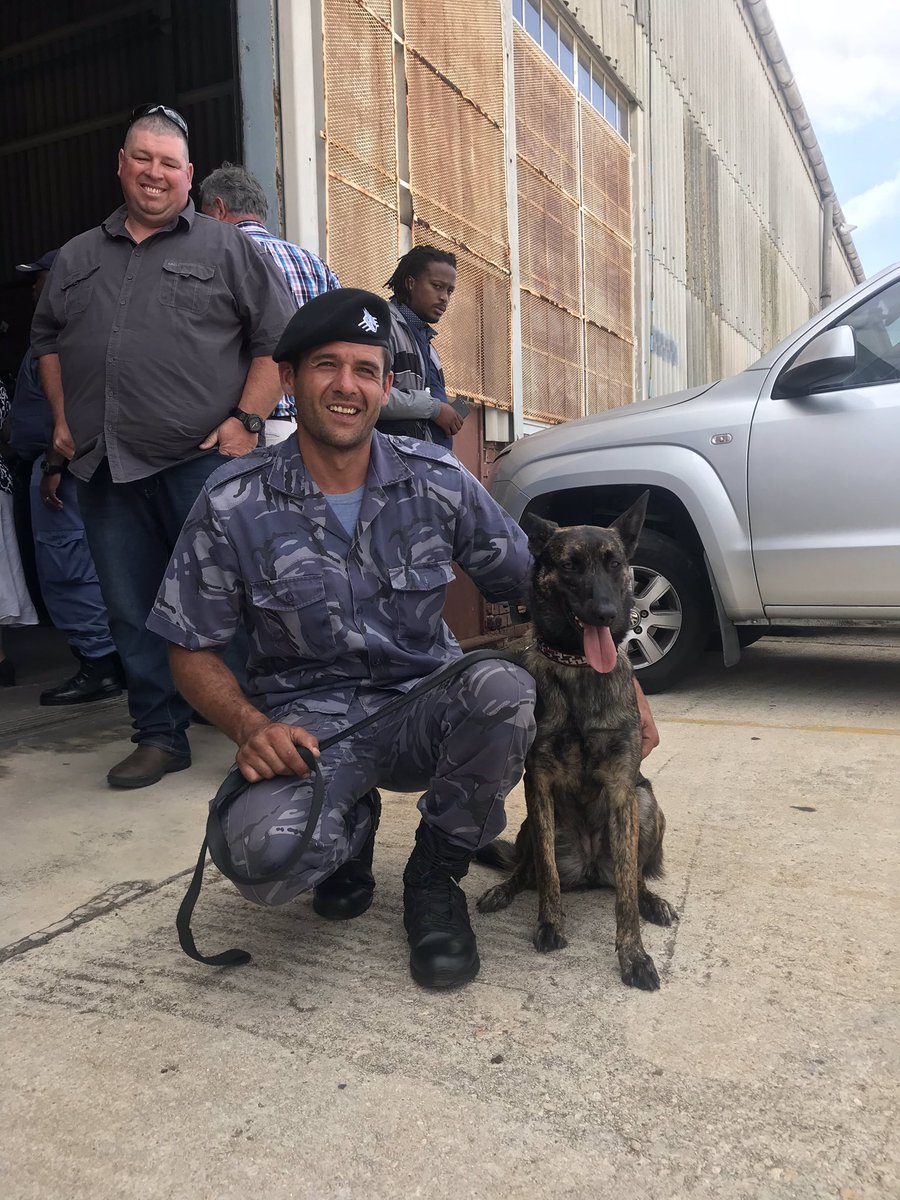 The operation took place over a period of 12 days and the cocaine was seized on Monday.
At a media briefing on Tuesday in Struandale, National Head of the Hawks, Advocate Godfrey Lebeya said the value of the cocaine could have built an entire village.
Lebeya said the cocaine was concealed on the bottom floor of the ship under more than 3 369 containers in a 30-level ship.
The operation was undertaken by the Hawks with assistance from Interpol both locally and internationally.
Other role players included SAPS, crime intelligence, border police, customs, Coega Port Management, Criminal Records and the Darkwater Ops K9 Unit.
Because the alleged crime involved more than one country it falls under transnational organised crime. Lebeya said it was an ongoing investigation between authorities in Brazil, India and Singapore.
***
The Hawks have broken an illicit drug supply chain from Brazil to India after uncovering 706 cocaine bricks hidden beneath thousands of containers at the Port of Ngqura near Port Elizabeth.
Officials found the uncut cocaine, with an estimated street value of around R700m, during a drug raid on Monday, Hawks spokesperson Brigadier Hangwani Mulaudzi said on Tuesday.
The bust is the result of information that Interpol received about a vessel carrying 706kg of cocaine from Brazil to South Africa.
"It had already been established that the vessel was going to dock at Coega Harbour (Ngqura) and continue to Singapore before going to its final destination in India with the illegal cargo," said Mulaudzi.
Dogs sniffed out the cocaine bricks that were concealed in the bottom floor of the ship, beneath 3 669 containers.
Approximately 60 containers carrying the drug were however confiscated. He added that the uncut cocaine would now be examined by experts for the completion of a full forensic report. Thereafter the drugs would be destroyed.
Hawks head Lieutenant General Godfrey Lebeya applauded the team for the seizure of the drugs.
"By confiscating this cargo, we have severed the supply chain. But the war on drugs has neither been lost nor won," he said.
"We are still going to put more effort into targeting the supply of these dangerous dependency producing substances. We will not be allowing these substances to go and ruin the lives of innocent people [who] are being turned into drug addicts."
He said that cartels would not deliver or produce drugs if there was no demand for them.