Onlangs is daar 'n internasionale joernalis op 'n grusame wyse vermoor wat die getal joernaliste op 73 te staan bring vir 2018.   Dis baie tragies dat iemand so moet sterf.   Byna soos in onmiddellik reageer verskeie lande oor die moord van Jamal, wat natuurlik 'n baie goeie ding is,  selfs die Verenigde Nasies sowel Unesco het eise gestel en lande vra vir ondersoeke hoe hy gesterf het.    Is die moord van Jamal regtig waar of net 'n front, hoekom sal mense protesaksies daaroor uitvoer?  En hoekom word daar soveel gissings oor "tampering" gepraat en selfs die wyse hoe hy vermoor is.  Simpatie gaan aan die naasbestaandes van Jamal – mag sy moordenaars vinnig opgespoor word, maar ook die moordenaars wat hier in Suid-Afrika floreer onder die misdaad kenteken.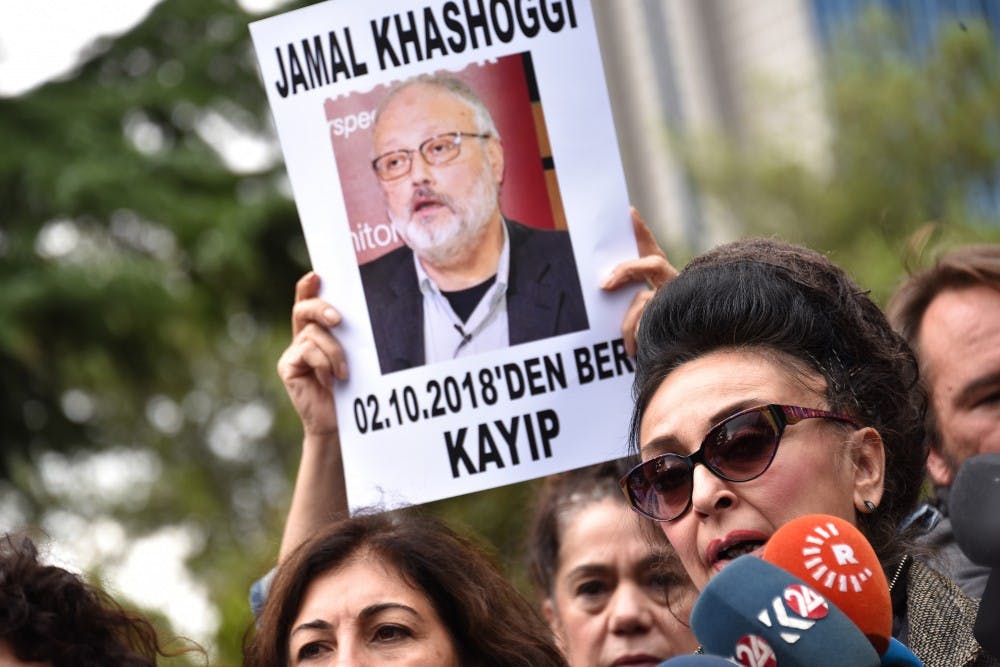 Recently, an international journalist was killed in a cruel and brutal manner, bringing the number of journalists to 73 for the year of 2018. It's a very big tragic that somebody dies like this and with torture as well.
Interesting, and almost like immediately, several countries responded to the murder of Jamal, which is of course a very good thing, even the United Nations and Unesco have made demands and asked questions about the killing and to do searches for how he died.   Who is behind this misterious killing as well?
I really have mixed feelings about this killing(s)
Is or was Jamal's murder really the  truth or just a front, why will people be protesting about it and asking various and different questions? And why are there so many different stories about "tampering" and even the way he was murdered.
~~
Terug by ons eie land.   Back in South Africa
MURDERS – MOORDE
Die kommerwekkende vraag is, daar is al soveel "voorleggings" oorsee gedoen van blanke en spesifiek blanke plaasmoorde in Suid-Afrika, plaasmoorde, verkragtings, martelings op as blanke boere of hul families vermoor word.   Jong kinders wat gemartel word en sterf aan hul wonde.    Het geen twyfel oor hierdie moorde in ons land nie.  Soms is daar baie meer moorde as wat deur die Polisie self bekendgemaak word, wat nie 'n gerusstellende prentjie skets nie.  Wat word van al die voorleggings daarna?   Beland dit op lêer en wie hanteer dit verder?
Verwonderd lees mens al die aandag van nuusberigte en kom tot 'n skokbesef dat ons eie nuus wat so gereeld uitbasuin word, by UNPO, by verskeie parlemente in die EU, boeke en films word geskryf, onderhoude word met slagoffers "verkoop" – Geneva word genoem – en tog, waar is al die ondersoeke oor moorde in Suid-Afrika?  Wie hanteer dit verder en waar is die opvolg hieroor dat daar enige ondersoeke vanuit Unesco, VN of selfs EU lande afkomstig is?  Dit, terwyl Ramaphosa grappies maak oor sy "paddas" in sy pot wat hulle kook, sing malema en ander om die boere uit te wis en te vermoor.
Why did overseas countries, the United Nations and Unesco not ask the same type of questions what happened in South Africa then since 1994 ?   Are the  murders in South Africa not so important to them or governments of the EU countries while they all asked questions about Jamal?  Are there a difference?
Hoeveel ander burgers in ons land word vermis en nooit gevind nie?  Selfs die polisie se statistieke en die feit dat Ramaphosa ontken dat daar moorde plaasvind, is dan seker ook maar so deurskynend, dat niemand niks uit Suid-Afrika glo nie.  Misdadigers het 'n koninklike lewe in Suid-Afrika hoeveel onopgeloste moorde is daar nie?
The question to worry about at this stage and the reality,  is that so many "submissions" have been done overseas from white and specifically white farm killings that took place in South Africa, farm murders, rapes and tortures of farmers and family members. It is surprising that people are attracting attention to news reports like this of Jamal, and find out that our own news, is nowhere,  being showed  at UNPO, at various EU offices, books and films, interviews with victims being "sold" to various countries.  And what happened next?
Hoe is dit moontlik?  Is ons moordverhale en realiteite,  nuus daaromtrent dit in Suid-Afrika deurskynend dat niemand dit lees nie?   Sommige van ons eie polisiedienste en liberale blankes, maak plaasmoorde ook net normale misdaad, terwyl daar hewige martelings plaasvind.     Was die hele aangeleentheid werklik voor die deur van Verenigde nasies en Unesco geplaas met voorleggings.  Daar was selfs pogings van swart bemagtiging wat al voorgelê is, daarvan het net mooi niks gekom nie?    Hoeveel terugvoer is daar na 2016 hieroor gewees?  Swart bemagtiging is nou hewiger as ooit.  Dit rym net mooi niks met die werklikheid nie.
Just sit a while and think again – show the mixed feelings about the different murders.  How is this possible? What about our killings in South Africa?  Farm murders? Some of our own police services said that farm murders are also just normal crime, while severe torture takes place and people killed with AK's or automatic arms.  What about the other 50 killings per day in South Africa?  What happened to the 2016  submissions to "Geneva"?
Die vraag is, waarom word joernaliste stilgemaak en hoekom word daar geswyg as ons blanke boere en blankes in Suid-Afrika vermoor word – Of is "vals vlaggies" hierby betrokke.   Enige een kan 'n kantoor skep en maak of hulle voorleggings doen wat nie onmoontlik is nie.   Dis net 'n gewaagde gevolgtrekking van 'n vakuum met vermoordes en families, terwyl ander vermoordes wêreldwyd internasionale aandag kry.
The question is why journalists are killed and what happened to our own killings and the submissions made at various offices – why are there no follow-ups on this?   Or do the world think the killings in South Africa are false flags or what else? Anyone can create and make submissions to any office –  that is not impossible.   Why were there such reactions in this journalist killing and not on other killings worldwide?
~
HUMAN RIGHTS OF ALL
Here are a few of the articles …
1
Tampering of videos:
Turkish media have reported that staff at Saudi Arabia's consulate in Istanbul tried to dismantle security cameras to help cover up the murder of Saudi journalist Jamal Khashoggi.
The pro-government Sabah newspaper reported on Tuesday that the Saudis tried to rip out the camera inside the consulate on October 2, the day Khashoggi was murdered.
They also tried to tamper with cameras at the police security booth outside the building.
According to the report, on October 6, at 1am local time, a consulate member staff went into the police security post outside the Saudi consulate to access the video system.
Sabah reported that the staff member put in a digital lock code into the system, which did not dismantle any cameras, rather the code was to prevent access to any videos showing movement at the entrance, including Khashoggi's arrival at the consulate.
Al Jazeera's Andrew Simmons reporting from Istanbul said that their attempt was, in any case, irrelevant because the police had already deciphered the coding and accessed the system, retrieving a copy of the video well before the attempted tampering.
"All of this demonstrates, according to Turkish officials, in terms of the … whole set of procedures, that there was an effort by the Saudi Arabian consulate to once again tamper with evidence," Simmons said.
"This follows a pattern of leaks which demonstrate beyond any doubt, according to the Turks, that the Saudis weren't out to investigate a murder, they were out to cover it up."
Turkish authorities claimed last month that security camera footage was removed from the Saudi consulate and that Turkish staff were told to take a holiday on the day Khashoggi was scheduled to visit the consulate to pick up a document for marriage.

2
Menseregte Skendings – Human Rights to all
On Oct. 2, Saudi journalist Jamal Khashoggi disappeared from the Saudi Consulate in Istanbul, Turkey. Eighteen days later, the Saudi government announced his gruesome death. The specific details of what happened the day the journalist went missing remain unclear due to different accounts from the Saudi government and from Turkish officials. Assistant professor of communications Ahmed Abdullah Al Fadaam offers his perspective as a fellow journalist.
Q: What was your reaction, as a journalist, to Khashoggi's death?
A: Actually, I was shocked about the way he was assassinated — inside his country's consulate, this never happened before — but, I don't find it strange because we all know about the human rights violations in Saudi Arabia. Their constitution is based on Shariah law, and if you check the kind of punishments they have, it includes beheading, it includes hand chopping. Some of these punishments are considered by other countries as barbaric, so this also tells us that they tend to get rid of their opponents in an ugly way.
Q: What steps should news organizations and individual journalists take to ensure their safety?
A: Unfortunately, in regions like the Middle East, there are no guarantees. I covered the war in Iraq for almost 10 years, and during these 10 years, I received multiple death threats from armed groups in Iraq. I was treated poorly by the Iraqi police and the Iraqi army. People used to say that it is dangerous to say anything about Saddam, but after 2003, it became dangerous to say anything about anyone. They claim that they have democracy in the Middle East, but apparently, it's a fake expression — there is no democracy in that part of the world.
Q: What would you tell aspiring journalists, who are now afraid of reporting in dangerous areas?
A: If you go to the Middle East to cover any of the events there, you have to be very careful about what you say and what you do. When covering the war in Iraq, I was very careful about everything because they won't hesitate to use any mean to get rid of you if you're a threat to them. Does this mean that journalists should stop doing their jobs? I don't think so, no. This is who we are, this is what we do; our job is to inform the world on what is happening.
Q: How do you feel that the United States and news publications should move on from this death?
A: This is something I have been wondering about. What is so special about Khashoggi's death? … If you look at what Saudi Arabia is doing in Yemen, for example, they've been bombing this country daily since 2014. … But nobody is talking about it, why's that? If you look at what's happening inside Saudi Arabia, all the human rights violations they're doing against their own citizens, nobody is talking about that either, why is that?
In the case of Khashoggi — and this is my opinion — because it became the focus of every other media organization in the world, the American government couldn't ignore this anymore, even though it was committed by Saudis. If you check the statements from President Trump, he first said that maybe it was a rogue killer and that maybe we'll dig into it, now after the Saudis admitted that Khashoggi was killed inside the consulate, this is when President Trump changed his tone and said that if the Saudis were behind it there would be some severe punishments.
What does this tell you? Before looking at the political relationships between Saudi Arabia and the United States, take a look at the economic relationships between the two countries. Follow the money.
Saudi Arabia is an oil producing country — if we remember what happened in 1973 when the Nixon administration decided to help Israel in their war against the Arabs, and oil exports to the United States were cut, this caused the U.S. economy to collapse in 15 days.
It's not something the United States wants to do when it comes to oil. If you check what Mohammed Bin Salman has threatened to do, if there are any punishments from the U.S., is to stop the oil flow. It's all connected. Yes, what happened to Khashoggi is a heinous crime, but are we giving the Saudis what they deserve?
~
3
A leading official of the United Nations official stepped up the pressure on Saudi Arabia by branding the murder of Washington Post journalist Jamal Khashoggi an "extrajudicial execution".
Agnes Callamard, the UN special rapporteur on extrajudicial, summary or arbitrary executions, said those who orchestrated the killing at the Saudi consulate in Istanbul were "high enough to represent the state".
It is the UN's first intervention on the matter. This week Donald Trump suggested Crown Prince Mohammad bin Salman could be responsible for ordering the death of Mr Khashoggi, a critic of the kingdom's de-facto ruler.
Speaking at the UN headquarters in New York, Ms Callamard said: "First, we know that the killing was in the consulate, which is representative of the state of Saudi Arabia.
"Second, the individuals present at the time of the disappearance and the alleged killing were representatives of the state.
"Subsequently, over the last few days at least, Saudi authorities have recognised individuals at the highest levels of the structures of authority of being involved in the disappearance and the killing."
She added: "All of these elements indicate that the … killing of Jamal Khashoggi bear[s] the hallmark of an extrajudicial execution."
Faisal Fahad, a Saudi representative at the UN, said in response: "My delegation would like to denounce the statement by the special rapporteur. We call on her not to exceed her mandate."
The kingdom initially denied any knowledge of Mr Khashoggi's disappearance on October 2. Yesterday a Saudi prosecutor admitted the killing was "premeditated
~
4
https://www.ohchr.org/en/issues/executions/pages/agnescallamard.aspx
Dr. Agnes Callamard was appointed the UN Special Rapporteur on Extra-Judicial summary or arbitrary Executions, on 1 August 2016.
Dr. Callamard (France) has a distinguished career in human rights and humanitarian work globally, in civil society organizations, the United Nations and in academia. She is the Director of Columbia University Global Freedom of Expression, an initiative seeking to advance understanding of the international and national norms and institutions that define and protect freedom of expression and information in an inter-connected global community with major common challenges to address.   She also works as special Adviser to the President of Columbia University, President Lee Bollinger.
Previously, Dr Callamard spent nine years as the Executive Director of ARTICLE 19, the international human rights organization promoting freedom of expression globally. She also founded and led Humanitarian Accountability Partnership (now CHS Alliance), the first international self-regulatory body for humanitarian agencies. She was Chef de Cabinet for the Secretary General of Amnesty International (AI) and AI's Research-Policy Coordinator, leading AI's policy work and research on women's human rights.  Prior to this, she taught and conducted research on international refugee movements for the Center for Refugee Studies at York University in Toronto.
She has advised multilateral organizations and governments around the world on human rights, including most recently the Special Advisor to the Secretary General on the Prevention of Genocide.
She has led human rights investigations in more than 30 countries and published extensively, in both English and French, on human rights, women's rights, freedom of expression, refugee movements and the methodology of human rights investigation. In particular, she has authored or directed volumes, on monitoring political killings, excessive use of force, and torture as well as on sexual violence in armed conflicts.
https://www.ohchr.org/EN/Countries/AfricaRegion/Pages/SouthernAfricaSummary10.aspx
The Southern African region is very diverse. It has some of the richest and some of the poorest States in Africa. Several countries have well-functioning national institutions and mechanisms to protect and promote human rights, but a number of human rights challenges remain. The region c. Some countries have recently faced, and others continue to face, political violence, insecurity, and serious human rights abuses. Discrimination remains an important human rights concern. The independence of the judiciary, access to justice, prison conditions, freedom of expression and assembly, economic, social and cultural rights, land issues, migration and xenophobia, impunity and sexual and gender-based violence (SGBV) are among the main human rights challenges in the region.The relative stability in most of the countries, and the encouraging development and human rights achievements made by some States, give hope for the overall improvement of the human rights situation in the region.
The Regional Office for Southern Africa conducts activities in the following areas:
Strengthening national and regional human rights protection systems, with a special focus on national human rights institutions.
Addressing discrimination through technical assistance and advocacy.
Increasing engagement of national stakeholders with international human rights mechanisms, such as the Universal Periodic Review, Treaty-based bodies, and special procedures of the Human Rights Council.
Ensuring a human rights-based approach in UN Country Teams' programmes and planning.
https://www.ohchr.org/EN/countries/AfricaRegion/Pages/ZAIndex.aspx
Discrimination  2016
5
~

UN pressures about the killing of Journalist
U.N. human rights chief Michelle Bachelet is urging Saudi Arabia and Turkey to reveal everything they know about the disappearance and possible extrajudicial killing of a prominent Saudi journalist. Jamal Khashoggi was last seen entering, but not exiting, the Saudi consulate in Istanbul two weeks ago.
While Khashoggi disappeared October 2, it was not until Monday, October 15 that Turkish forensic investigators were allowed to search the Saudi consulate.
The U.N. Rights chief says she wants the diplomatic immunity that was bestowed by the 1963 Vienna Convention to be waived for all Saudi officials. The commissioner's spokesman, Rupert Colville, tells VOA that Bachelet wants to make sure a full unimpeded forensic investigation can go forward.
"We hope the lifting of immunity is absolute, so they can investigate everything they wish to and everything they feel they need to, both in the consulate, in the consul general's premises, in the vehicles that were shown on the CCTV footage, and so on," said Colville. "So, basically the investigators need to be able to investigate everything they wish to."
Colville says there seems to be clear evidence that Khashoggi entered the consulate and has not been seen since. Therefore, he says the onus for revealing what happened to the journalist is on the Saudi authorities.
International pressure is mounting on Saudi Arabia to come up with answers. More firms are pulling out of a big investment conference scheduled to take place next week in Saudi Arabia. U.S. Secretary of State Mike Pompeo was in Riyadh Tuesday to discuss the crisis with Saudi King Salman and Crown Prince Mohammed bin Salman.
U.S. media reports say Saudi Arabia was edging toward acknowledging that Khashoggi was killed after he entered the consulate, blaming his death on an interrogation gone wrong. Khashoggi, a critic of the crown prince in columns written for The Washington Post, had been living in the United States in self-imposed exile. Saudi Arabia has previously denied Khashoggi was killed, saying he left the consulate on his own.
~~
After all the years of hassle, Jamal Khashoggi knew when to stay silent. He was well aware, for example, that the Saudi government's grand new sewer system in Jeddah was simply manhole covers in the pavements, with no pipes underneath. Such corruption was typical of his country. But as editor of Al-Watan, one of the kingdom's main newspapers, he did not report on it. At times, too, friends were arrested, and he said nothing. He did not want to lose his job or his freedom. He worried about his family.
Yet they were raised respectfully, by a man who supported the monarchy as instinctively as he picked up his phone. His grandfather had been the doctor of Abdel Aziz bin Saud, the country's founder, and he himself, reporting from Afghanistan in the 1980s, had worked for Saudi intelligence, getting close to Osama bin Laden to ensure some link, some influence, for the Saudi royal house. This tricky work put him for some years in the princes' good books.
Like so many others, he felt it keenly when that movement flowered and died. Liberalism seldom seemed to enter his life. Growing up in Medina, he saw no women working outside the home. Teenage trips to the makeshift cinema risked exciting the religious police; one friend broke his leg as he jumped from a wall to escape arrest. Freedom of speech would be a long haul. He tried to focus, therefore, on more pressing economic problems: the fact, in particular, that the country's vast petro-wealth was being squandered on private enrichment, not schools, medium-size enterprises and proper gathering of statistics. The latest book he wanted to write was all about that, not Islamist revolution.
~
The murder of journalist Jamal Khashoggi could alter the power dynamic in the Middle East by strengthening Turkey's influence at Saudi Arabia's expense as they  compete for leadership of the Islamic world, analysts say.
This certainly appears to be the goal of Turkish President Recep Tayyip Erdogan, the main regional supporter of the Muslim Brotherhood, which Saudi Arabia and its allies Egypt and the United Arab Emirates consider a terrorist group.
The killing inside the kingdom's consulate in Istanbul by a team sent from Riyadh on October 2 has already severely tarnished Saudi Arabia's global reputation.
But it is the potential involvement of Crown Prince Mohammad bin Salman, the oil-rich Gulf nation's de facto leader known by his initials MBS, that could permanently damage Riyadh's influence in the region.
After initially insisting Khashoggi left the consulate unharmed, then saying he died in a brawl, the Saudi regime finally stated he was killed by a "rogue operation" and arrested 18 suspects, some with links to the crown prince.
Analysts say Erdogan could use the ensuing crisis to weaken the 33-year-old prince, even potentially leading to the royal family removing him from power — though that seems unlikely.
6
Jamal Khashoggi se moord / was killed
The Turkish official quoted says 'biological evidence' found in the Saudi Arabian consulate's garden indicated the body was likely disposed of near where Khashoggi was killed.     The body of journalist Jamal Khashoggi was "dissolved" after he was murdered and dismembered in the Saudi consulate in Istanbul a month ago, an adviser to Turkish President Recep Tayyip Erdogan said.    The claim echoed what a Turkish official had told the Washington Post — for which Khashoggi was a contributor — that authorities were investigating a theory the body was destroyed in acid.
"We now see that it wasn't just cut up, they got rid of the body by dissolving it," Yasin Aktay, an adviser to Erdogan and official in Turkey's ruling party, told the Hurriyet newspaper.   "According to the latest information we have, the reason they cut up the body is it was easier to dissolve it," Aktay said.
Saudi Arabia has faced a torrent of international condemnation over the killing of the royal insider-turned-critic.   Turkey's chief prosecutor on Wednesday confirmed for the first time that Khashoggi was strangled as soon as he entered the consulate on October 2 as part of a planned hit, and his body was then dismembered and destroyed.   "Killing an innocent person is one crime, the treatment and extent of what was done to the body is another crime and dishonour."
There are more about the journalist's murder investigation
UNESCO CONDEMNS KILLING OF JOURNALIST
UNESCO is the United Nations agency with a mandate to defend freedom of expression and press freedom. Article 1 of its Constitution requires the Organization to "further universal respect for justice, for the rule of law and for the human rights and fundamental freedoms which are affirmed for the peoples of the world, without distinction of race, sex, language or religion, by the Charter of the United Nations." To realize this purpose the Organization is required to "collaborate in the work of advancing the mutual knowledge and understanding of peoples, through all means of mass communication and to that end recommend such international agreements as may be necessary to promote the free flow of ideas by word and image…".