River ecologist Sukh Mantel, a senior researcher at the Institute for Water Research at Rhodes University, did not set out to create art, or even an educational tool. She was just trying to make a quick point.  South Africa's coastal areas are drained by a number of smaller rivers, while mountains to the south and the escarpment sends water from the interior on a far longer journey to the ocean.  Note areas of rivers and also dams, that do not belong to any white person, but to government of the day.
Heelwat vars water en bogrond gaan verlore as daar watermassas (gedurende die reënseisoen) na die see geneem word. As dit eers in die see is, kan dit nooit teruggegee word nie. Dit was een van die redes hoekom daar in die ou bedeling groot damme gebou is, om verskillende probleme uit te skakel. Geen mens, dier, boer of besigheid kan sonder water klaarkom nie. Suid-Afrika se infrastrukture kort wel heelwat aandag, juis omdat die populasie so hoog is – geneem in ag, niemand weet regtig hoeveel immigrante ook hier is en wat op water staatmaak – hier is miljoene wat rondom ons metro's bly en hul tuisgemaak het – met die regering en ander politici se goedkeuring.
Vloei van riviere / Basins of rivers : SEA
"People say it would have helped them in high school, or that it clarified for them how things are connected," she says. But nobody has managed to clearly express just why they feel the need to share it with others – beyond pointing out how different it is from the usual maps of rivers in South Africa.
ANDER BYKOMENDE INLIGTING – MORE INFORMATION
Dams
The following map depicts the location of the major dams in South Africa, as listed on the DWS website: "Weekly State of the Reservoirs", hosted by Hydrological Services. The website also provides weekly updated information on the storage state of the dams listed at the following link:
*
Dam areas with the rivers are huge areas and belong to government.
The major and important area
The purpose of this map is to give an extended representation of the amended Water Management Area 6 – ORANGE. Presenting base map features like cities, towns, major rivers, major dams, provincial boundaries (2012), international boundaries, nature reserves, forest reserves and national parks. See Government Gazette No 35517 (20 July 2012) for a description of the amended 2012 WMA's.
GARIEP DAM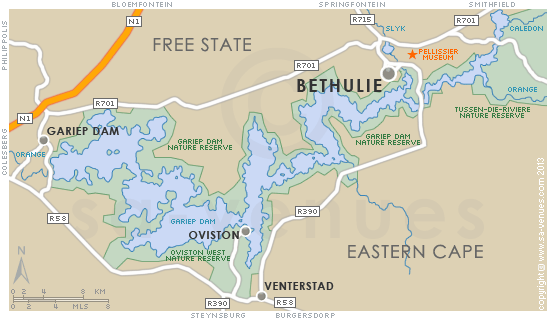 LESOTHO
Lesotho Hoogland skema (1980) met Suid-Afrika
The Lesotho Highlands Water Project is an ongoing water supply project with a hydropower component, developed in partnership between the governments of Lesotho and South Africa since 1980.
RANDWATER