Waar is al die werkskeppingsgeleenthede en waar is al die 'groen dorpies en stede" ontwikkel waar biljoene begroot is?   Die Nasionale Ontwikkelingsplan (Phakisa) is 'n inisiatief van die kommunistiese regering van Suid-Afrika en is gebaseer om alle burgers se sosio-ekonomiese ontwikkeling in die land te stimuleer of te verbeter.  Dit het in 2014 afgeskop en sal op alle vlakke van regering, privaatsektor van toepassing wees.  Dit sal ook gebruik word vir ekonomiese groei en werkloosheid te verbeter.
Phakisa
Operation Phakisa is an initiative of the South African government.  This initiative was designed to fast track the implementation of solutions on critical development  issues.  This is a unique initiative to address issues highlighted in the National Development Plan (NDP) 2030 such as poverty, unemployment and inequality.

Operation Phakisa is an innovative and pioneering approach to translate detailed plans into concrete results through dedicated delivery and collaboration.   

"Phakisa" means "hurry up" in Sesotho and the application of this methodology highlights government's urgency to deliver.  It plays a crucial role in accelerating the delivery of some of the development priorities.
Uit die Parlement / Hansards – 10 Oktober 2017
Die Portfolio Komitee vir Landelike Ontwikkeling en Grondhervorming het onder voorsitterskap van ANC lid,  Me P Ngwenya-Mabila, plaasgevind, waartydens die Phakisa Plan bespreek is.   Die hooffokus het grondeise ingesluit wat nog nie afgehandel is nie.
Binne die Phakisa regeringsplan word landelike hervorming en grondeise op die voorgrond gebring.    Verskeie rade en distrikte, gefokus op die swart bevolking,  plaaswerkers, ens. is hierby betrokke. Die Kommissie vir Landelike Hervorming en Grondregte het hoogtepunte van die vordering van grondeise, hervorming, projekte en inisiatiewe binne die plan uitgelig en verskeie bekommernisse is uitgespreek.
Daar is verwys na die datum van 31 Desember 1998 se eise wat steeds nie afgehandel is nie.   Die komitee het hul kommer uitgespreek oor verskeie aspekte rakende die begroting, aanstellings,  sowel as ander inisiatiewe wat die uitstel van grondeise se afhandeling,  verleng en vertraag.  Daar is 6 558 eise nog nie afgehandel soos op 31 Desember 1998 nie.
Hansard

The Committee expressed concerns on how the DRDLR would get the funds for the rural development and land reforms Phakisa. The Committee asked the DRDLR questions on the costs of organising the Open Day in November, 2017, the initiatives and its costs, why the Mini Lab was necessary, jobs to be created, the extent of communication with the Department of Public Works (DPW) to prioritise funds for the settlement of State land, its role in the Phakisa, the role of other Departments, commitment and compliance of other Departments and financial commitment from National Treasury. The Committee asked CRLR questions on its process to be declared a Chapter 9 institution, status of the Presidential Rural Development Coordinating Council (PRDCC), funding model options, finalising of restitution claims and the Three Feet plan activities to fast-track settlements on land claims in sustainable manner.

ALDRI has been used as a vehicle to create settlement type models for labour farm worker houses and land ownerships and the labour farm workers would get the land title deeds.

The DBSA's cost estimates of R14 billion covered the homes and infrastructure and the land is from DRDLR.

The smart Agri-villages would be done based on green technology and are different from the agri-parks. Funding for the project would not be sourced by DRDLR alone but also from the Department of Human Settlements (DHS) and COGTA.

Ms Archary said that acquiring peri-urban lands for farm workers was part of the accelerated land redistribution program. Farm workers and labour tenant land issues were linked to land allocated for grazing. The land allocated would be bought and owned by individual beneficiaries. She highlighted the plans on redistribution of land and stated that DRDLR provided support to farm workers and labour tenants on resettlement of land claims.  The focus was on the 6 558 claims that were outstanding as at 30 June 2017.
*

The Aquaculture work stream has underlined the high growth potential of South Africa's aquaculture sector due to increasing demand for fish. While aquaculture contributes to almost half of the global fish supply, it contributes less than 1% of South Africa's fish supply. The sector offers significant potential for rural development, especially for marginalised coastal communities. This work stream has identified eight initiatives to spur the growth of the sector. One initiative will address the selection and implementation of 24 projects across South Africa by 2019.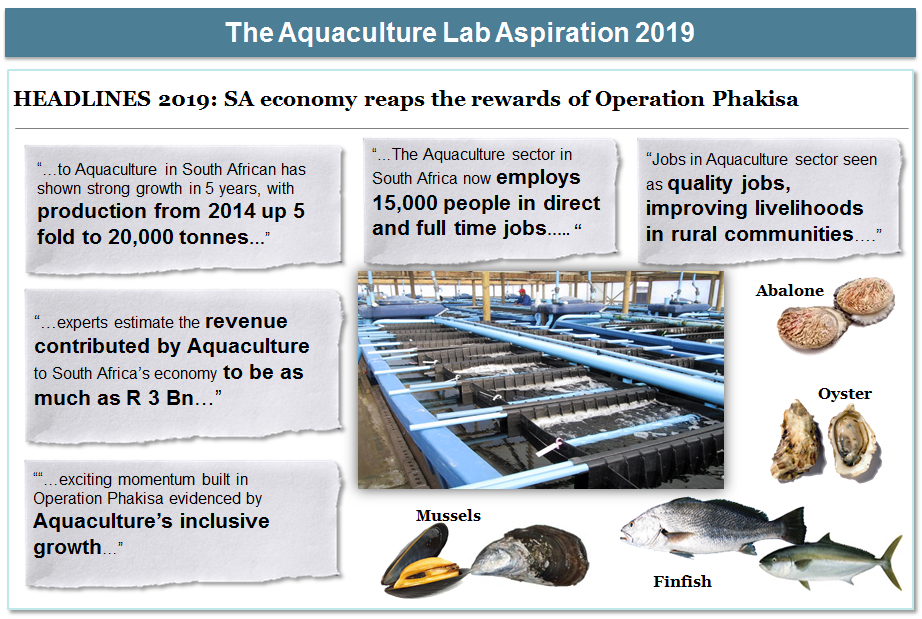 These projects are expected to grow the aquaculture sector's revenue from about half a billion rand today, to almost R1.4billion in 2019. Three further aquaculture initiatives relate to the creation of an enabling regulatory environment, including the establishment of an Inter-Departmental Authorizations Committee. The committee will co-ordinate aquaculture applications and approvals. The intention is to reduce processing time from the current periods of about 890 days to 240 days in future. Other initiatives focus on funding support, increasing the skills pool and awareness and improving access to markets.

The stream has identified some initial targets as well. They recommend implementing nine projects in the Eastern Cape, North West, KwaZulu-Natal and Western Cape provinces. The work stream also proposes the establishment of the Aquaculture Development Fund, consolidating approximately R500 000 000 of government's funds from five departments into one pot.
https://www.operationphakisa.gov.za/operations/oel/aquaculture/Pages/default.aspx
*
1: Map of marine protected areas under Operation Phakisa as published in Department of Environmental Affairs (2014). Sites that are listed in the report as containing cold-water corals are circled.
https://www.researchgate.net/figure/Map-of-marine-protected-areas-under-Operation-Phakisa-as-published-in-Department-of_fig1_342391692