*
According to Exodus chapters 20 and 24, Moses set up an altar "at the foot of the mountain" after writing down God's Laws in the Book of the Covenant. The altar was for burnt sacrifices and peace offerings of sheep and cattle and must be constructed without steps, and without cut or chiseled stone. The altar was constructed at the foot of the mountain, along with 12 pillars representing the 12 tribes of Israel.
*
Bewyse uit die Bybel … en ooreenkomste vandag
*
*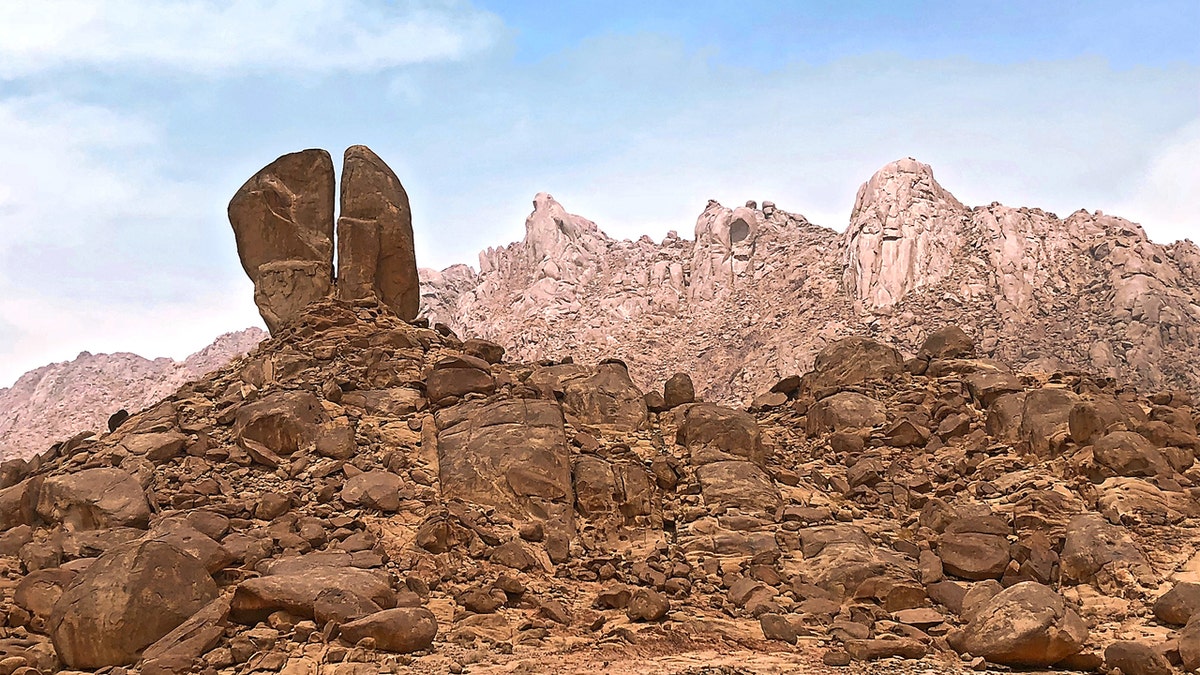 Possible Altar System
Right at the foot of the mountain, there is an undeniably man-made structure with features that fit the Biblical requirements for a sacrificial altar.
This L-shaped structure clearly resembles chutes, which would be required for lining up the animals for sacrifice. At the end of the line, there is evidence of burnt sacrifices and various features required for the Exodus story to take place.
It is an earthen altar, does not have steps, and is made entirely of uncut stones, an anomalous design among most man-made structures.
One end of the altar has a pit with layers of ash; this is likely where animal sacrifices would have taken place. The Saudi government's researchers who briefly excavated the site, apparently with the purpose of debunking the alleged connection to Moses, had to concede that ash, animal waste, bones, and charcoal were found while digging 3-4 feet at the site.
The topography of the location is also fitting for the story. The Books of Exodus and Deuteronomy state that there was a brook (a stream) that came down from the mountain. At Jabal Maqla, it is easy to see where water came down from a higher spot on the mountain. The stream-bed comes down from the mountain right next to this altar site.
*
Premiered Mar 13, 2022
A Documentary Revealing Evidence for the Biblical account of the Real Mount Sinai in Saudi Arabia and the Exodus of Israel from the land of Egypt
** We sincerely apologize for the scriptural references mismatch **
Here are the correct references:

Galatians 4:25 "Mount Sinai in arabia"
Galatians 1:17 "I did not go up to Jerusalem to see those who were apostles before I was, But I went into Arabia…"

Exodus 3:1 "Moses was tending the flock of Jethro his father in law the priest of Midian And he led the flock to the back of the desert and came to the mountain of God"
Exodus 3:12 "When you have brought the people out of Egypt you shall serve me on this mountain.
Exodus 17:1 "Then all the congregation of the children of Israel set out on their journey from the wilderness of "sîn""
Exodus 32:1 When the people saw that Moses delayed coming down from the mountain, The people gathered together to Aaron and said to him "Come, make us Gods that shall go before us…" God Bless you all in Jesus name!
*
The Golden Calf Worship Site near Jabal Maqla