*
An apparent "diamond rush" in KwaZulu-Natal has prompted the provincial government to dispatch experts to a site near Ladysmith where residents have over the weekend been extracting stones they believe are diamonds, using household equipment.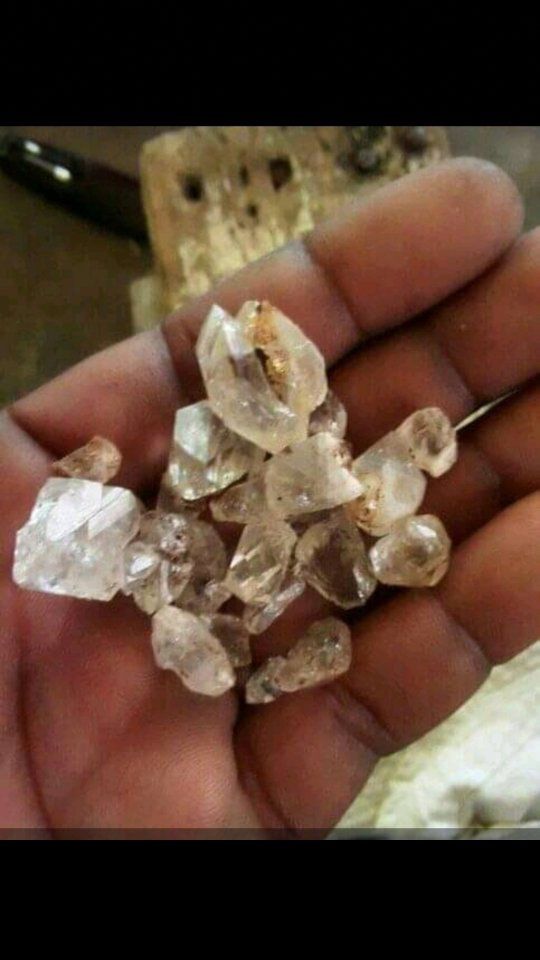 *
Alles is in rep en roer, daar word gekap en gegrou, op soek na "diamante"  wat eerder lyk soos kwarts of kristal.   Mag dit maar eerder diamante wees – baie wense is al uitgespreek dat dit nie iets anders mag wees as diamante nie.   Dis beslis harde werk om te grou – mens wil glo so het Kimberley ook gelyk toe daar diamante ontdek is.
https://www.ecr.co.za/shows/east-coast-breakfast/diamonds-discovery-ladysmith-kzn/?fbclid=IwAR06x6HCvr_jZAx-t8-xN05Hgvt_rXl4Y1R0xXHZyfbVDeVoIQ7EczF3JaE
*

Korrupsie en misdaad wat in die land toegelaat, is ook onwettige optredes en teen Covid-19 regulasies.   Hoekom doen die regering nie iets daaraan om misdaad en korrupsie te stop nie.   Die regering kom nogal vinnig af op die inwoners, waarvan geen werksgeleenthede het nie.   Is dit nou diamante of ander edelstene soos kwarts?  Premier Sihle Zikalala calls for calm in KwaHlathi outside Ladysmith, where people have gathered to mine what they believe to be diamonds.  And they said it is "illegal" – what a joke.

*
"There is a possibility of the diamond but most probably occurrence there could be quartz. Quartz is another type of a rock which is common occurring. But it is used for ornaments. When it is [a] type of a quartz, that is very much beautiful."
"[Quartz] form very beautiful crystals and its hardness is comparable to that of the diamond in the first test but test it on the glass. I think that is all at the moment until such time that we have got another more conclusive testing. At the moment there the most likelihood it could be quartz," adds Msimang.
Geologists to confirm whether stones found in KwaHlathi are indeed diamonds
*
It is said that the stone was found by a herdsman who originates from Lesotho. Since the discovery, people in the area have been digging in the hopes of unearthing a fortune.
https://zululandobserver.co.za/lnn/1154390/kzn-premier-steps-in-to-stop-illegal-digging-for-diamonds-in-ladysmith/?fbclid=IwAR0YqLyNPWAxq9MOV4hd1peZ3wuOzYgSj5eqPaqnID7VgeCJroIQNfM9asA
*
There has been serious traffic in the KwaHlatini village following the residents' mission to dig and collect 'diamond' for themselves. 
The discovery of the diamonds has sparked a debate on social media on whether the biggest diamond is about to be found in KwaZulu-Natal, while others say what residents found are not diamonds.
The department of mineral resources and energy (DMRE) will dispatch teams to the site to conduct an inspection. Another team from Mintek (the council for Mineral Technology) and the Council for Geoscience (GCS), that will include a geologist and will focus on establishing whether the community has discovered diamonds.
KZN diamonds: 'We'll eat in Dubai now,' says happy resident
*
CRIME ATTACKS, RAPES AND MURDERING ARE ALSO IN VIOLATION OF THE COVID-19 REGULATIONS
The premier added that the illegal mining activities could be in violation of the Covid-19 regulations.
"The Mintek and GCS teams will include a geologist and will focus on establishing what exactly are these items that have been discovered at KwaHlathi," said the provincial government.
"We are deeply concerned about the images showing that some people coming from as far as some of the neighbouring provinces and towns are flocking into KwaHlathi. We are worried that if not brought under control the situation could result in chaos and a possible stampede. We call for order and calm and urge all those involved to cease their operations and vacate the site so as to allow the DMRE to conduct a proper inspection of the site and of what has been discovered there," premier Sihle Zikalala said.
https://www.timeslive.co.za/news/south-africa/2021-06-13-diamond-rush-in-kzn-sparks-call-for-calm-pending-inspection/?utm_medium=Social&utm_source=Facebook&fbclid=IwAR1qB1cWIaWTdS0Ui73mUM2iFds4VYFYaOkx1AK0CUnRZkdEIebA1nWaQbc
Illegal Mining | Diamond rush hits KZN village
*

https://www.gemrockauctions.com/learn/a-z-of-gemstones/herkimer-diamonds-information



Herkimer Diamonds are the most powerful of all Quartz crystals. Being doubly terminated, they have the ability to not only transmit their own energies, but to receive spiritual energy and to amplify and focus it intently. They are reported to be harder than all other Quartz, giving them the strength and durability to handle difficult challenges beyond the scope of other Quartz crystals. What they lack in physical size, they more than make up for in spirit energy.

https://newmoonbeginnings.com/products/raw-herkimer-diamond-crystals-5-gram-lot-raw-herkimer-diamonds-5mm-15mm-herkimer-diamond-quartz-crystals-herkimer-diamond-raw-quartz



One of the first things that you should know about the Herkimer Diamond is that it is not actually a diamond. They are actually gorgeously formed quartz that are double terminated. This creates the illusion that they are diamonds. These are named Herkimer Diamonds because they were originally discovered in the area of Herkimer County, located in the state of New York. These are gemstones that are quite sought after by gem collectors because they love this double terminated style of quartz. The reason for this is because quartz typically only has a single termination. This means that Herkimer Diamonds are very unique and rare gemstones. You can get Herkimer Diamonds in various colors though they are mostly a crystal clear color. They are generally mined in Germany, New York, England, China, and Canada.

https://www.gemrockauctions.com/learn/a-z-of-gemstones/herkimer-diamonds-information