Copper has been utilized for more than nine millennia. Ancient cultures held high regard for this metal for its antibacterial properties. In fact, the ancient Egyptians  associated copper with the symbol for eternal life, the ankh, which was later also adopted, albeit slightly modified, as a symbol for copper by the ancient Greeks.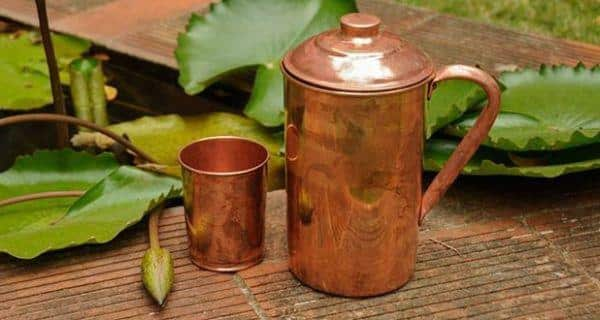 *

Copper is not innately utilized by our body. That is why too much of the metal can be detrimental. According to the FDA, about 12 mg/day is more than sufficient for the body to use without causing any harm. So, do not overdo the entire exercise. Drinking water twice or thrice in a day from a copper vessel is more than enough to reap its benefits.

*

Bygelowig of Boereraat, besluit self daaroor.   Toets ook eie liggaam.   Heelwat ouer persone dra daardie koperband steeds na etlike dekades en help ook vir bekamping teen virusse.  Teveel dra kan daar ook teveel koper in die menslike liggaam gestoor word.   Haal die armband of ander ware somtyds af.

Copper – Koper

*


The ancient civilizations found many uses for this metal: from utensils and vessels to mirrors, jewelry, and even weaponry. Perhaps one of the most notable uses of copper was the manufacture of water-storing vessels, as this ensured bacteria-free drinkable water.
Because of this discovery, some cultures, like the Hindu culture, would go on to introduce copper into their medicine. Ayurvedic medicine went a step further, recognizing copper as one of the most important metals responsible for the health and well-being of the human body.
This use of copper vessels for storing and drinking water continues to this day. Thanks to its low reactivity and high durability, copper has been used in the manufacture of water pipes, water-storing jugs, bottles, mugs, and cups.
The Health Benefits of Drinking Out of Copper
As you are already aware, copper has excellent antibacterial properties. Studies have shown that storing water in copper vessels ensures the elimination of harmful bacteria such as E. Coli, Salmonella, and Vibrio Cholerae. This helps translates into safe drinking water, and copper vessels can be especially useful when traveling to developing countries with questionable water quality.
Additionally, copper vessels have an alkalizing effect on the water, making it even more beneficial for your health. This happens when the copper ions are released into the water, increasing its pH.
The copper ions that are released into the water over time also serve to provide an additional intake of this important mineral, which supports many important bodily functions.
Copper has been found to support the production of red blood cells, the absorption of iron, the regulation of the heart rate and blood pressure, the immune system, connective tissue and bones, the brain and the heart, while also preventing inflammation and prostatitis.
For more information about the usefulness of copper, you can read our comprehensive article on the benefits of copper on health.
https://www.copperh2o.com/blogs/blog/is-it-safe-to-drink-from-copper


*


According to Ayurveda, water stored in a copper vessel has the ability to balance all the three doshas in your body, (vata, kapha and pitta) and it does so by positively charging the water. The water stored in a copper vessel is known as tamara jal and is supposed to be consumed after storing the water in a copper vessel for at least eight hours. 

When you store water in a copper vessel or bottle for long ( eight hours or more), this metal releases its ions. The water gets infused with these copper ions.  This metal is known for its antimicrobial, anti-inflammatory, anti-carcinogenic and antioxidant properties. It also helps you maintain healthy levels of haemoglobin in the blood. Moreover, it is good for cell regeneration too. The best part about this water is that it never becomes stale and can be stored this way for long periods of time.  
Acidity, gas or simply the inability to digest certain foods is common and here is where copper comes to your rescue. Copper has properties that stimulate peristalsis (the rhythmic contraction and relaxation of the stomach that helps food get digested and move along the digestive tract), kill harmful bacteria and reduce inflammation within the stomach, making it a great remedy for ulcers, indigestion and infections.
Copper also helps cleanse and detox your stomach, regulate the working of your liver and kidneys, and proper elimination of waste and ensures the absorption of nutrients from food. According to Ayurveda, if you want to detox your stomach, drink a large glass of water that has been stored in a copper vessel, early in the morning on an empty stomach. 
Known for its immense anti-bacterial, anti-viral and anti-inflammatory properties, copper is a great tool for healing wounds quickly. Apart from that, copper is also known to strengthen your immune system and aid in the production of new cells. But its healing properties don t cease with helping the body externally; copper is also known to help wounds within the body, especially the stomach. 
Heart disease is one of the most common ailments and copper helps minimize your risk of developing the disease. According to the American Cancer Society, copper has been found to help regulate blood pressure, heart rate and lowers one s cholesterol and triglyceride levels. It also helps prevent the accumulation of plaque and has the documented effect of dilating blood vessels to allow better flow of blood to the heart. It also helps lower one s triglyceride levels. So, if heart disease is your bane, here are five natural foods to prevent heart disease. You could also try drinking copper infused water for great results.
Another disease that is quickly becoming extremely common,cancer, can be debilitating for both the patient and their family. How does copper help? Well, copper has very strong antioxidant properties that helps fight off free radicals and negate their ill effects one of the main reasons for the development of cancer. According to the American Cancer Society, the exact mechanism of how copper helps prevent the onset of cancer is still not known but some studies have shown that copper complexes have a considerable anti-cancer effect.
Copper is known to be oligodynamic in nature (the sterilizing effect of metals on bacteria), and can destroy bacteria very effectively. It is especially effective against E.coli and S.aureus, two bacteria that are commonly found in our environment and known to cause severe illnesses in the human body. Known to help prevent common water-borne diseases like diarrhoea, dysentery and jaundice, copper has been touted as the cheapest solution to cleaning water in countries that do not have a good sanitation system. So, if you fear that your water may be contaminated, store it in a copper vessel before your drink it and be rest assured, you will be drinking healthy and clean water.
Our brain works by transmitting impulses (or orders) from one neuron to another through an area known as the synapses. These neurons are covered by a sheath called the myelin s heath that acts like a sort of conductive agent helping the flow of impulses. How does copper figure here, you ask? Well, copper actually helps in the synthesis of phospholipids that are essential for the formation of these myelin sheaths. Thereby, making your brain work much faster and more efficiently. Apart from that, copper is known to have brain stimulant and anti-convulsive properties (prevents seizures), that do a world of good for your brain.   

READ MORE
https://www.thehealthsite.com/photo-gallery/diseases-conditions-10-simple-exercises-to-boost-your-brain-power-da0115-257701/main11-simple-exercises-to-boost-your-brain-power-257716



Experts say that one commonality amongst people with thyroid diseases is that they usually have low levels of copper in their body. While this is most commonly seen in people with hyperthyroidism (excessive thyroid hormone), those with hypothyroidism  (low levels of thyroid hormone) may also suffer from this deficiency.

Copper is one of the most important trace minerals the thyroid gland needs to function optimally. A lack in copper can send the functioning of the gland out of sync. So when you drink water from a copper vessel. it makes up for this possible deficiency and regulates the functioning of the thyroid gland.
*

Copper is the main component in the production of melanin (a pigment that mitigates the colour of your eyes, hair and skin) in our bodies. Apart from that copper also aids in the production of new cells that help replenish the top most layers of your skin. While melanin helps the body stay safe from sun damage, speeds up wound healing and covers up scars, the production of new cells is a boon for smooth, blemish-free and clear skin. Ayurveda experts say that drinking this water on a regular basis, especially early in the morning, can make a huge difference to your skin.

The most amazing fact about copper is that it is required in most processes that occur in our body. Right from cell formation to aiding in the absorption of iron, copper is an essential mineral for the functioning of your body. This is one of the reasons that it also helps in keeping anaemia at bay. An essential component in the entire process of absorbing and using iron present in the body, copper helps keep the levels of haeme (iron) up and regulates its flow in your blood vessels.

Again – Copper is not innately utilized by our body. That is why too much of the metal can be detrimental. According to the FDA, about 12 mg/day is more than sufficient for the body to use without causing any harm. So, do not overdo the entire exercise. Drinking water twice or thrice in a day from a copper vessel is more than enough to reap its benefits.
https://www.thehealthsite.com/diseases-conditions/10-benefits-of-drinking-water-from-a-copper-vessel-p214-123443/

*
Copper is an essential trace mineral that is vital to human health
Our ancestors used to store water in containers made of copper
Copper from the container leached into the water & helped in purification
Water is the most essential element to sustain life on this planet and 70 per cent of human body is made up of water. You may have not known this but in ancient times, our ancestors and even our grandmothers followed the practice of storing water in containers made of copper. Their aim was probably to safeguard drinking water but there's more to the story. In today's modern world where we have UV filters and RO purifiers to purify water, the storage of water in metal containers may sound old-fashioned and not needed.  However, this age-old practice referenced in ancient texts of Ayurveda is now supported by several scientific studies.

Storing water in a copper vessel creates a natural purification process. It can kill all the microorganisms, molds, fungi, algae and bacteria, present in the water that could be harmful to the body and make the water perfectly fit for drinking. In addition, water stored in a copper vessel, preferably overnight or at least for four hours, acquires a certain quality from the copper.

Copper is an essential trace mineral that is vital to human health. It has antimicrobial, antioxidant, anti-carcinogenic and anti-inflammatory properties. It also helps neutralize toxins.

https://food.ndtv.com/health/12-amazing-healing-benefits-of-drinking-water-in-a-copper-vessel-1658134

*


Bay leaves  ay leaves are a cheap, common herb, which famed in ancient Greece. Fresh or dried bay leaves are used for cooking purpose. Bay leaves has  several health benefits. They effectively control cholesterol levels, reduce stress, treats insomnia, and regulate high blood pressure. Another way to get health benefits from bay leaves is burning it in your room. This smoke will help reduce anxiety, stress, tension and insomnia.

https://www.youtube.com/watch?v=P7p-F9xa0Mk