"Do not plant seeds from unknown origins," the USDA urged in a statement.   
The mysterious, unsolicited packages of seeds supposedly being sent from China to homes across America, Canada, UK, and other countries –  may be invasive species and could be tied to a fake product review scam, police and officials are saying.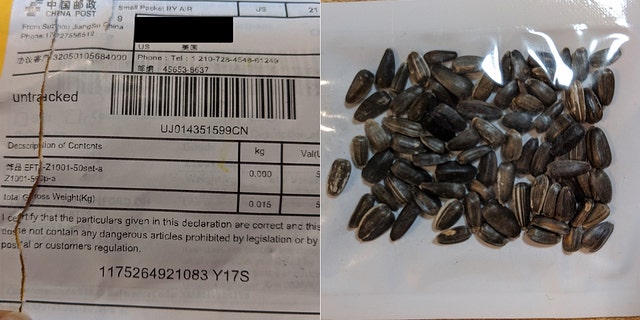 *
Is dit 'n raaisel – Hoekom sal inwoners of burgers van 'n land soos China of watter ander land hieragter mag sit, verskillende soorte sade na feitlik alle kontinente en lande versprei, en dit skaars 'n paar maande na die Covid-19 virus wat juis van China afkomstig is.     Hoekom van China af indien dit wel waar is, want Chinese het gesê dis vals – dis baie verdag.
Nog 'n adres is afkomstig uit Nederland  
*
Is daar dalk 'n dieperliggende "teiken" om die ander lande se inwoners te waarsku >>
1.  om saad te kry / te bêre want daar is hongersnood op pad, want dalk is dit in China die geval dat daar nie genoegsame voedsel is nie.   Ons weet almal elke land se ekonomie is laer as zero op die stadium, maar hoekom saad stuur, onkostes aangaan en saad stuur;   
2.  indien afkomstig van Chinese regering of enige ander land,  wat die "oorsaak" is van die virus wat op pad is; 
3. is dit dalk om ander dinge in die saak te plant wat juis nog meer skades gaan berokken in al hierdie lande waar saad reeds ontvang is, en heelwat inwoners het die saak aangeplant, wat dan dalk 'n fout mag wees?    Dalk om eie voedselkettings te vernietig!  Meer as Covid-19.
4.   Nog 'n ander bekommernis is – al die regerings se invoer en uitvoere is dan so goed, tegnologies, tog gaan al hierdie saad deur, en word daar steeds bevraagteken?
5.  Hoe beland dit dan onder ander misleidende inhoud versprei of selfs onwettig aangestuur – wat meer is as die virus (hongersnood op pad) – nog 'n groter "virus"
6.   Is die Covid-19 deel van die saad verspreiding?
Heelwat van die regerings het ekonomies gesluit, dit sal interessant wees of daar by ander lande wat nie hul besighede gesluit het, ook saad ontvang is.
*
So far, however, the species appear to be innocuous. At least 14 of the seed species had been identified as of July 29, according to Deputy Administrator Osama El-Lissy of the USDA's Animal and Plant Health Inspection Service. They includes mustard, cabbage and morning glory as well as herbs like mint, sage, rosemary and lavender. He said hibiscus and roses were also found.  State agriculture officials in Virginia warned, "Invasive species wreak havoc on the environment, displace or destroy native plants and insects and severely damage crops. 
Texas Department of Agriculture Commissioner Sid Miller urged people to be cautious. "It could be a bacteria. It could be another virus, some kind of invasive species," Miller told CBS Dallas-Fort Worth.
https://www.cbsnews.com/news/seeds-from-china-usda-investigation-identified/

>
USDA official said in a statement that 14 different species of the seeds have been identified so far. They include seeds of flowering plants, herbs and vegetables.
https://www.today.com/news/usda-identifies-contents-mysterious-seed-bags-china-t188330
*
The unsolicited packages often have Chinese writing on them and are often labelled as containing earrings or jewellery – which might mean they avoid biosecurity checks or charges. Although many of the reports of packages seem to come from the US – with 630 instances reported in Florida alone – there have also been about 100 reports of people receiving them in England.
Why are people receiving strange seeds in the post from China – are they safe to plant?
*
Officials in several states said there didn't appear to be a clear pattern to the packages, which have been showing up at homes in the city, suburbs, and in rural areas. The number of packages being reported also varied. In Indiana, for instance, an official with the state attorney general's office said it had received only a handful of reports, while in Ohio, officials have received roughly 150 calls about the packages over the past month.
"We have done some researching and it does appear that these seeds are tied with an online scam called 'brushing'," the Whitehouse Police Department in Ohio – one of the states where the packages reportedly have been sent. "A brushing scam is an exploit by a vendor used to bolster product ratings and increase visibility online by shipping an inexpensive product to an unwitting receiver and then submitting positive reviews on the receiver's behalf under the guise of a verified owner.
The packages, based on photographs and statements from officials, appeared to have been shipped by China's state-owned postal company and contained Chinese lettering on the exterior, advertising products ranging from jewelry to toys.
But, what's actually inside seem to be random plant seeds. States from coast to coast have been urging residents to report the unexpected deliveries to their local agriculture departments over concerns that the seeds could be invasive or harmful species.
The packages have garnered the attention of federal investigators — with the U.S. Department of Agriculture's (USDA) Animal and Plant Health Inspection Services (APHIS) working alongside the Department of Homeland Security's Customs and Border Protection and other federal and state agencies.
https://www.foxnews.com/us/china-plant-seeds-mystery-us-homes
*

People in at least six US states have received seed packets, which are labeled as jewellery from China. Many farmers in the UK have also received these unsolicited deliveries of garden seeds. Reports suggest this is known as agricultural smuggling.

https://www.youtube.com/watch?v=z6JKfoBSsIc

*
Mysterious seeds from China have been arriving in mailboxes around the country.

https://www.youtube.com/watch?v=2NEo8ZlywcA