As a morning object, the comet's best views will come during a three-day stretch on the mornings of July 11, 12 and 13, when it will stand 10 degrees above the northeast horizon, 80 minutes before sunrise — the beginning of nautical twilight. Your clenched fist held at arm's length measures approximately 10 degrees in width. So, on these three mornings, the head of Comet NEOWISE will appear about "one fist" up from the northeast horizon.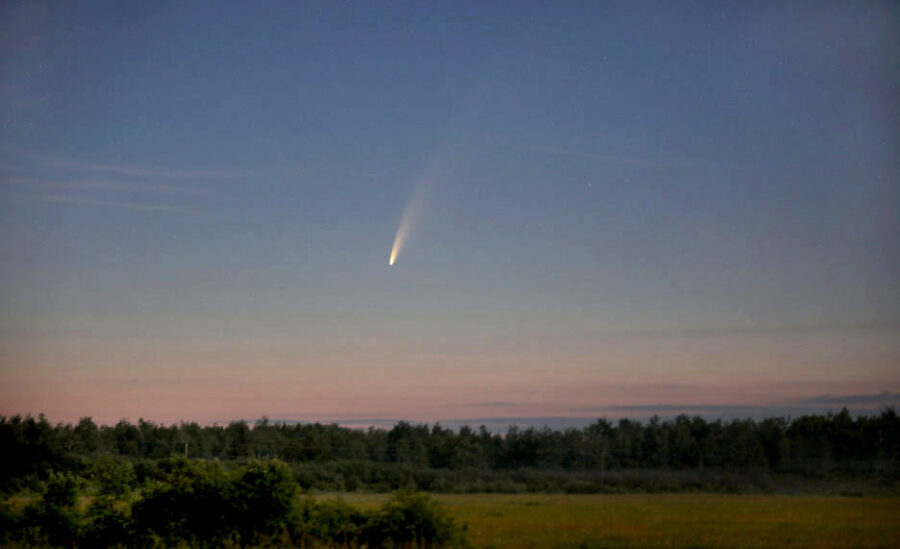 *
The Neowise comet seen above noctilucent clouds taken from the Hochfeiler mountain in the South Tyrol alps in Italy. The comet will be visible with the naked eye throughout July
https://www.dailymail.co.uk/sciencetech/article-8505475/Stunning-video-taken-ISS-shows-comet-Neowise-Earth.html
*
The comet is known as Comet C/2020 F3 NEOWISE — or just NEOWISE for short. Scientists just discovered the rock on March 27th. It gets its name from the NASA mission that discovered it, also called NEOWISE, for Near-Earth Object Wide-field Infrared Survey Explorer.
https://www.theverge.com/2020/7/10/21318478/nasa-f3-comet-neowise-see-watch-astrophotography-space
*
Irish
*
The difference between an asteroid and a comet mainly comes down to ice. Asteroids are typically pretty rocky in nature. While they may have some ice trapped inside of them, they look more or less like big chunks of dry rock. Comets, on the other hand, are often a mixture of rock and all sorts of ices — including water, carbon dioxide, ammonia, and more. These ices are pretty well mixed throughout a comet, and it's this material that gives comets their trademark fuzzy tails. The Sun heats up the ice, turning it into gas that envelopes the comet.
NEOWISE doesn't pose any threat to our planet. In fact, this is really the only chance any of us are going to get to see this comet with our own eyes. The path that NEOWISE takes around the Sun takes nearly 7,000 years to complete. This is truly a once-in-a-lifetime event. "Once in our lifetimes and our great, great, great, great, great, great, great grandkids' lifetimes," jokes Mainzer.
https://www.theverge.com/2020/7/10/21318478/nasa-f3-comet-neowise-see-watch-astrophotography-space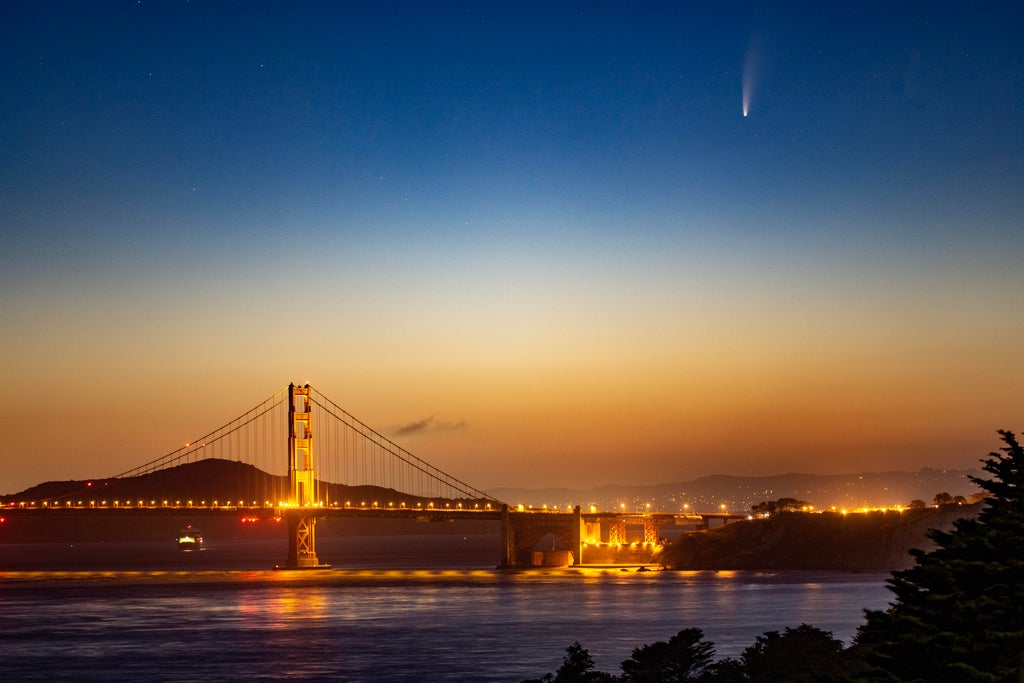 https://www.forbes.com/sites/jamiecartereurope/2020/07/06/how-to-see-comet-neowise-from-your-backyard-this-week/#531195d4496f
*
It's visible to the naked eye in dark skies!
The early reviews are in: Comet NEOWISE is a hit!
Those who have gotten up before sunrise to gaze into the twilight skies have been greeted by the best comet performance for Northern Hemisphere observers since the 1997 appearance of Comet Hale-Bopp. Indeed, NEOWISE (catalogued C/2020 F3), emphatically ended the nearly quarter-century lack of spectacular comets.
Early fears of another fizzler like comets ATLAS and SWAN quickly eased during June when NEOWISE proved to be an intrinsically bright comet with a highly condensed core. It brightened 100-fold from June 9, when as a seventh-magnitude object it disappeared into the glare of the sun, to June 27, when it appeared in the field of view of the LASCO-3 camera on NASA's Solar and Heliospheric Observatory shining at second-magnitude.
Even before Comet NEOWISE arrived at perihelion — its closest point to the sun — observers could glimpse it very low to the northeast horizon, immersed deep in bright twilight, just before sunrise on July 1.
https://www.space.com/comet-neowise-visibility-july-2020.html
*
Daily positions for Comet NEOWISE (C/2020 F3) are shown for 0h UT through July 30th. To convert to our time zone, subtract 4 hours and back up to the previous date for EDT (5 hours; for CDT, 6 hours for MDT, and 7 hours for PDT). For example, July 10th at 0h UT = July 9th at 8 p.m. EDT. The comet's apparition begins in the morning sky but it soon becomes an evening object as it zips from Auriga to Ursa Major. Click on the image for a higher-resolution version.

*
This was the view of the NEOWISE comet at around 4:30 am from Highland, Illinois. You could definitely see the comet in the predawn northeast sky just above the horizon.
*
Naked eye