It happened during June 2019 when a mushroom-shaped cloud,  was so big it could be seen from Orbit.    The volcano Raikoke, which last erupted in 1924, expelled an enormous ash plume on 22 June 2019.   It was a powerful high-level eruption unexpectedly started at Raikoke volcano, Kuril Islands, Russia at around 17:50 UTC on June 21, 2019 — with the massive explosive activity continuing into 22 June.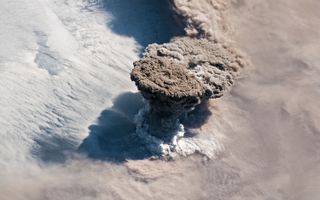 A towering mushroom-shaped cloud of ash and smoke recently rose from a volcano on an island in the Pacific Ocean, and an astronaut on board the International Space Station (ISS) captured a spectacular view of the eruption from high above.

The volcano Raikoke sits on the Kuril Islands, an archipelago of volcanic peaks that lies between Russia's Kamchatka Peninsula and Japan's Hokkaido Island. On June 22 at approximately 4 a.m. local time, Raikoke exploded for the first time since 1924, expelling a dense plume that could be seen from the ISS, NASA Earth Observatory reported.

The towering plume extended to an altitude of about 43,000 feet (13 kilometers); it rose from the volcano's crater and formed a spindly column that puffed out at the top. [The 11 Biggest Volcanic Eruptions in History] .

https://www.livescience.com/65792-raikoke-volcano-from-orbit.html
*
The Raikoke Volcano—located on an island in the northwestern Pacific's Kuril archipelago—has been dormant for roughly a century.
But this quiet period came to an abrupt end in the early morning of June 22, when Raikoke blew its top sending a vast ash plume up to 8 miles into the sky, according to the Volcanic Ash Advisories Center (VAAC).
*
*
Eruption on small island Raikoke in Kuriles, Russia at June 22, 2019. How the island looked before eruption and is looking now.
*
Since ash contains sharp fragments of rock and volcanic glass, it poses a serious hazard to aircraft. The Tokyo and Anchorage Volcanic Ash Advisory Centers have been tracking the plume closely and have issued several notes to aviators indicating that ash had reached an altitude of 13 kilometers (8 miles). Meanwhile, data from the CALIPSO satellite indicate that parts of the plume may have reached 17 kilometers (10 miles).

https://earthobservatory.nasa.gov/images/145226/raikoke-erupts

In addition to tracking ash, satellite sensors can also track the movements of volcanic gases. In this case, Raikoke produced a concentrated plume of sulfur dioxide (SO2) that separated from the ash and swirled throughout the North Pacific as the plume interacted with the storm.


*

The 11 Biggest Volcanic Eruptions in History

There haven't been any VEI-8 volcanoes in the last 10,000 years, but human history has seen some powerful and devastating eruptions. Because it's extremely difficult for scientists to be able to rank the strength of eruptions in the same VEI category, here we present the 10 most powerful volcanoes within the last 4,000 years (within human records) first in order of strength, then within each category, in chronological order.

MORE HERE

https://www.livescience.com/30507-volcanoes-biggest-history.html
From Space
The volcanic eruption of Raikoko seen from the Himawari 8 satellite, the ground and the international space station.