Daar is verskeie foto's op sociale media wat aandui hoe daar stemme ekstra aangeteken word op 'n onbehoorlike en onregverdige manier.   Meld al hierdie onbevoegde en skelmstreke aan – maak 'n saak oop by die naaste polisie stasie en ook aanhangig by die IEC.  Ons is almal siek vir die korrupsie – en daar word ook verneem dat baie stemme nooit getel is nie, of baie "dubbel-dubbel stemme" en ander wat dalk of moontlik by ander partye geplaas is.   Volg jou eie X op met jou lokaal – is jy getel en nie – meld dit aan asb.  Besonderhede van alles kan ook aan my gestuur word of veral Front Nasionaal indien daar vir hulle gestem is en nie getel is nie.    Indien bewyse daar is van immigrante wat nie veronderstel was om te stem nie, meld dit aan en ook foto's/bewyse.
They found one of ANC member with ballot paper outside voting station, they caught him while he is busy put crosses on it, this is how ANC win, but anyway politics is deadly game.  There are so many fraud on this election 2019 – and who were the "foreign
Various photos on social media regarding the 2019 elections.  8 May 2019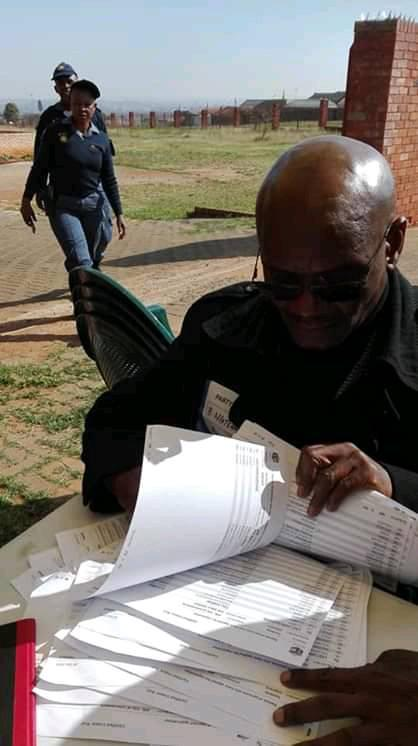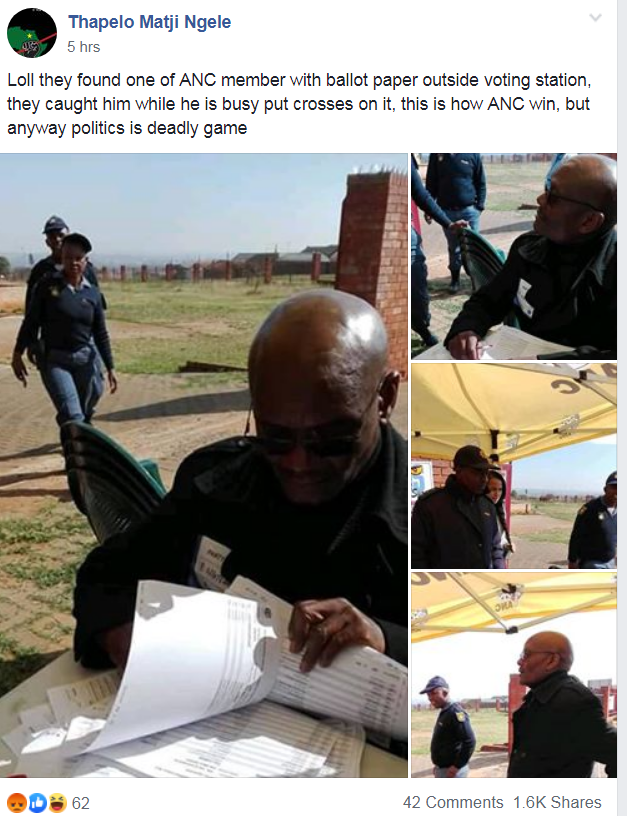 ***
READ ALSO – BUTHELEZI ABOUT FOREIGNERS THAT VOTED
IFP – Buthelezi – Mandlakazi, Nongoma
***
MAHLABATHINI – Inkatha Freedom Party (IFP) leader Mangosuthu Buthelezi said he wanted the Independent Electoral Commission of South Africa (IEC) to investigate unconfirmed reports that the African National Congress (ANC) hired Quantum taxis to transport foreign nationals to voting stations in KwaZulu-Natal.
Buthelezi cast his vote in eMahlabathini just outside Ulundi on Wednesday.
As one of only two faces that had been on all the ballots in the country's elections since 1994 – the other is African Christian Democratic Party president Kenneth Meshoe – he said with that experience came the knowledge that the likelihood of fraud was a certainty.
"We, therefore, take very seriously the rumours that the ANC is hiring Quantum taxis to transport foreign nationals to Zululand to bolster votes."
He said he had reported the matter to the IEC.
"It is difficult to see this as a wild allegation when I saw with my own eyes when they did a similar thing in Nquthu. Quantums arrived there with people from Durban during the by-elections. In that case, they filled buses with people from Durban in that highly contested by-election."
The ANC and the IFP had each governed the KwaZulu-Natal and 2019 is a much-awaited outcome.