Die Pen wat kwansuis gewaarborg is.   Hoekom word die pen nou eers bevraagteken nadat die verkiesing verby is, en was dit nie getoets nie?   Wie het die tender vir hierdie "duur penne" gekry dat die merk nie van die duimnael kan afvee nie.  Dis reg, dit was so swak gedoen dat dit afgewas word.   En die skrandeerders was ook nie gekoppel aan die stelsel om te verhoed dat 'n persoon meer as een keer stem nie – dis uitgebuit en natuurlik sluit dit aan by vorige verkiesings waar netsoveel indien nie meer ongeruimdhede plaasgevind het nie.   Een persoon sit dan met 'n hele lêer vol van briewe wat hy kruisies getrek het – dus is dit nie net DUBBEL-STEM nie maar 100voudig of selfs meer keer.

klagtes en nogmaals klagtes –
***
A group of 25 disgruntled smaller parties have threatened to interdict the election and its results if the IEC does not appoint an independent auditor by 11am on Saturday.  The final results are meant to be announced tomorrow, but the group plans to interdict them if necessary.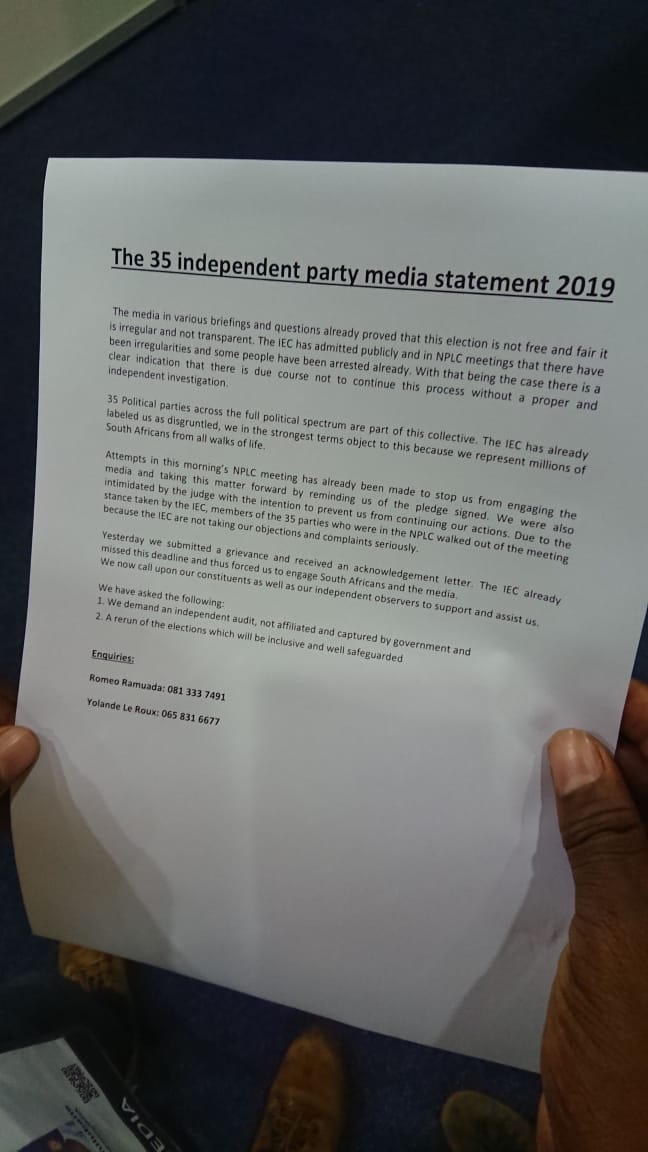 ***
I see only one police woman in the place where I voted and she was busy reading on her table.
***
The police have announced that a total of 24 people have now been arrested in the so-called double voting scandal that has plagued these elections.
The voting count is now heading towards being 95% complete.
A video showing two people, a journalist and a woman, were arrested after footage was posted claiming they had cast votes more than once, the police statement says.
"On the day of the elections, Etienne Mare (52) posted a video claiming that he was on his way to vote for a second time after hearing from Malinda Halloway (57) that she had been 'able to do so herself'.
"The Joint Operational and Intelligence Structure (JOINTS), in a statement yesterday, promised that all of the social media postings in which people claimed to have voted more than once will be investigated and culprits brought to book," said spokesperson Brigadier Vishnu Naidoo.
"Today, members for the South African Police Service in Mpumalanga were able to track down the suspects and arrested them. Both Mare and Halloway appeared in the Barberton Magistrates Court today on charges of contravening Section 88 (d) Voting more than once, Section 89 (i)(a) Intentional making a false statement, alt fraud and Section 90(2)(a) Infringement of secrecy.
"The arrest of these two suspects brings the total to 24 the number of suspects arrested for the alleged contravention of Electrate Act pertaining to attempted double votes and double votes. These 24 include 17 from Danhauser, 2 from Hluhluwe, one from Izingolweni, one from Sawoti one from Douglasdale and now the two from Barberton."
They said alleged "double votes" were still under investigation by the Independent Electoral Commission (IEC).
"We request anyone with information on such contrventions to contact our Crime Stop number 08600 10111. Callers may remain anonymous and all information will be treated with strictest confidence."
***
Tampered ballot papers – SA – 2019